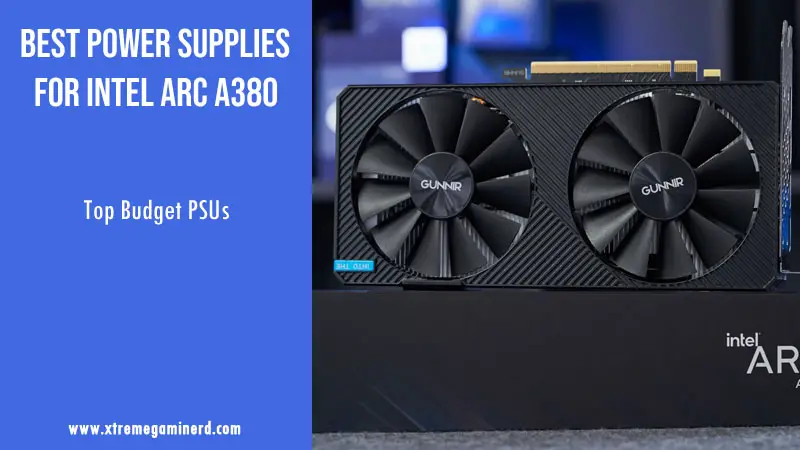 Intel's first discrete GPU lineup is almost ready for the gamers and it will be the third giant in the GPU market competing with Nvidia and AMD directly. Intel's first and the slowest GPU, the ARC A380 is aimed at gamers looking for a $150 GPU that can play games at 1080p resolution with medium settings.
The card's official benchmarks are already out and so will the card in a short time for users around the globe. The ARC A380 falls under the ARC Alchemist family and uses TSCM's 6nm process node. The GPU features 6GB VRAM and has a default TDP of 75W.
Therefore, Intel's suggested PSU is 250W but I don't think you can find a 250W PSU on the market. Some cards like the Gunnir ARC A380 Photon uses a single 6-pin power connector. With more editions on the way from different vendors, a lot of A380s will use a single 6-pin power connector which will allow more power to be consumed by the card especially if the users overclock it.
Intel ARC A380 Overview
The A380 features 8 Xe Cores with a core clock of 2000MHz. Although the card is very entry-level, it features a good-sized VRAM. You will see 6GB GDDR6 memory that uses a small memory interface of only 96-bit which gives you a total bandwidth of 186GB/s.
The reference design is made to draw the power from the PCI-E x16 slot as it has a default TDP of only 75W but the custom editions from manufacturers like Gunnir come up with a 6-pin connector.
What To Look In A Power Supply?
I always recommend going with a reliable power supply even if you have a GPU that takes all of its power from the PCI-E slot. The reason is quite simple. Your PSU protects your PC from faulty currents and voltages and it is responsible for providing a continuous voltage to the components.
A good PSU should feature at least an 80+ White power efficiency rating that provides more than 80% power efficiency on typical loads. This generates less heat and lower bills. A PSU should have all the necessary connectors and cables that can power your CPU, Motherboard, and Graphics card. A graphics card generally uses a combination of 6 and 8-pin power connectors.
Here we have the ARC A380 that mostly uses a single 6-pin. Therefore, the PSU you should buy should at least have a single 6-pin power connector and will be better if it has more. This will allow an easy upgrade in the future without changing your PSU.
Next, you need to see if the PSU you are buying has a good hold-up time, better voltage regulation, and minimum voltage deviation across all voltage rails. Keeping all this in mind, I have listed the top 5 PSUs you can use with the Intel ARC A380 which will also support further upgrades.
Best Power Supplies For ARC A380
---
The Smart 430W is an entry-level PSU from Thermaltake that is in the market for around a decade. I mostly recommend this PSU with low-budget gaming PCs to avoid increasing the cost and as the ARC A380 is also an entry-level GPU, it is ideal in many cases as some users won't be having a lot of money to spend on a premium power supply.
This PSU has got an 80 Plus standard certification for its power efficiency and has all the basic cables for powering your hard drives, motherboards, and budget GPUs. It comes with OVP, OPP, and SCP protection features and has a life of around 100K hours.
The hold-up time is also decent at 16msec which helps it retain the continuous power supply to the PC when the power switches from AC to DC and vice versa. The voltage regulation, however, is not good enough, and therefore, it is best to avoid abusing it.
Cooler Master's MWE series is a popular PSU series that produces different wattage capacity PSUs with a range of 80 Plus White to 80 Plus Gold. For the A380, the MWE 450W with 80 Plus white is an ideal PSU that offers decent voltage regulation and up to 85% of power efficiency on typical loads.
The PSU offers all sorts of protection features such as OVP, OPP, SCP, UVP, and OTP and uses quality components inside. It is overall an average power supply but much better than the Thermaltake Smart 430W PSU and offers flat cables that are easy to manage.
One of the best advantages of getting the NZXT C550 is that you get 4x 6+2 pin PCI-E connectors for powering graphics cards. Although NZXT is fairly a new competitor in the PSU category, they have done some good work here too. The C series offers different wattage PSUs ranging from 550W to 1000W with at least 80 plus efficiency and the C550 Bronze offers more than 85% of power efficiency on typical loads.
It features a semi-modular design and comes with pre-connected ATX and EPS power cables. Other cables need to be connected as needed, therefore, better cable management and less cable clutter. It offers fine voltage regulation and acceptable low ripple noises that make it a fine choice for 40 bucks.
For around 50 dollars, EVGA offers one of the newest in their catalog that offers an 80 Plus Gold rating and fits in most users' budgets. The EVGA 500 GD is a reliable power supply that offers 500 Watts of wattage capacity with Japanese capacitors. For powering your PSU, there are 2x 6+2 pin power connectors and dual 4-pin EPS connectors for the CPUs.
This is one of the best PSUs for any budget GPU and will support further upgrades. Unfortunately, the PSU is non-modular and you will thick cables that are hard to manage but are well sleeved for protecting the wires.
If you are looking for a PSU that adds great aesthetics to your build, then consider going with the Toughpower GX1 RGB PSU. The GX1 series is one of the best ones from Thermaltake that offers premium performance without breaking your bank. For the ARC A380, the GX1 RGB 500W is all you need.
It offers an 80 Plus Gold rating that offers more than 90% of power efficiency on typical loads. Unlike most budget power supplies, it actually doesn't go below 90% efficiency from 20% to 100% load. This is where it shines and makes itself worth the buy.
Voltage deviation and ripple noise are also super low(mostly under 1%) making it a perfect PSU to rely on. Lastly, the PSU offers an RGB fan that features three lighting modes including Pulse, full-lighted, and 256-color RGB cycle. The LEDs can be controlled via the button at the back and can also be switched off by the same button.
Last but not the least, the Corsair RMX series has been one of the top priorities of gamers for many years. To this date, it is definitely among the top 3 or top 5 PSU series of all time and this is the reason why the RMX series are comparatively more expensive than its competitors.
The RM550X offers 550 watts of wattage capacity and a non-modular design. This is the only negative about this PSU but the performance is on top of the charts. This PSU literally has no CONs whether you look at its efficiency, low ripple noise, voltage regulation, hold-up time, and operating noise.
It is rated at 80 Plus Gold and has an excellent efficiency of up to 92% on typical loads. The deviation in  Voltage regulation on primary rails is around 1% or less and the hold-up time is more than 17ms which is above the minimum recommendation. This is the best and the most premium 550W PSU for the ARC A380 as well as any other budget GPU. However, as I said before, it comes with a hefty cost which is mostly around $80.
Wrapping Up
Honestly, you don't need to spend a lot of money on the premium PSUs as the ARC A380 is aimed at budget gamers who can't afford a $1000 Gaming PC. However, if your sole purpose is to test the new GPU and do some casual gaming, then you can get one of the best PSUs listed above that will pave the path to a better upgrade in the future.