Xtremegaminerd.com is supported by the readers. The purchase you make through our links may get us some commission and doesn't cost you an extra penny.
---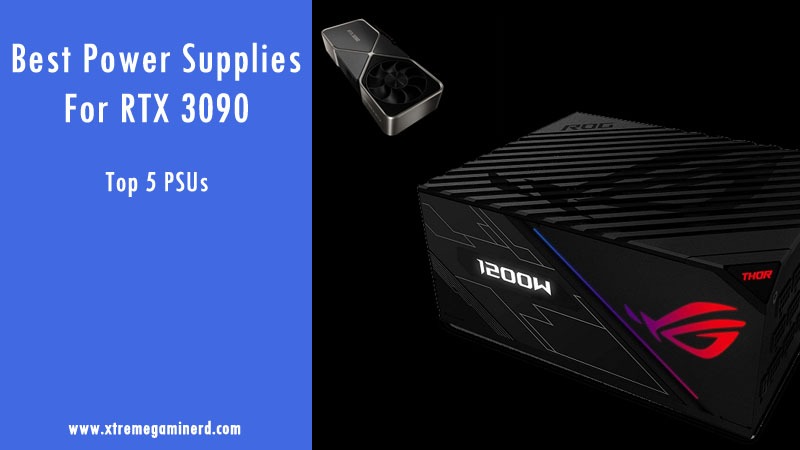 RTX 3090 is the new Titan of the 3000 series and currently the fastest on the planet leading every GPU with a big performance gap especially the previous-gen Nvidia GPUs AKA RTX 2000 series graphics cards.
Of course, with the increase in this much performance, you should expect that the power consumption will also be high. The RTX 3090 as we know features over 10,000 Cuda Cores and 24GB of GDDR6X VRAM. It has the power to provide 60 fps at 8K resolution and that's seriously insane performance.
As per Nvidia, the Founder's Edition RTX 3090 consumes 350W. The consumption will go higher if the card is overclocked and if you use any of the AIB cards, then the power consumption will vary and most probably the TDP will likely to increase as AIB cards are generally faster with factory-overclocked settings.
For running RTX 3090, Nvidia recommends getting a 750 Watts of reliable power supply. So, following are the PSUs which will ensure that your gaming session is uninterrupted and your expensive GPU is safe from faulty current and voltage.
---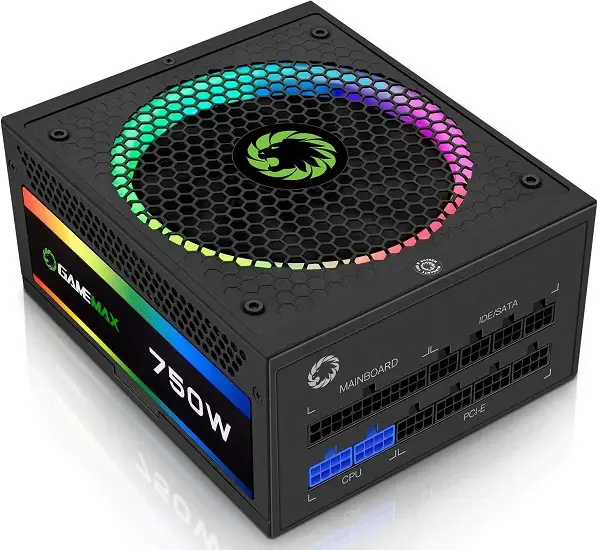 I believe that if you are opting for a good reliable power supply for an extremely high-end graphics card, then you should get at least an 80 Plus Gold rated power supply. While most of the popular brands offer very expensive power supply units, Gamemax offers a much cheaper 750 watts RGB power supply for under $130.
The RGB 750 Rainbow PSU from Gamemax is although not as powerful as the ones I have listed below it but surely will be enough for supplying all the types of voltages to your components including the RTX 3090 without getting short of wattage capacity. This PSU is fully modular and comes with a 140mm RGB fan and a controlling button on it that can switch between 25 different lighting modes.
Don't worry about the 12 pin connector on the RTX 3090 as it will come with an included adapter that converts dual 8 pin power connector to a 12 pin connector for easy plugging. Every power supply on this list will be able to power up the RTX 3090 without any issue.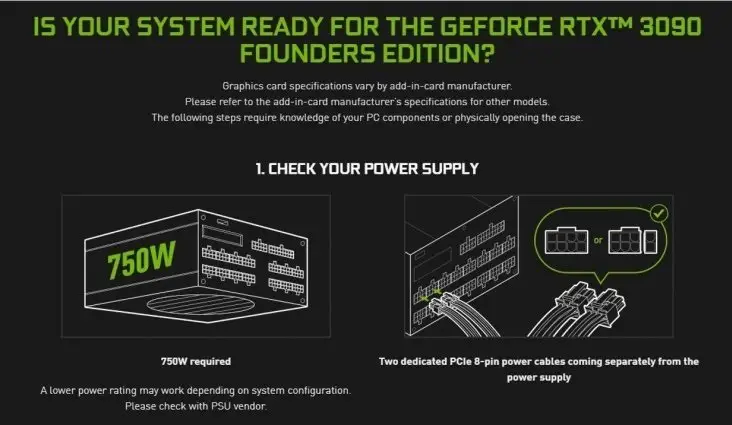 ---
Thermaltake Toughpower Grand RGB 750W-

 

Check Amazon Price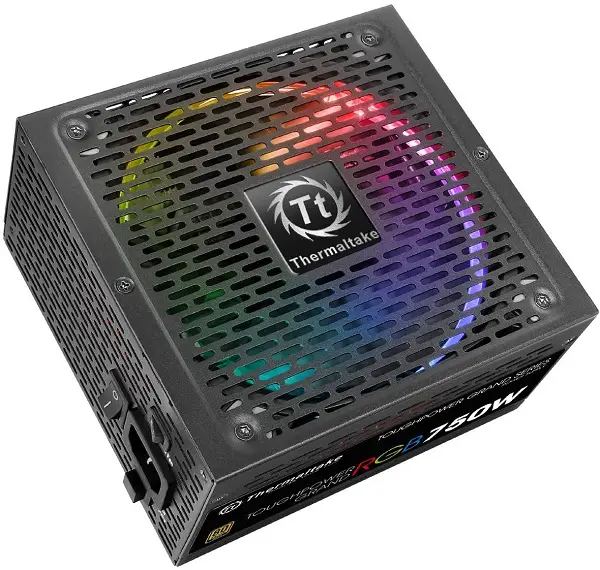 If you want a more reliable option, then nothing is better than the Toughpower Grand 750 watts power supply which has everything you would need to power up in your system and add additional components in the future. This PSU comes with a 10-year warranty and is also available in an 850W variant if you want to be more future proof.
It has the max output power as 750W on the single +12V rail, unlike the Gamemax PSU which has 720W and also provides higher current on every rail. Similar to the Gamemax power supply it has an RGB 140mm fan with different lighting modes that can be switched by the button provided on the PSU itself and If you don't like the lighting you can also switch it off.
The great thing is that its price is competitive to the Gamemax RGB 750W PSU and if you find it cheaper than the latter, then go for this one.
Related:- Best power supplies for RTX 3070
---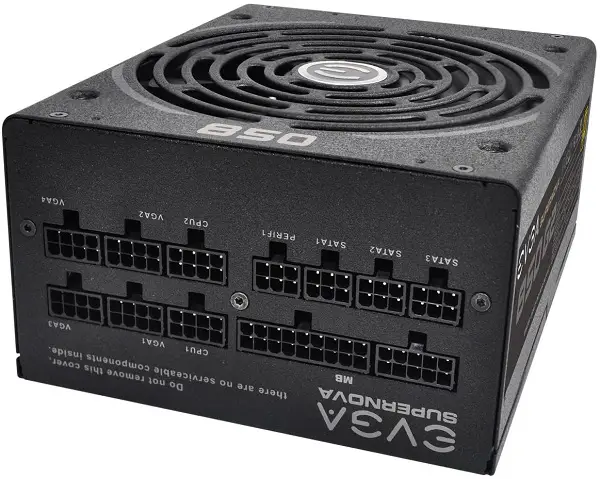 For more easy upgrades, I recommend going above 750W which is the recommended PSU wattage capacity by Nvidia and it is most likely that most of the users of RTX 3090 will go for a higher wattage power supply than a 750W Power Supply Unit.
While EVGA SuperNova 850 G2 is a 2 year older power supply than the Thermaltake Toughpower Grand, it still beats it in performance. Though it doesn't have any great aesthetics like colourful exterior and RGB fan, the voltages and current it provides for your components prove it to be superior in the long run.
It provides even higher current than the Gamemax and TT 750W power supplies mentioned above. While the TT Toughpower Grand provides 62.5A on the single +12V Rail, it provides 70.8A. Similarly, it provides higher current on the +3.3V and +5V rails also.
If you want a higher wattage PSU from the EVGA G2 series, then you can have the 1000W, 1300W and 1600W options as well. Along with it, it comes with a 10-year warranty for a stress-free and long-time operation.
---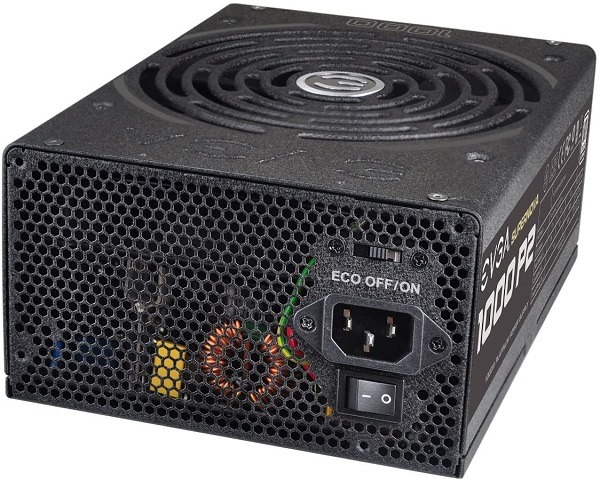 The Supernova P2 is an ultimate choice for any high-end PC build that requires a large wattage capacity and an insane power efficiency. While 80 Plus Gold is sufficient for any PC, Platinum PSU is better in terms of utilization of power and generates less heat.
The 1000W P2 Platinum power supply is a premium choice for a PC that uses RTX 3090 or any other high-end graphics card. With 1000W you can easily upgrade your PC whenever you want to whatever component you want including a two way Nvidia SLI of RTX 3090 which I totally don't recommend.
It is a fully modular power supply with 6x 8-pin PCI-E connectors. It provides almost a 1000W power output on the +12V rail with 83.3A of current. As it is more power-efficient than a Gold rated PSU, you can expect the power efficiency of up to 92% on Typical loads and even more. With a price tag of around $300, this will definitely raise your PCs cost a little bit but it is what I recommend for a PC that uses RTX 3090.
---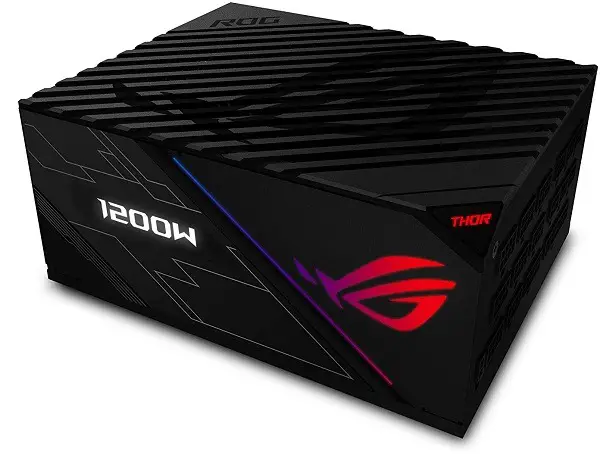 As the name suggests, it is a no-compromise PSU for most of the high-end PC builds. From performance to aesthetics, it doesn't fail to appeal most of the enthusiast PC builders. The best thing about this PSU is that it actually looks so good that you don't want to hide it in the PSU shroud.
It has a mesmerizing ASUS ROG Logo with RGB lighting and an RGB LED strip beside it. Even the wattage capacity '1200W ' written on it is using an OLED display. It's a fully modular PSU with 4x 8-pin PCI-E connectors and cables, 2x 8-pin CPU connectors and cables and a lot of additional cable connectors for other accessories. The cables that come with this unit are sleeved just like the cables that CableMod sells and there will be cable combs provided for neat cable management.
It has an IP5X wing-blade fan that is mostly used on Asus ROG graphics cards with a 0dB mode for completely silent operation. It has insane specs that include a single +12V rail with up to 100A of current and up to 25A current on +3.3V and +5V rails. With 1200W I am sure you won't need to upgrade to any other PSU no matter what you use and as it is 80 Plus Platinum certified unit, you can expect power efficiency higher than 90% almost every time on every type of load.
So which PSU you are going to use for RTX 3090?
Let me know in the comments below!