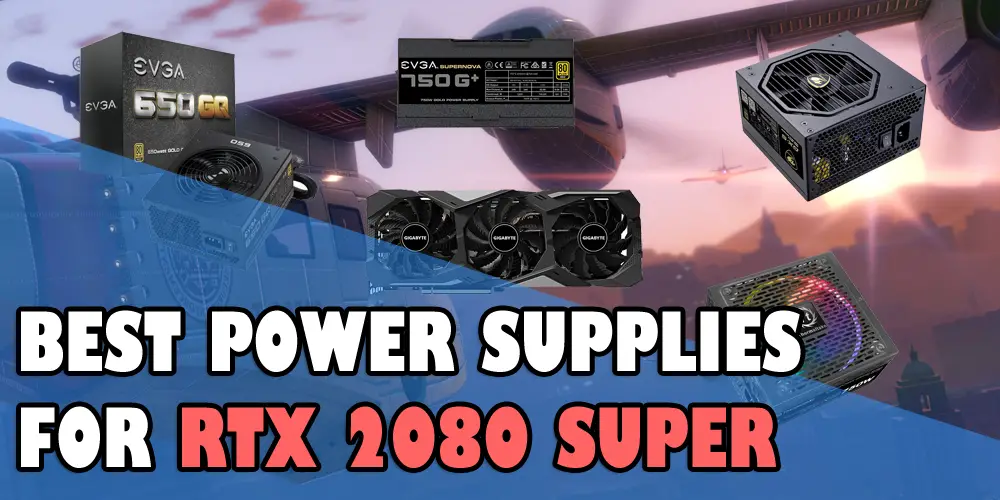 Introduction
RTX 2080 Super is packed with a whopping 3072 Cuda Cores, 63T RTX Ops and 8GB GDDR6 memory clocked at 15.5Gbps. This card is amazing and beats the GTX 1080 Ti. Nvidia released it after the RTX 2080 Super but it didn't compete with the RTX 2080 Ti. It got some criticism because of this but this card is right now the best for $700.
RTX 2080 Super is based on the same Turing architecture as the original RTX 2080, but now features higher Cuda Cores, higher clock speeds and faster memory clock speed. This makes it around 5% faster than the RTX 2080 which isn't a significant increase in performance but as the pricing of both the cards is same, it's better to go with the RTX 2080 Super.
Nvidia's RTX 2080 has the same TDP as that of RTX 2070 Super but the RTX 2080 Super has 34 watts more power consumption. Nvidia recommends a 650 watts power supply for the RTX 2080 Super and thus in this post, I am going to list out one of the best power supplies for this card that will get the job done without breaking the bank.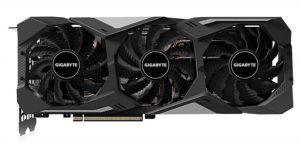 ---
EVGA 650 GQ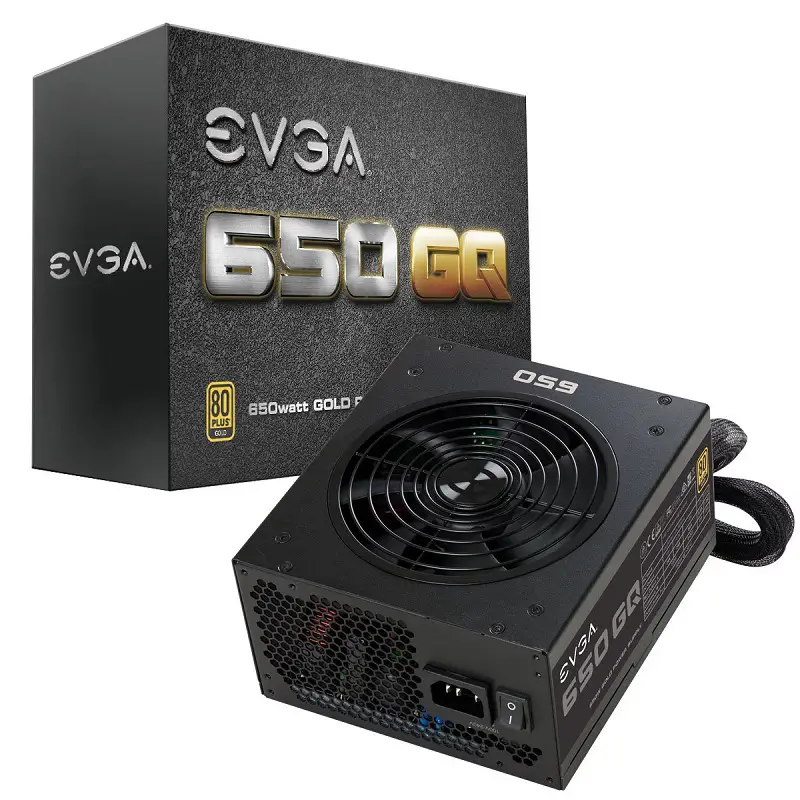 EVGA right now might be the most popular brand for power supplies and its power supplies sell a lot as compared to the other brands because it provides reliable PSUs for less money. There are currently a lot of series from EVGA ranging from simple 80 Plus power supplies to 80 Plus Titanium. The EVGA 650 GQ is a GOLD rated power supply that provides up to 92% of power efficiency on typical loads. This PSU comes with all types of heavy-duty protections that include OVP, UVP, OCP, OPP, SCP, and OTP.
It provides 24A current on +5V and +3.3V Rails and 54A on the single +12V Rail which is impressive. Although, there are PSUs in this list which provide higher Amperage on the single +12V rail. As this PSU is semi-modular, it comes with only a single cable pre-connected that is the ATX power cable. Other cables are to be connected separately which acquire less space and thus makes cable management easy.
650 watts is what Nvidia recommends for RTX 2080 Super and this is what an ideal power supply would be for this card. It comes with a 5-year warranty and a great EVGA customer support.
---
Cougar GXS750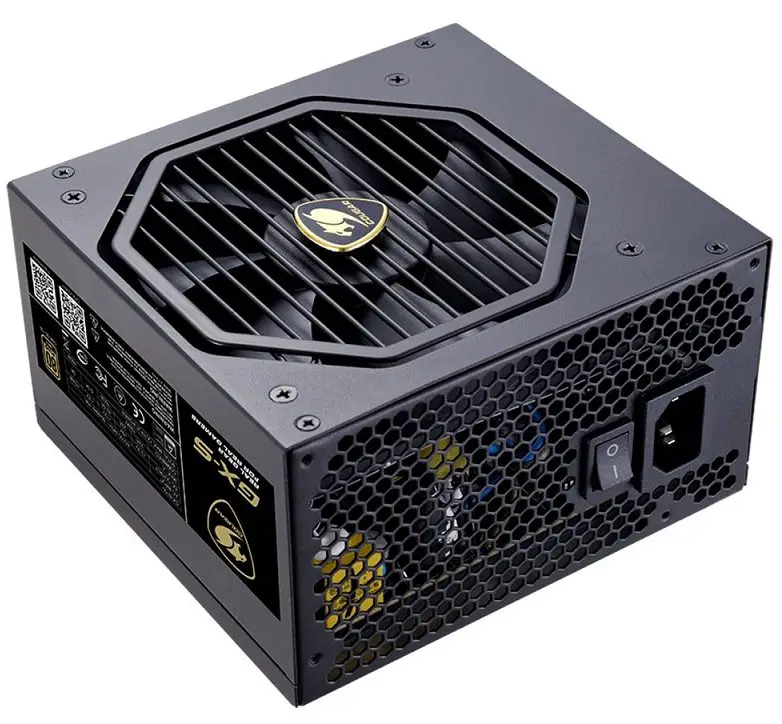 Cougar may not be as popular as EVGA or Corsair in power supplies but we have seen how great products Cougar makes that are reliable and work for years without any major complains. Cougar GXS750 is not a simple power supply that just powers the system but rather works so flawlessly that you would want to use it in every build.
For RTX 2080 Super, I recommend going with 80 Plus GOLD rated power supply for maximum efficiency. For graphics cards slower than RTX 2080 Super, anything around Bronze is good but as for a little more price you can get a GOLD PSU, why not get a better one? Surely it will also run fine on a Bronze PSU but you will get more efficiency and less heat generation with a GOLD PSU.
It provides 750 Watts of Power supply on the single +12V Rail with 62.5A current. That's the best you can get on this list. You will also get 4x 8 pins PCI-E connectors that can power up to two Nvidia RTX 2080 Super graphics cards. The only CON with this PSU is that it is non-modular and I don't complain because, for less than $80, no brand is able to provide you with this much performance.
---
Thermaltake Toughpower Grand RGB 750W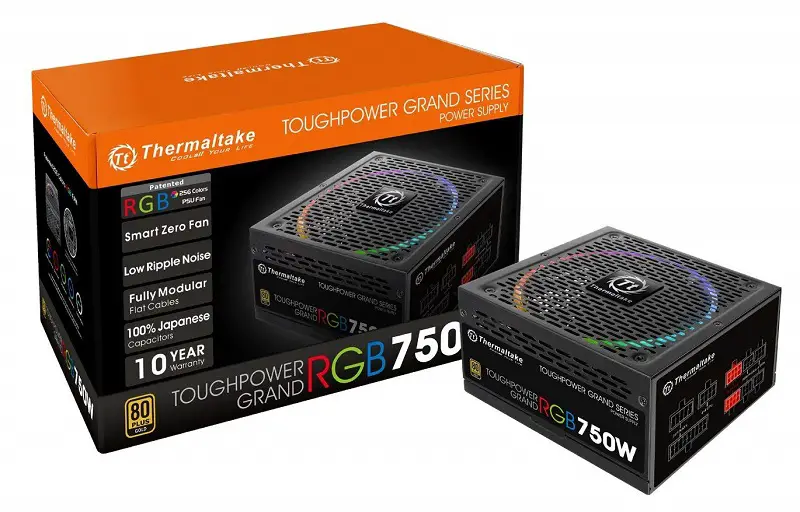 Although an 80+ Bronze is enough for a high-end Gaming PC or for any high-end graphics card but if you want more efficiency and more warranty, then you will only get this with an 80+ Gold certified power supply. After thorough research between the power supplies from Thermaltake, EVGA, Corsair, Seasonic, Rosewill etc., I believe that the Thermaltake Toughpower Grand RGB 750W provides the most value.
With this PSU you will get 10 years of warranty and it uses very high-quality components that include 100% Japanese capacitors. 750 Watts will be more than enough for powering a single RTX 2080 Super or any better graphics card and in case you want to do SLI, then also it will be enough. As there are 2x PCI-E 8 pin connectors on it, you can connect two cables for each GPU to power them up.
As it is fully modular, you will have no problem in connecting and routeing the cables properly and you can connect only those cables which you need. Thermaltake has made it RGB and you can enjoy the lighting effects in your rig which isn't present in a lot of PSUs right now. Therefore, I believe this one is the best-suited PSU for RTX 2080 Super in this list that can serve you in the best possible ways.
---
EVGA SuperNOVA 750 G+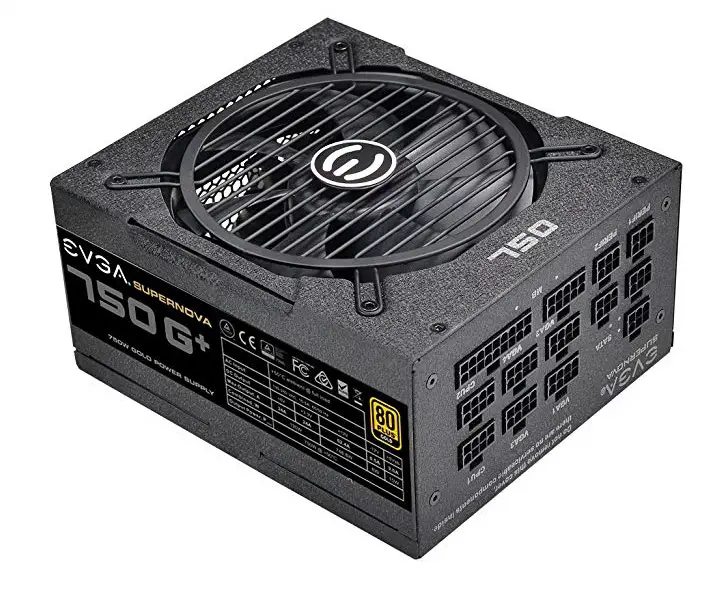 EVGA SuperNova 750 G+ is not a power supply that just gets the job done but a PSU that performs outstandingly better than the others. The 80+ GOLD rating on it will ensure that you get more than 90% of power efficiency on typical loads. It includes OVP, UVP, OCP, OPP, SCP, and OTP to protect your components from all types of electrical failures. As you won't like to get your expensive GPU, CPU and motherboard to die, it's better to invest in something like this to make sure that your system runs for a long time.
It has everything that the above-listed power supplies have except RGB lighting and has some more connectors that should ensure you don't fall behind in overclocking and adding more to your system. There are a total of 13 connectors which is even not present in the Corsair RM750x PSU that costs $20 more and also in some of the best PSUs available today for a price less than $110. These connectors include 4x VGA and 2x CPU power connectors which will support any high-end motherboard with 8+8 CPU power ports and can support Two Way Nvidia SLI of the best Nvidia graphics cards you can have.
It can provide very high amperage on the +12V rail that exceeds 60A with an output power of up to 748 watts and provides 24A on both the +3.3 and +5V rails which is 2A more than the ToughPower Grand RGB 750W. It is very much similar to the ToughPower Grand with some advantages and comes with 10 years of warranty. A perfect and premium choice, indeed.
---
Conclusion
RTX 2080 Super needs a PSU around 650 to 750 watts as per the recommendation from Nvidia. It can surely work on a 550 watts PSU too but if you want your PC to be upgradable and want more efficiency then it can only be achieved with higher wattage power supplies. Starting from 650 watts, you can have 80 plus Gold rated power supplies and modularity at the same time. The above-mentioned power supplies are the best for their prices and should be good to go for any PC Build having a GPU like RTX 2080 Super.