While there is a massive shortage of graphics cards in the market, RTX 3060 Ti is a precious gift if you can find it on its original price. The RTX 3060 Ti although corresponds to the RTX 2060 Super from the previous generation, it's equal to the RTX 2080 Super in performance.
This card is priced at $399 which is roughly half of the price of RTX 2080 Super and is based on the Ampere architecture that is significantly faster in Ray-Tracing. It features 4864 Cuda Cores and 8GB of GDDR6 VRAM that runs at 14Gbps and has a bandwidth of 448GB/s.
Its TDP is 200 watts and Nvidia recommends that you get 600 watts of reliable power supply in order to avoid kinds of bottlenecks. With the Founders Edition card, you will get a 12-pin power connector which is smaller than the conventional PCI-E power connectors and Nvidia provides the connector converter with the GPU itself. However, if you are going for an AIB card, then it will come with 8 to 16 pin power connectors which can be powered with a power supply having the cables with single to dual 8 pin connectors.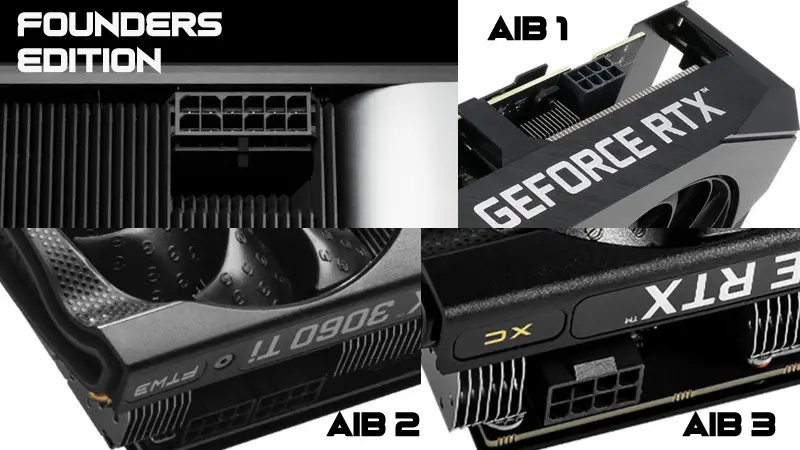 Consider getting one of the power supplies listed below to get the best performance with more than 80% power efficiency. Every PSU listed here can be used for powering up RTX 3060 Ti properly along with other components and are possibly capable of handling even higher-end GPUs.

[box type="shadow" align="alignleft" class="" width="100%"]

Best budget-Thermaltake Toughpower Grand RGB 750W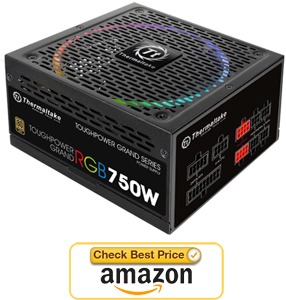 Thermaltake has some very good power supplies in its catalogue and unlike most brands, it offers great reliability at a lower price. TT Toughpower Grand RGB power supplies are available in three wattages: 650, 750 and 850 watts and it's recommended to use the 750 watts PSU as it is nearly the same in price as the 650-watt edition.

The PSU features an excellent performance with very low ripple noise, generally less than 25mV even at 100% load on all the rails. Voltage regulation remains under 2% on the +12V and +5V rails which is also great and it provides easily up to 90% efficiency on an average as it is rated at 80 plus Gold. While many power supplies fail to achieve good efficiency at idle load, it still maintains the efficiency above 80% all the time1)https://www.tomshardware.com/reviews/thermaltake-toughpower-grand-rgb-750w-psu,4928-9.html.

The unit comes with RGB fan as well which can be switched on or off via the button provided on the unit itself and has an RGB button for switching the lighting modes. It's fully modular and comes with 10 years of warranty. As the max connectors you will find on an RTX 3060 Ti are 2x 8 pin, you don't need to worry as it comes with 2x 8 pin PCI-E connectors.

Related- Best CPU for RTX 3060 Ti

[box type="shadow" align="alignleft" class="" width="100%"]

Performance oriented-Corsair RM650X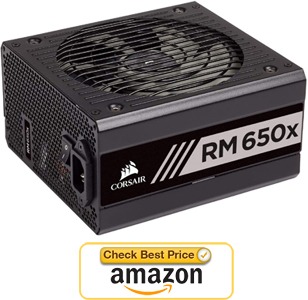 Corsair's RM series is one of the most popular 80 Plus Gold rated power supplies series that is perfect for building a reliable gaming PC that won't disappoint in any way except that it doesn't have any fancy RGB lighting. The RM650X is sufficient for the RTX 3060 Ti and comes with 2x 6+2 pin power connectors.

It is fully modular and its cables use flat wires to save space and hence, will provide a neat look. It is better than the Toughpower Grand 750W PSU when it comes to voltage regulation with a little over 1% of deviation on the +12V rail and much less than 1% in deviation on the +5V rail. The ripple noise is also very low compared to the TT PSU and doesn't cross 10mV most of the times except if you load it 100% and that's seriously too good.

It can maintain the efficiency around 90% most of the times but it does fall behind in efficiency compared to the TT power supply when it comes to the idle load although you still can't complain as it never goes below 80%.

Related- Best 650W power supplies

[box type="shadow" align="alignleft" class="" width="100%"]

Premium- Asus ROG Strix 650G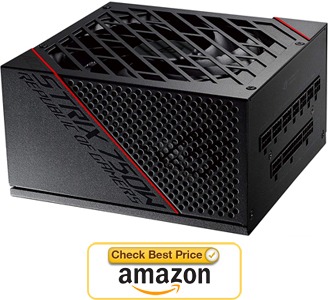 Asus is very popular amongst gamers due to its ROG Strix GPUs and motherboards and when it entered into the PSU category, it didn't disappoint. The company produces ROG Strix PSUs from 550W to 1200W. For the RTX 3060 Ti, the 650G comes with 650 watts of capacity and an 80 Plus Gold rated efficiency.

It features a good exterior design that is customizable using the accessories like magnetic logo and stickers. The rails feature decent current support and pass the test with flying colours. It always maintains its voltage regulation under 1.5% and suppresses the ripple noise to a great extent that it never exceeds 10mV even at full load2)https://www.kitguru.net/components/power-supplies/zardon/asus-rog-strix-750w-gold-power-supply-review/5/.

And as you may have expected, it's fully modular and comes with 10 years of warranty.

Related- Best power supplies for RTX 3070

[box type="shadow" align="alignleft" class="" width="100%"]

High-end- EVGA SuperNOVA 750 P2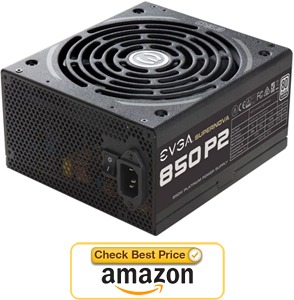 For those who want excellent power efficiency, the SuperNova 750 P2 is not only good in that but also has enough headroom for many upgrades. The power supply comes under the P2 series and provides excellent performance that you can't ignore. It passes every test decently and provides an efficiency of more than 90% on typical loads.
The unit suppresses ripple noise to a great extent and doesn't exceed 17mV on any rail while voltage regulation is also perfect with having deviation less than 1.5% on all rails. It is fully modular and comes with 4x 6+2 pin connectors. The only CON I find in it is that the cables are thick, so you need to have good clearance in your case to build your system easily.
It comes with 10-year warranty and a price of around $200. This might be expensive but a good match for any high-end gaming build.