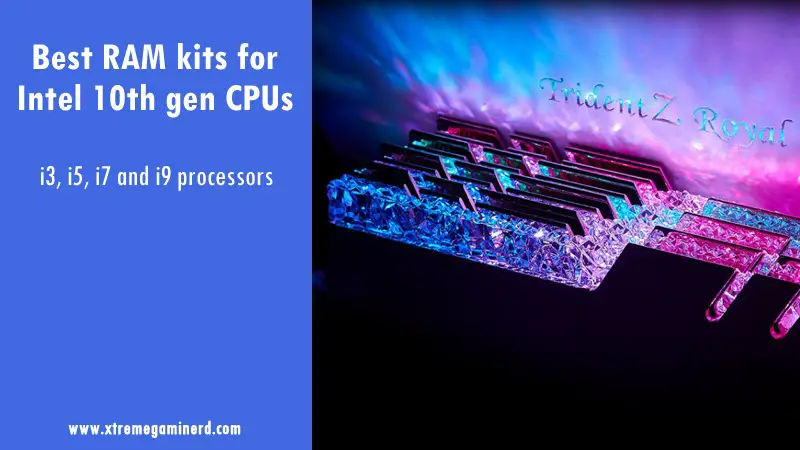 A good RAM kit does play a vital role in increasing your system's performance, whether you play video games or work on applications. There is plenty of evidence where it has been proved that better RAM is directly proportional to the increase in performance((https://www.youtube.com/watch?v=kazX_WbCI4g)).
By better RAM I mean RAM sticks which have good clock speed and lower latency timings. A lot of new PC builders ignore the second aspect of a RAM kit thinking that only high clock speed is important. This is true up to a certain point but as the clock speed is increased, the latency timings also increase which delays the execution of processes resulting in slower performance.
A Good RAM kit increases Intel's 10th gen CPUs performance
So, in short, if you were to take maximum benefit out of a RAM kit, you need to get one that has faster speed and lower latency. Intel's 10th gen processors that include i3 10100, i5 10400F, i5 10600K, i7 10700K, i9 10900K and some other locked models do get affected by this same reason. These CPUs, however, unlike the AMD Ryzen processors, don't take much advantage from a very high-speed RAM kit.

Intel recommends at least 2666MHz of clock speed but there are benchmarks which have shown that if you get higher speed RAM with the same latency as that of 2666MHz, then your system will see a noticeable performance increase in gaming and memory-dependent applications.

I have listed down a couple of RAM kits which are best suited for these processors and won't cost you a lot.

[box type="shadow" align="alignleft" class="" width="100%"]

TEAMGROUP T-Force Vulcan Z 3000MHz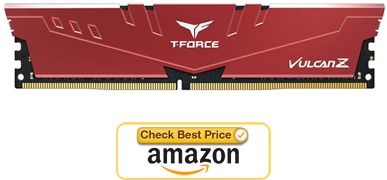 Most cheap 2666MHz RAM kits come with CL19 and that's terrible for performance. Some good 2666MHz RAM kits have the same timings as the T-Force Vulcan Z RAM kit. It comes with 3000MHz of RAM speed which will give a considerable amount of boost and has CL timings as 16-18-18-38 which is pretty good for $60 for 2x 8GB sticks.
It has a red aluminium heat spreader on top with no RGB lights and is available in four different colours including camouflage. If you like RGB lighting then you can consider the T-Force Delta RGB which is roughly $15 more expensive than this kit but will surely increase the aesthetics.
Best budget- Corsair LPX 3000MHz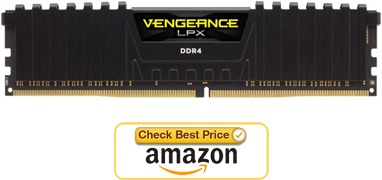 If you want lower latency then this Corsair's LPX 3000MHz memory kit is fantastic. Yes, it's a little bit expensive than the T-Force Vulcan but has CL timings as 15-17-17-35 which is excellent. It looks very simple from outside with the black aluminium heat spreader and has four different colours to choose from. You can get a memory stick as low as 4GB in capacity up to 128GB with 8x 16GB sticks if you are planning to build a workstation.

For gaming, 16GB kit is perfect while for most content creators a 32GB kit will be awesome. Moreover, if you want higher clock speeds, then it is available in 3200MHz, 3600MHz and even higher. One of the 3600MHz kits has the CL timings as 16-18-18-36. It is CMK32GX4M2K3600C16((https://www.corsair.com/ww/en/Categories/Products/Memory/VENGEANCE-LPX/p/CMK32GX4M2K3600C16#tab-tech-specs)). 

Related- Best RAM kits for B550 chipset 

[box type="shadow" align="alignleft" class="" width="100%"]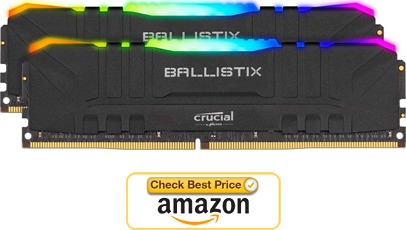 Crucial is a well-known brand in the memory market and has some appreciable kits to use with Intel's 10th gen processors. Among them is the Ballistix RGB 3200MHz RAM kit which is available in a wide range starting from 8GB up to 64GB. The RAM is clocked at 3200MHz which is the sweet spot for Intel's 10th CPUs and has timings as 16-18-18-36. It uses RGB lights over the aluminium heat spreader and is available in Red, Black and White colours.
G.Skill TridentZ Royal Silver 3200MHz(F4-3200C14D-16GTRS)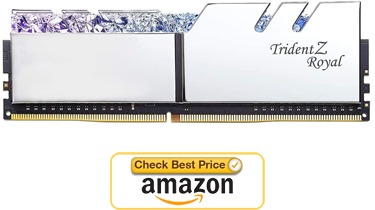 Who can forget the G.Skills TridenZ RAM kits? But the Royal memory editions are on a whole new level in terms of looks and don't compromise in performance either. The Royal Silver RAM kit comes with crown jewel design and the crystal bars on it scatters the lights uniformly to produce marvellous effects.

It features 3200MHz of clock speed with unbelievably low timings of CL14-14-14-34 on 1.35V. Don't confuse these timings to be as the standard one at 2133MHz as these are the tested timings at 3200MHz. So, if your motherboard supports this frequency, then it should work out of the box otherwise you can tweak the voltage and timings from the BIOS.

This kit will be expensive but surely worth your investment otherwise, you can get the previously mentioned kits if you just want to get more value for less money.

Related- Best memory kits for Ryzen 5600X and 5800X

[box type="shadow" align="alignleft" class="" width="100%"]

Undoubtedly the best– TEAMGROUP Xtreem 3600MHz ARGB DDR4
The TeamGroup Xtreem 3600MHz ARGB comes with full mirror light penetration and an aluminium alloy heat sink for decent cooling. It not only excels in aesthetics but has almost no competition for its price. The illumination can be controlled through different software like Asus Aura Sync, Gigabyte RGB Fusion 2.0, MSI Mystic Light Sync, and ASRock-Polychrome Sync that allows the user to get a perfect synced illumination.
This kit comes close to the GSkill Trident Z 4400MHz memory kit and features 3600MHz frequency with very low latency timings of only 14-15-15-35 on 1.45V((https://www.teamgroupinc.com/en/product/xtreem-argb-ddr4)). The voltage can be reduced and the latency can be set according to your need but this configuration provides the highest performance in games and memory-dependent applications.
Related- Best RAM for Ryzen 3400G CPU