Memory
Best RAM for Intel 10th gen i3, i5, i7 and i9 processors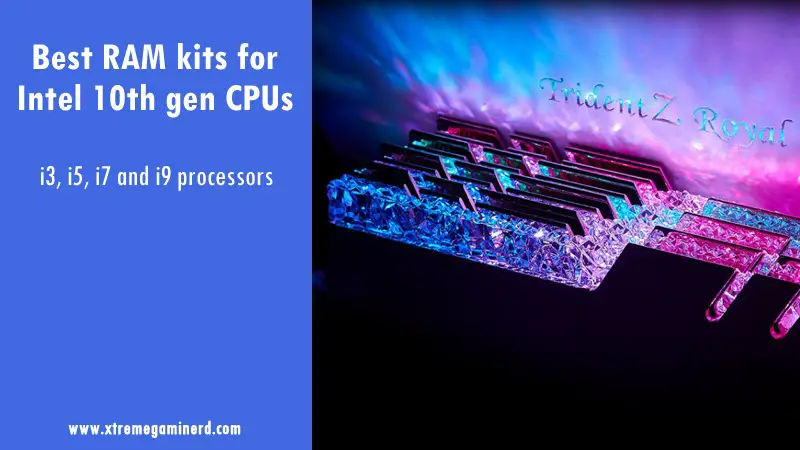 A good RAM kit does play a vital role in increasing your system's performance, whether you play video games or work on applications. There is plenty of evidence where it has been proved that better RAM is directly proportional to the increase in performance1)https://www.youtube.com/watch?v=kazX_WbCI4g.
By better RAM I mean RAM sticks which have good clock speed and lower latency timings. A lot of new PC builders ignore the second aspect of a RAM kit thinking that only high clock speed is important. This is true up to a certain point but as the clock speed is increased, the latency timings also increase which delays the execution of processes resulting in slower performance.
A Good RAM kit increases Intel's 10th gen CPUs performance
So, in short, if you were to take maximum benefit out of a RAM kit, you need to get one that has faster speed and lower latency. Intel's 10th gen processors that include i3 10100, i5 10400F, i5 10600K, i7 10700K, i9 10900K and some other locked models do get affected by this same reason. These CPUs, however, unlike the AMD Ryzen processors, don't take much advantage from a very high-speed RAM kit.
Intel recommends at least 2666MHz of clock speed but there are benchmarks which have shown that if you get higher speed RAM with the same latency as that of 2666MHz, then your system will see a noticeable performance increase in gaming and memory-dependent applications.
I have listed down a couple of RAM kits which are best suited for these processors and won't cost you a lot.
Related- Best RAM kits for B550 chipset 
Related- Best memory kits for Ryzen 5600X and 5800X
Related- Best RAM for Ryzen 3400G CPU