There is a lot of hype going around the processors from AMD that were released a few weeks back and there are many out in the world who are waiting eagerly to grab one of those or might have already got one. However, day by day, the increasing demand of the end-users in terms of performance, as well as aesthetics, is increasing, and as a result, users often try to get the best for their system. Thus in this particular topic, we are going to list down a few memory modules that we found the best suitable ones for the AMD Ryzen 5 5600X & Ryzen 7 5800X.

Apart from the difference in core & thread count, both of the processors come with PCIe 4.0 supports and support of memory module clocked at 3200MHz out of the box. AMD recommends 3200MHz or higher frequency for the latest Ryzen 5000 series processors as they perform the best with higher clocked RAM kits just as the previous Ryzen CPUs but as we said earlier, due to the increasing demand for the users both in terms of performance and aesthetics, users often try to find out the best that fulfills both the requirement. Hence, we have narrowed down a list of memory modules that can cover most requirements of the users.

[box type="shadow" align="alignleft" class="" width="100%"]

Corsair Vengeance LPX 3200MHz DDR4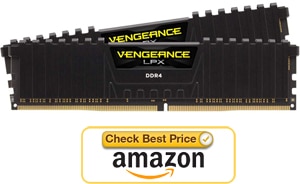 The first one in the list of the memory module is the Corsair Vengeance LPX RAM. It comes with a minimalistic design and is the best suitable for the builds where you are using big CPU air coolers that might hinder RAM clearance or you are making a small form factor builds. However, this memory module kit is also good for those users who are looking for a specific colour to match the theme of their build. It is available in four colour variants.
It has default Latency timings as 15-15-15-36 on 2133MHz and tested Latency as 16-18-18-35 with 2666MHz of speed1)https://www.corsair.com/us/en/Categories/Products/Memory/VENGEANCE-LPX/p/CMK32GX4M2A2666C16#tab-tech-specs. It is also available in different memory sizes ranging from 8GB kit and going all the up to 128GB. Each Vengeance LPX module is built with a pure aluminium heat spreader that is quite efficient for optimal cooling along with an eight-layer PCB that helps manage heat and provides room for overclocking.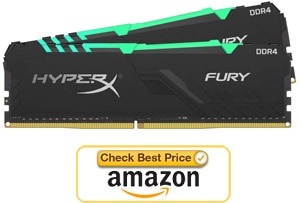 Our next pick is the HyperX Fury that comes with a minimalistic design and offers an excellent range of options to choose from that starts from 2400MHz up to 3733MHz in speed and 16-128GB in capacity. If you are looking for a memory module that you can use with the Ryzen 5 5600X then it is indeed a good choice as this kit features 3200MHz frequency with a low latency of 16-18-18 and 15-17-17 on 3000MHz.
It is available in a single stick or dual memory kit which allows a user to use it as an option to upgrade too. Also due to the minimalistic design, it is suitable for those who are having issues with the height clearance of memory modules and also quite useful for small form factor builds. Furthermore, it also comes with a heat spreader that ensures optimum cooling of the memory modules and RGB lighting on top that has several modes to choose from2)https://www.hyperxgaming.com/en/memory/fury-ddr4-rgb?partnum=HX432C16FB3A%2F8.
Unbeatable-G.SKILL Trident Z Royal 4400MHz DDR4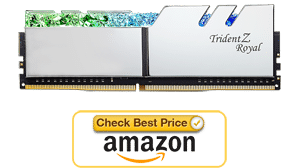 While 3600MHz is a great speed for Ryzen processors, there is no doubt that memories with clock speed higher than 3600MHz with lower latencies provide even better performance with the latest Ryzen processors. G.Skill Trident Z Royal memory kit which we recommend is the best one on this list and perhaps the best choice for Ryzen 5600X and 5800X.

It features a whopping 4400MHz frequency with latency timings as 18-19-19-39 which is the same latency available with the 3600MHz of Corsair Vengeance RGB Pro kit. The memory kit, however, operates on a higher voltage which is 1.4V but provides the best performance in memory dependent applications such as AIDA64 and Winrar3)https://wccftech.com/review/g-skill-trident-z-royal-rgb-t-force-xtreem-argb-ddr4-memory-kit-review/3/.

Along with superior performance, the memory modules feature a crown jewel design having the capability of providing the right amount of light refraction along with customizable RGB lighting that can't be found on any other memory module. The only CON it has is that it is too expensive compared to the above ones.

Related:- Best Cooler for Ryzen 5600X, Best Cooler for Ryzen 5800X

[box type="shadow" align="alignleft" class="" width="100%"]

Our Recommendation- TEAMGROUP Xtreem 3600MHz ARGB DDR4
If you are looking for RAM that you want to do a few things like overclocking yourself then the TEAMGROUP T-Force Xtreem ARGB is going to be your best friend. It comes with full mirror light penetration along with an aluminium alloy heat sink for superior cooling performance and also being energy efficient without hindering the performance.
Its performance is comparable to the GSkill Trident Z 4400MHz memory kit and gets beaten with a small margin due to its slower speed. It features 3600MHz with very low latency of CL 14-15-15-35 on 1.45V4)https://www.teamgroupinc.com/en/product/xtreem-argb-ddr4. You can tweak the voltage and the latency according to your need but this configuration provides the best performance in games and applications.
The most notable mention for this memory module is the ARGB illumination and automatic overclocking feature. For full illumination, it uses the principles of optical reflection and penetrating light guide, so the luminous area of the entire module can be maximized through the mirror-finish design offering a full illuminated memory module. The illumination can be controlled via ASUS Aura Sync / GIGABYTE RGB Fusion 2.0 / MSI Mystic Light Sync / ASROCK-Polychrome Sync software allowing a user to get a perfect synced illumination.
TEAMGROUP T-Force Night Hawk RGB 4000MHz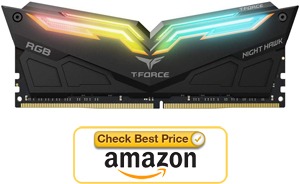 From various benchmarks, it is clear that 4000MHz Clock speed is among the sweet spots for Ryzen 5000 CPUs and the T-Force Night Hawk RAM kit is among the top performers which feature comparatively lower latency to most 4000MHz RAM kits. With the CL timings as 18-20-20-44 at 1.35V, this model is perfect for gaming and non-gaming purposes.
It features an aluminium heat spreader with gorgeous T-Force hawk design that has RGB lighting on top which is compatible with various RGB software like Asus Aura Sync, Gigabyte RGB Fusion 2.0, MSI Mystic Light Sync, and more.
Winding-up
Above, we have listed out the most suitable memory modules based on reviews and AMD's recommendation and we have also tried to cover every possible scenario that ranges from having superior performance alongside aesthetics. However, in my personal opinion, I will prefer to stick with TeamGroup Xtreem 3600MHz as it is the sweet spot for Ryzen 5600X and 5800X and doesn't cost too much like the Trident Z Royal 4400MHz memory kit from G.Skill.