The impact of RAM cannot be ignored today as most of the latest processors from Intel and especially AMD depend on good RAM for achieving high performance. Selecting a good RAM kit is not as easy as it was five years ago and since the release of Ryzen processors, the evolution of RAM took place at a faster pace.
Today, the latest motherboard chipsets can support very high clock speeds that memory kits can offer. One of the most popular chipsets from AMD today is the B550 that provides a complete package of features required to build a strong gaming or productivity system. Most B550 motherboards can easily support memory frequency above 4000MHz and this provides a great opportunity for gamers and content creators to use highly overclockable RAM kits to boost their performance.
As Ryzen 5000 series CPUs are out, AMD recommends 3733MHz clock speed as the sweet spot for gaining the maximum performance for the money and Ryzen 5000 CPUs provide even better performance if the clock speed is higher.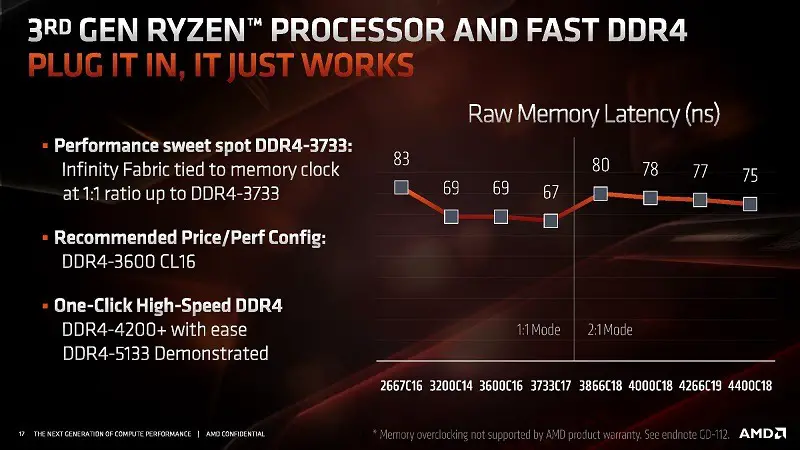 In no circumstance, we recommend going below 3000MHz and for achieving the best performance, you have to equally consider the CAS Latency of the memory kit you will be using as not every high-speed RAM kit can offer great performance due to high latency.

Consider the following list of RAM kits that we recommend for you for the Ryzen processors.

[box type="shadow" align="alignleft" class="" width="100%"]

Best budget- Crucial Ballistix 3600MHz DDR4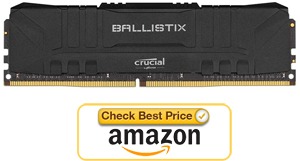 Crucial is a well-known name in the PC hardware industry and makes some very good RAM kits for gaming. The Ballistix 3600MHz DDR4 RAM kit is perfect for high performance in gaming and non-gaming operations as it features a low CAS Latency of 16-18-18-38 operating on 1.35V. Some users are able to achieve even higher frequency like 3800MHz with the same timings which resulted in performance boost as the latency is still the same.

It is available in 8GB up to 64GB options where 4GB is the minimum size of a single stick and 32GB is the maximum capacity on a single module. The RAM sticks feature a very simple design with aluminium heat spreaders on top and have three colours to choose from- Black, White and Red.

[/box] [box type="shadow" align="alignleft" class="" width="100%"]

Ideal- G.Skill Trident Z Neo 3600MHz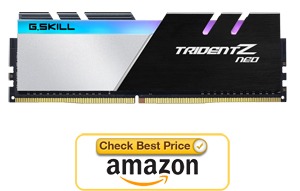 The Ballistix RAM kit is definitely a good choice but for many builders, the absence of aesthetics may turn them away. If you give preference to only performance, then Ballistix RAM kit is for you but if you want to show off the RGB lighting and beautiful heatsink design through the side panel of your case, then G.Skill Trident Z Neo provides an excellent option for fulfilling both the jobs of performance and looks.

The RAM kit provides two 8GB RAM modules with 3600MHz of frequency and latency as 16-19-19-39 on 1.35V. It's a little slower than the Ballistix RAM kit as it has a little higher timing but the difference will be very little as it is very close in specifications. Along with good performance, it features heatsinks with two colours and RGB lighting on top that is customizable via Trident Z Lighting Control software.

[/box] [box type="shadow" align="alignleft" class="" width="100%"]

TEAMGROUP T-Force Night Hawk RGB 4000MHz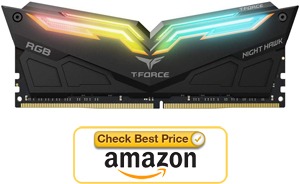 4000MHz Clock speed is among the sweet spots for Ryzen 5000 processors like Ryzen 5600X and 5800X and T-Force Night Hawk RAM kit is among the top performers which has comparatively lower latency to most affordable 4000MHz RAM kits. With the CL timings as 18-20-20-44 at 1.35V, this model is perfect for overclockers and gamers.

It features a gorgeous T-Force hawk design with RGB lighting on top which is compatible with various RGB software like Asus Aura Sync, Gigabyte RGB Fusion 2.0, MSI Mystic Light Sync, and more.

[/box] [box type="shadow" align="alignleft" class="" width="100%"]

Best Value- TEAMGROUP Xtreem 3600MHz ARGB DDR4
For those who don't want to overspend on memory kit alone but at the same time want the best bang for the buck, then the best RAM kit on this list is the TeamGroup Xtreem 3600MHz ARGB. It comes with full mirror light penetration and an aluminium alloy heat sink for decent cooling.

Its performance is close to the GSkill Trident Z 4400MHz memory kit mentioned above but gets beaten with a small margin due to its slower clock speed. It features 3600MHz frequency with low latency of 14-15-15-35 on 1.45V((https://www.teamgroupinc.com/en/product/xtreem-argb-ddr4)). You can reduce the voltage and the latency according to your need but this configuration provides the highest performance in games and applications.

For aesthetics and illumination, it uses optical reflection and penetrating light guide, so the luminous area of the entire module can be maximized through the mirror-finish design offering a full illuminated memory module. The illumination can be controlled through different software like Asus Aura Sync, Gigabyte RGB Fusion 2.0, MSI Mystic Light Sync, and ASRock-Polychrome Sync that allows the user to get a perfect synced illumination.

[/box] [box type="shadow" align="alignleft" class="" width="100%"]

Premium-G.SKILL Trident Z Royal 4400MHz DDR4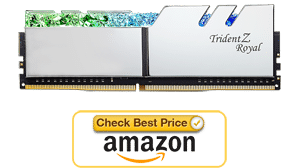 This G.Skill Trident Z Royal memory kit provides unbeatable performance and if your B550 chipset board supports 4400MHz of clock speed, then you can get the most out of the Ryzen processors.

It features CAS latency timings as 18-19-19-39 which is the same latency available with the 3600MHz of Corsair Vengeance RGB Pro kit but it operates on a higher voltage of 1.4V and provides the best performance in memory dependent applications such as AIDA64 and Winrar((https://wccftech.com/review/g-skill-trident-z-royal-rgb-t-force-xtreem-argb-ddr4-memory-kit-review/3/)).

The RAM modules boast a crown jewel design that provides the right amount of light refraction along with customizable RGB lighting that is rare to find on any other memory module. The only CON it has is that it is too expensive compared to the above ones.

[/box]

Related:- Best Cooler for Ryzen 5600X, Best Cooler for Ryzen 5800X