Introduction
I have covered almost every possible main PC component and peripheral that can feature RGB. Now it's time to consider the part which mostly gets hidden in PC cases but there are still many cases which has an exposed area for showing the RGB lighting. This is the power supply, the one which still many people ignore when it comes to a reliable build.
Not only you should buy a reliable PSU for your PC but now you should also go for the ones that feature good aesthetics. Although there are still not as many great looking PSUs in terms of RGB when compared to the most dominant PC components such as motherboard, graphics card or RAM, there are still a good number of RGB PSUs available right now that will illuminate your RIG if you put them upside down facing the fan upwards.
This post covers the top 5 RGB power supplies that I recommend for an RGB PC build.
GAMEMAX VP-600-M-RGB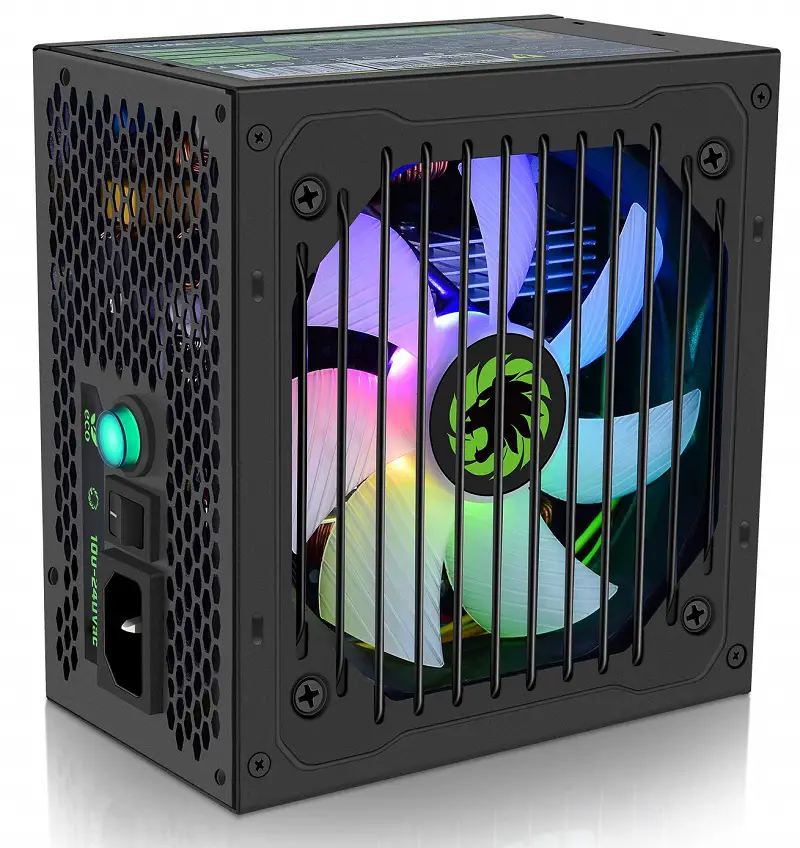 Starting the list with the 600 watts of power supply, we have the Semi-modular Bronze 80 Plus PSU from Gamemax. Usually, I don't recommend power supplies from less popular brands but this one is reliable for building a gaming PC and has a good number of reviews.  It features up to 86% of power efficiency on typical loads and up to 480 watts on a single +12V rail.
The PSU has a 120mm RGB fan that features RGB backlighting and has an ECO mode with a switch at the back through which you can turn the fan OFF by Fanless Mode and or put the fan in the Silent Mode. The PSU will display a smooth cycling lighting effects with switching colours simultaneously. Several PC builders have appreciated its quality and you must take a look at its reviews on Amazon before you skip to the next one.
---
GAMEMAX RGB850 Rainbow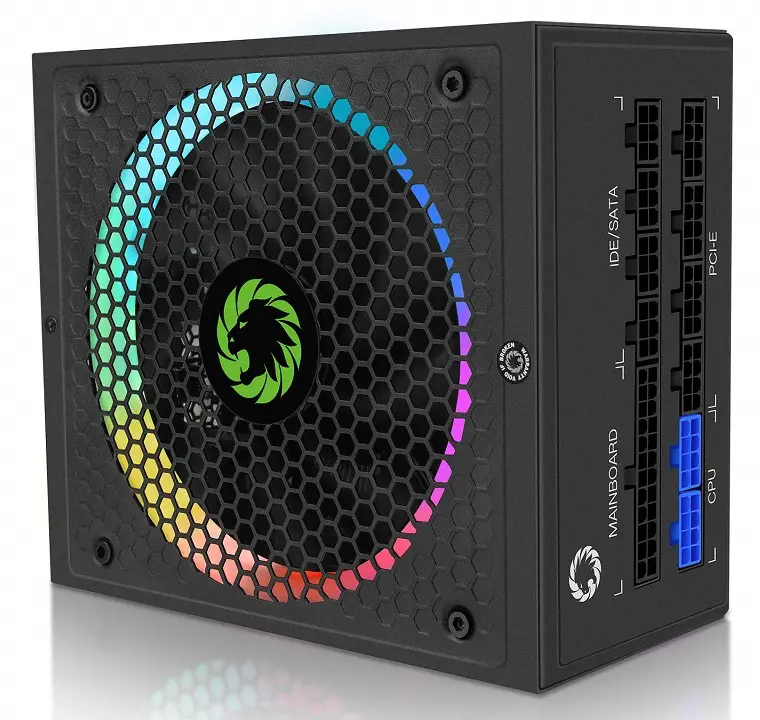 Next one is again from Gamemax but this time it's much better than the previous one. The performance, as well as the aesthetics of this PSU, is totally different from the VP-600-M-RGB. This one is a Gold rated power supply which provides more than 90% of power efficiency on typical loads and generates less heat. Also, it's fully modular to ease the cable management process.
The PSU features a 140mm RGB fan that is similar to the Thermaltake Riing RGB fan. This fan is bigger and is necessary as the PSU has the capacity of providing up to 840 watts on the single +12V rail. Its lighting is better than the previous one and looks unique on its own. It doesn't need any controller and changes the colours in a smooth transition. It has got a 4.8 star average rating on Amazon and comes with 3 years of warranty.
---
GAMDIAS Kratos P1-750W Gold RGB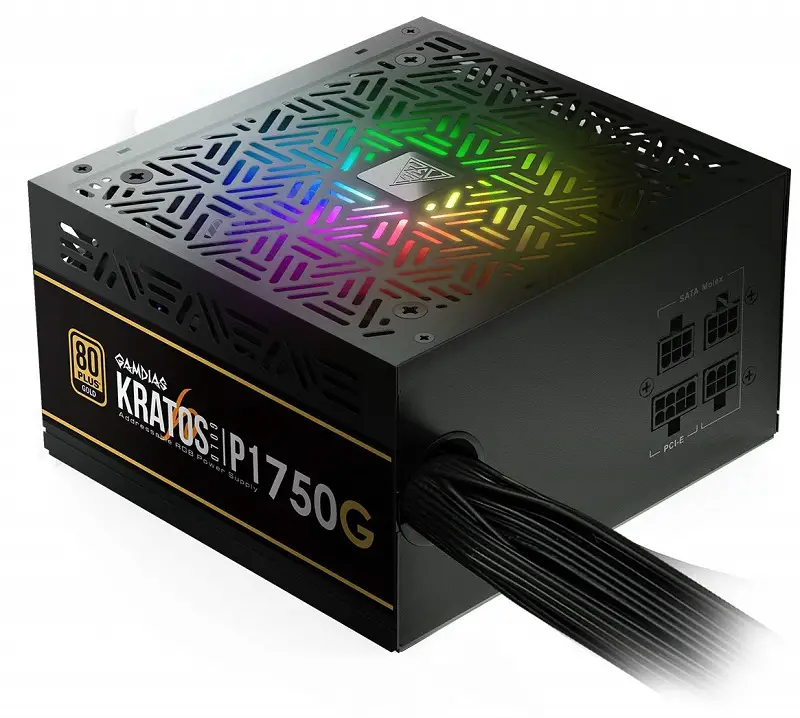 Gamdias Kratos P1-750W is another great RGB power supply that features 80+ Gold rating with 750 watts of capacity. This power supply looks completely different with that ventilation. Through that, you can clearly see through and observe that RGB lighting from the fan. The LEDs are addressable and produce beautiful lighting effects. The PSU features a switch which helps to sync with the other RGB components and is compatible with Asus Aura Sync, RGB Fusion 2.0, MSI Mystic Light Sync, and ASRock Polychrome Sync.
It is a semi-modular power supply with a few cables already pre-connected that are actually flat rather than thick ones. This one is really a good option if you want more features in RGB lighting but its cost is a little bit higher than the above ones.
---
Thermaltake Toughpower Grand RGB 850W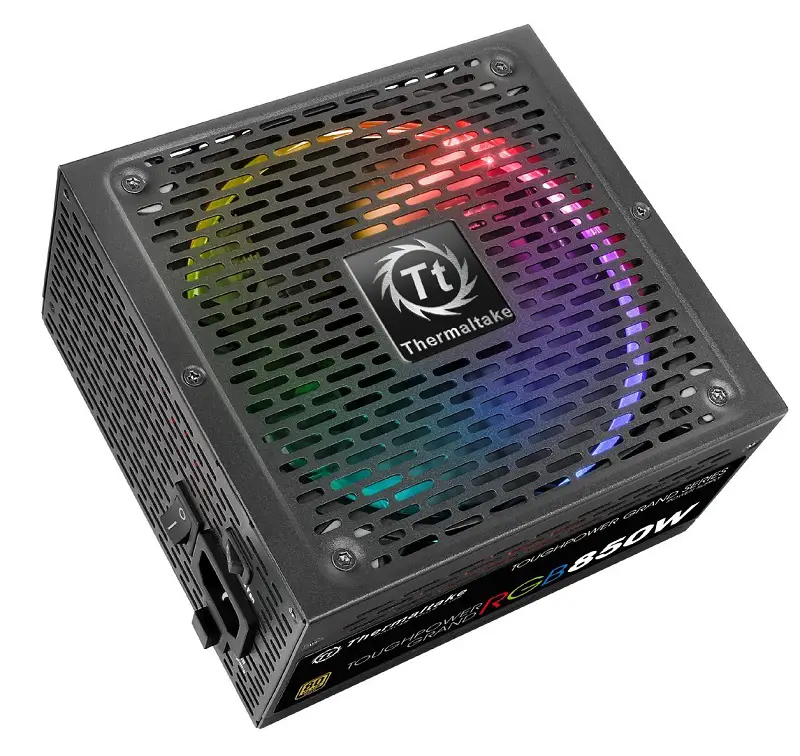 Thermaltake Toughpower Grand power supplies are among the ones that I mostly use in my PC builds nowadays. The reason behind it is that it features both great performance and aesthetics that no other popular brand is currently offering. The TT Toughpower Grand 850 watts PSU shown above provides 80 Plus Gold rating and a fully-modular design that helps in easy cable management.
The PSU features a 140mm RGB Riing Fan that can be controlled using the RGB lighting button at the back which produces 5 different lighting effects such as RGB Cycle, Red, Green, Blue, White, and LED Off. In my opinion, this one is the second-best power supply in the list after the next one which is also from Thermaltake.
---
Thermaltake Toughpower iRGB Plus 850W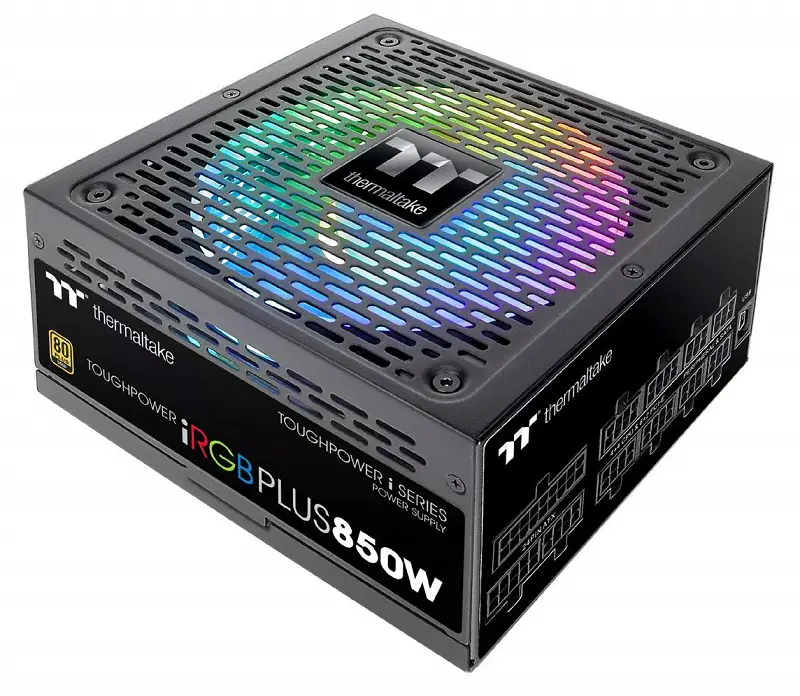 The iRGB Plus 850 watts of power supply although features the same power supply capacity but is almost double as expensive as the Toughpower one. It's because the RGB lighting used in this power supply uses next-level technology. The specifications are almost the same except that now the RGB lighting can be controlled using different software.
It features 18 different lighting zones and can be controlled using TT RGB PLUS software, Razer Chroma, and Amazon Alexa. So, you might wanna save some money if you want to go to the next level but for most users, the above 4 PSUs should be enough.
---
Conclusion
As most of the components today are available with RGB lighting, you can obtain the most out of them and create whatever colour combination you may like. There are almost unlimited possibilities and the best thing is that you won't have to compromise the performance. If you need more help in building a PC, then you can let me know in the comments section below!