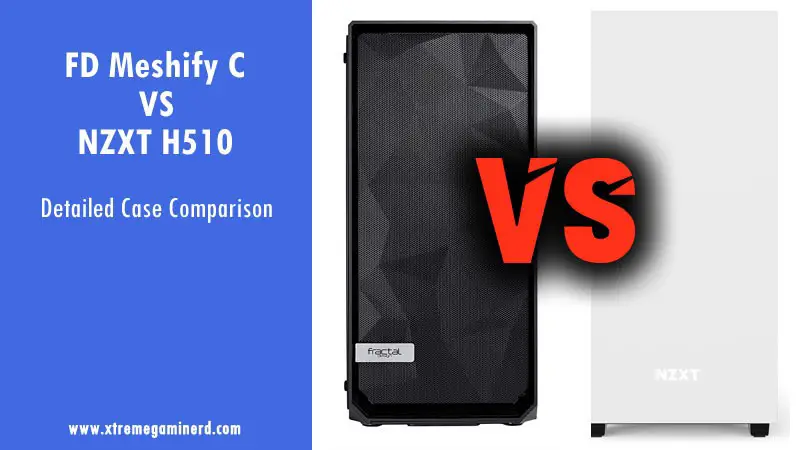 Fractal Design's Meshify C and NZXT H510 are very popular mid-tower cases under $100 and with their unique designs, you may have got confused on which one to buy for your PC build. As both companies produce top-notch cases for PC rigs, it's sometimes difficult to select one of them.
This post will discuss 5 essential things which will analyze the difference between the two and provide you with the conclusion on which one will be fit for you. These things include features such as build quality, cable management, components support and aesthetics which are the major aspects you should consider while choosing a case.
If in any instance you get confused or need assistance, drop your comment in the comments section below the post.
Build quality and Aesthetics
FD Meshify C- The Meshify C uses Steel and ABS plastic components for its construction and weighs 6.1KG. Its dimensions are 409 x 217 x 453mm including feet, protrusions, and screws. The case uses a tempered glass side panel for a clear look inside and features an angular vent in the front.
NZXT H510- H510 uses SGCC Steel for its interior and exterior which makes it very strong and reliable and weighs 6.6KG which is half a KG more than Meshify C. It uses a tempered glass side panel for a clear view of inside and a full-length PSU should just like the Meshify C.
Unlike most mid-tower cases, it is very simple and plain in design and its dimensions are 210mm x 460mm x 428mm which makes it a little bigger than the Meshify C.
Compatibility
Compatibility
FD Meshify C
NZXT H510
Motherboard
ITX, M-ATX, ATX
ITX, M-ATX, ATX
CPU cooler
170mm
165mm
GPU
315mm
381mm
Total fan mounts
7
4
Radiator
Front- Up to 360mm
Top- Up to 240mm
Rear- 120mm
Front- Up to 280mm
Top- N/A
Rear- 120mm
Storage drives
3.5"- 2
2.5"- 3
3.5"- 3
2.5"- 3
Expansion slots
7
7
Cooling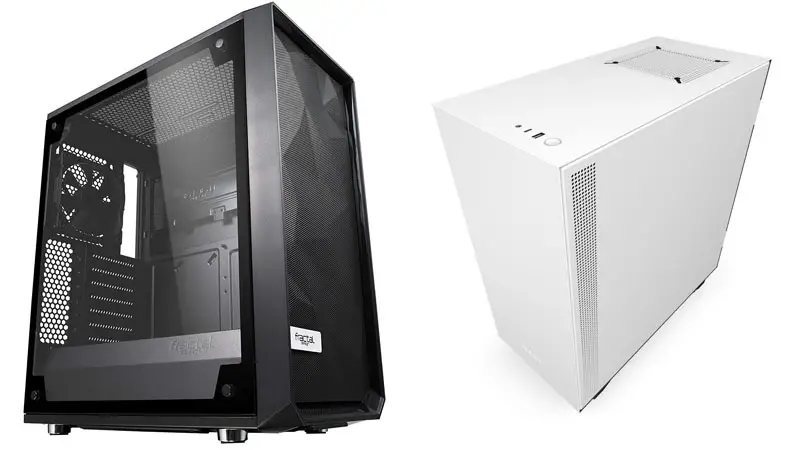 The difference in cooling support between these cases is huge. While the Meshify C features a ventilated front panel with angular design and support for up to 360mm rads or 3x 120mm fans, the H510 comes with a non-ventilated front panel that only has small vents on the right side. This impacts its cooling performance due to which it is not recommended for hardcore overclockers.
Also, there is only one fan slot at the top while the Meshify C has two. As you can see from the compatibility chart, the H510 is very much behind in supporting several fans or big radiators but Meshify C is way ahead.
Cable management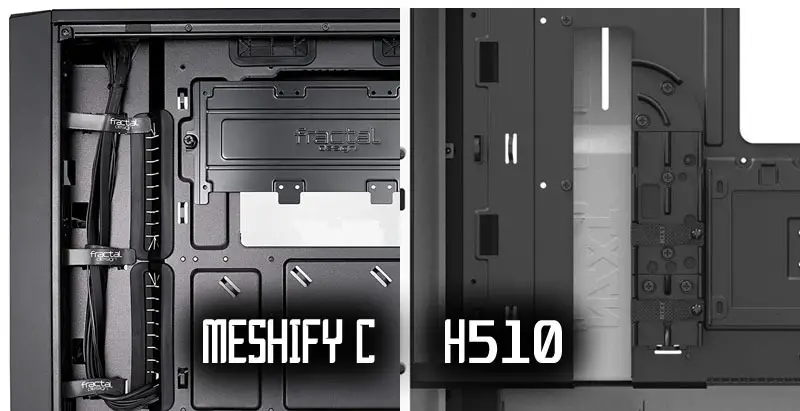 H510 brings the popular design which is well-known for its cable management system. The front of the case doesn't have one or two routing holes but a cable cover that hides the cables more effectively. Also, the back of the case comes with a pre-built cable routing kit that makes easy to fit all the cables in one area easily.
The Meshify C doesn't have this type of system but has a decent clearance of up to 35mm at the back which is fine in most cases along with some velcro straps to bind all the cables together. Meshify C doesn't come with any cable cover at the front but with 7 routing holes where 2 primary holes use rubber grommets for a clean cable routing.
Price and Conclusion
The Meshify C can cost you around $80-$90 and the NZXT H510 also comes somewhere between this price tag. So, this makes both of them direct competitors for their price. For those who prefer looks and a clean build, the H510 is a perfect choice but for overclockers, Meshify C is a much better option to go with.

[box type="shadow" align="alignleft" class="" width="100%"]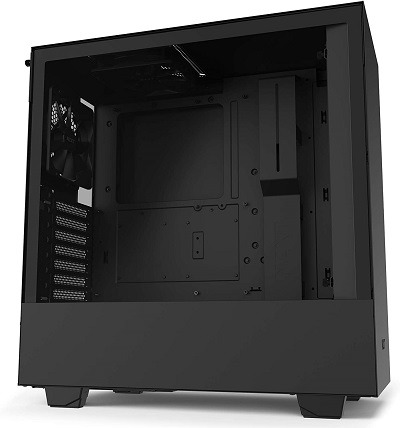 [wp-svg-icons icon="checkmark-circle" wrap="i" color="green"] Plain and simple yet elegant [wp-svg-icons icon="checkmark-circle" wrap="i" color="green"] Advanced cable management system [wp-svg-icons icon="checkmark-circle" wrap="i" color="green"]  Sturdy construction [wp-svg-icons icon="checkmark-circle" wrap="i" color="green"] Available in three different colours: Red/Black, Black, White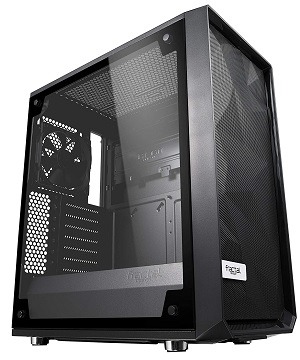 [wp-svg-icons icon="checkmark-circle" wrap="i" color="green"] 3x Angular front mesh for increased airflow [wp-svg-icons icon="checkmark-circle" wrap="i" color="green"] Supports up to 360mm rads at front and 240mm on top [wp-svg-icons icon="checkmark-circle" wrap="i" color="green"]  Supports tall CPU coolers up to 170mm [wp-svg-icons icon="checkmark-circle" wrap="i" color="green"] Compact yet full of features [wp-svg-icons icon="checkmark-circle" wrap="i" color="green"] Good clearance at the back and a lot of routing holes