If you are confused between choosing the right mid-tower case between Phanteks P400A/Digital and Meshify C, then I have explained the differences between them which should give you an insight into what you can expect from each.
Phanteks P400A is a popular mid-tower successor of the original P400 while the Meshify C features a unique design from Fractal Design that caught the attention of many PC builders which eventually led to direct competition between the two.
I have compared both the cases with regards to 5 things and based on these, you can easily conclude which one is the winner or which one is suitable for you.
Build quality and Aesthetics
Phanteks P400A Digital- The P400A uses Powder-coated steel for its interior and exterior which is very durable and uses a tempered glass side panel for aesthetics. Its dimensions are 210mm x 465mm x 470mm which makes it a tall and long mid-tower case, and its weight is roughly 7KG which makes it heavier than most simple mid-tower cases.
For looks, the P400A doesn't have any RGB fans but the Digital edition is equipped with 3x 120mm RGB fans at the front which can be controlled using the three buttons provided on the top which are: Fan speed, Color, and Mode. The tempered glass side panel is at the side which allows a clear look to the inside components. The case is available in two colours: White and Black.
Fractal Design Meshify C- The Meshify C uses rigid steel and some abs components for overall build and weighs at around 6KG. Its dimensions including feet, screws, and protrusions are 409 x 217 x 453mm which makes it a little smaller than the P400A.
There is a side tempered glass panel which allows to see through inside and the case is available in two colours just like P400A i.e., Black and White.
Compatibility
Compatibility
Phanteks P400A/Digital
FD Meshify C
Motherboard
ITX, M-ATX, ATX, E-ATX
ITX, M-ATX, ATX
CPU cooler
160mm
170mm
GPU
420mm
315mm
Total fan mounts
6
7
Radiator
Front- Up to 360mm
Top- Up to 280mm
Rear- 120mm
Front- Up to 360mm
Top- Up to 240mm
Rear- 120mm
Storage drives
3.5"- 2, 4-optional
2.5"- 2
3.5"- 2
2.5"- 3
Expansion slots
7
7
Cooling
As mentioned in the table above, both cases are capable of installing multiple fans at the front and top and also support up to 360mm radiators at the front. The Meshify C, however, is limited to installing only 240mm radiator at the top but the P400A can equip a 280mm radiator.
The front panel on both the cases are vented for superb airflow but the Meshify C uses angular design to increase the airflow better than the traditional plain design. Moreover, both cases use 3 dust filters at top, front, and bottom respectively to stop the accumulation of dust.
Cable management
The P400A provides a total of 6x routing holes with two primary routing holes using rubber grommets for a neat look. The Meshify C uses a total of 7x routing holes where one additional is at the top, 3 are at the PSU shroud and two are on the primary location with rubber grommets.
As both the cases have a full-length PSU shroud, the PSU and cables can be stuffed inside to avoid clutter on top and also hides the hard drives. For clearance, Meshify C provides somewhere 15-35mm of at the back that can fit even thick cables but as far as P400A goes, there is nothing mentioned about clearance at the back on the website but after seeing several builds using this case, it can be said that the P400A is having plenty of clearance too.
Price and Conclusion
The P400A costs $70 while the Digital edition with RGB fans cost $90. The price of Meshify C fluctuate but stays between $70-$100 most of the time. Considering all of the factors mentioned above, the P400A Digital edition is better in terms of looks as it provides RGB fans that can be controlled easily and also has more space inside to work with.

Meshify C is better in terms of airflow from the front due to the angular design of the mesh but lacks the compatibility of 280mm radiator at the top.

[box type="shadow" align="alignleft" class="" width="100%"]
3x 120mm ARGB fans with controller Supports up to 360mm rads at front and 280mm on top   Supports very long graphics cards Ventilated front panel and dust filters included Sturdy, heavy and good cable management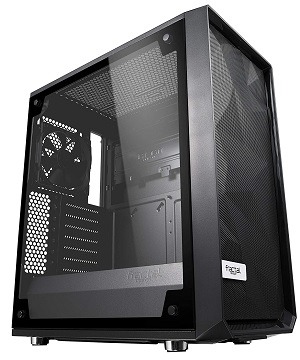 3x Angular front mesh for increased airflow Supports up to 360mm rads at front and 240mm on top   Supports tall CPU coolers up to 170mm

Compact yet full of features Good clearance at the back and a lot of routing holes