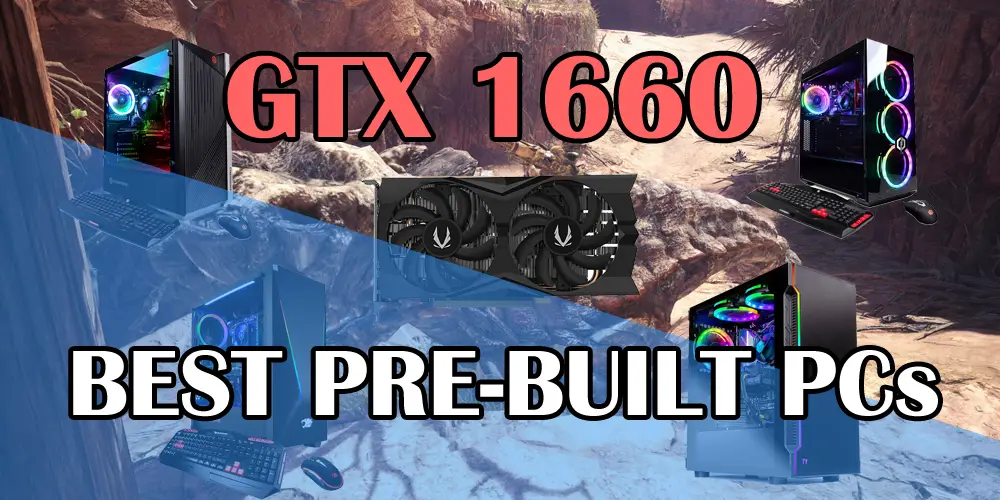 Introduction
Almost every PC gamer who knows basics about PC components like to build a computer by themselves and we also recommend to do so but in case you know nothing about building a PC then you should better not take any risk in building a PC especially when you are spending hundreds of dollars. As researching will take time and so will learning on how to build it, it will take some weeks or maybe months before coming to a conclusion.
So, in this post, I am going to list out some great pre-built PC builds which will let you play games at 1080p with ultra settings. As the most common PC component which a gamer comes to know at the very first time is the graphics card and if you are up to date with what are the best graphics cards for 1080p resolution in 2020, then you must be wanting to get a PC with GTX 1660 but don't know enough about other parts. So, don't worry, here are the top 4 pre-built Gaming PCs with GTX 1660 graphics card that provide great value for money.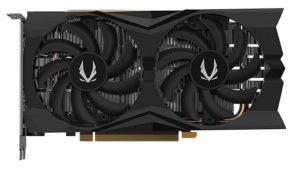 ---
Skytech Shadow GTX 1660 Gaming PC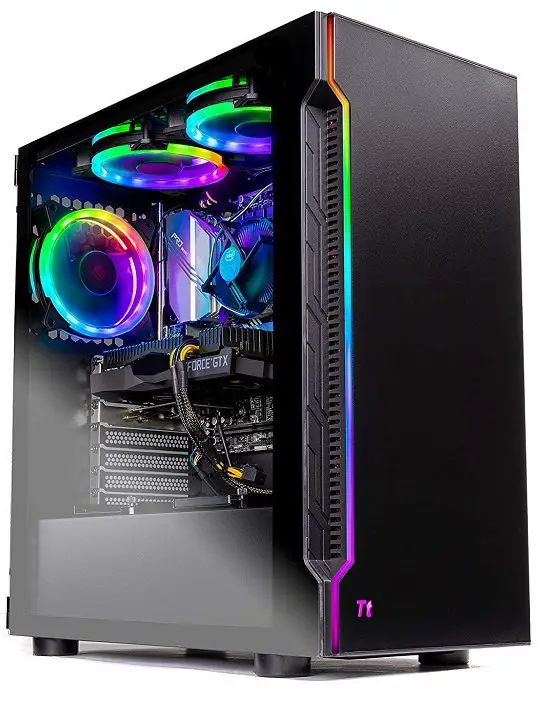 If you want the budget option then consider this pre-built PC from Skytech. Currently, there are numerous brands which provide assembled computers at good prices and Skytech is among them. This pre-built PC uses a Thermaltake mid-tower case which is H200 is a good budget case which features a tempered glass side panel and a full-length PSU shroud.
This PC features an Intel Core i5 9400F which has 6 cores and is the perfect CPU for 1080p gaming and can easily handle the GTX 1660. Along with a great CPU, it features 8GB DDR4 RAM that is clocked at 3000MHz, 500GB SSD, Windows 10 Home 64 bit, and a PCI-E wifi card. For cooling the chassis effectively, it also features RGB fans at the top and at the rear.
The motherboard it uses is a b360 chipset motherboard and has an 8 power phase VRM that has a big aluminium heatsink over it. There are also 4x DIMM slots out of which three are unused and can be used for increasing the memory capacity. This is a good budget motherboard that is suitable for this build and with $750 in your pocket this can be yours. Check out Full Specs Here.
---
CYBERPOWERPC Gamer Xtreme VR GTX 1660 Gaming PC
This pre-built PC from CyberpowerPC is another great option if you want an alternative. It costs the same as the previous one but has some differences in the specs. It comes with the same i5 9400F CPU, 8GB RAM and GTX 1660 GPU but has a different storage configuration. It comes with 2 storage devices, one is 240GB SSD and the other is 1TB HDD. So, it might be useful for you to store more games than the previously mentioned pre-built PC.
Its case is even better with those 3x RGB fans at the front which are clearly visible through the acrylic front panel but the airflow from the front panel is limited to the top and bottom. However, the case is wider and has more breathing space. Along with this system, you will also get an RGB gaming mouse from CyberpowerPC. Check out Full Specs Here
---
CYBERPOWERPC Gamer Master GTX 1660 Gaming PC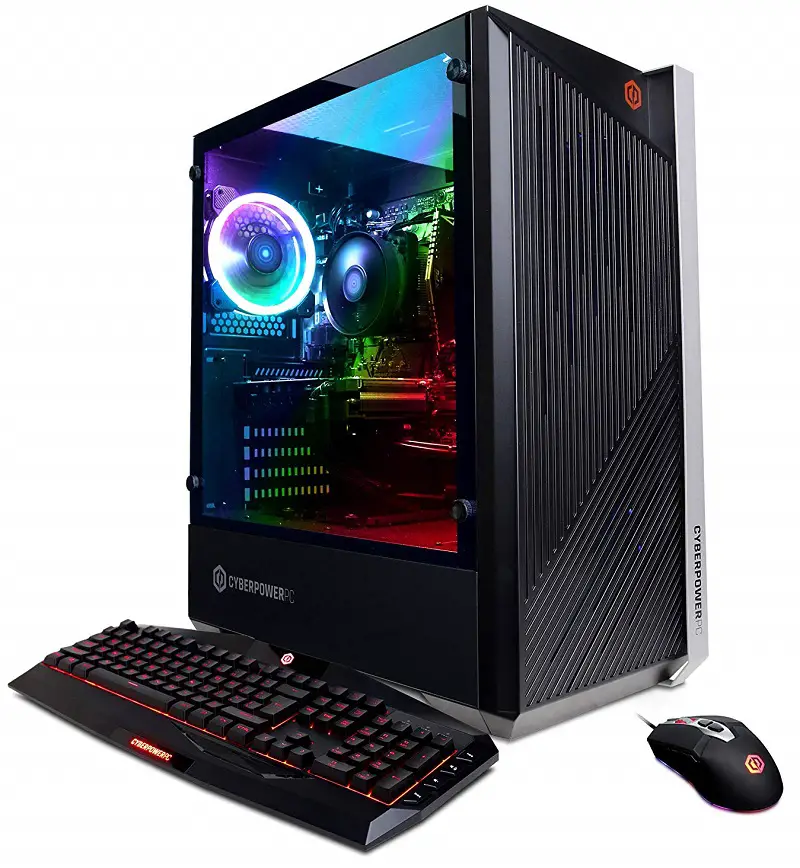 This pre-built PC is also from CyberpowerPC but features some better features. With Ryzen 7 2700, you will get 8 cores and 16 threads which is the best deal you can get for $850 and will provide very close performance to the i5 9400F. Along with that, you will also be able to do some CPU-intensive work like video editing, 3d Rendering or graphic designing if these are also among your works.
CyberPowerPC has a unique mid-tower chassis for you with this configuration which looks very stylish and has some ventilation all over the front panel. It features 3x 120mm RGB fans at the front and 1x 120mm RGB fan at the rear. As for the motherboard, it has a B450 chipset board which can overclock the Ryzen 7 2700 CPU but due to not having heatsinks over the VRM, I recommend not to do so.
This system will also come with a keyboard and mouse combo which feature RGB lighting. So, indeed it's also one of the best options for $850. Check out Full Specs Here.
---
iBUYPOWER Elite Gaming PC PRO9400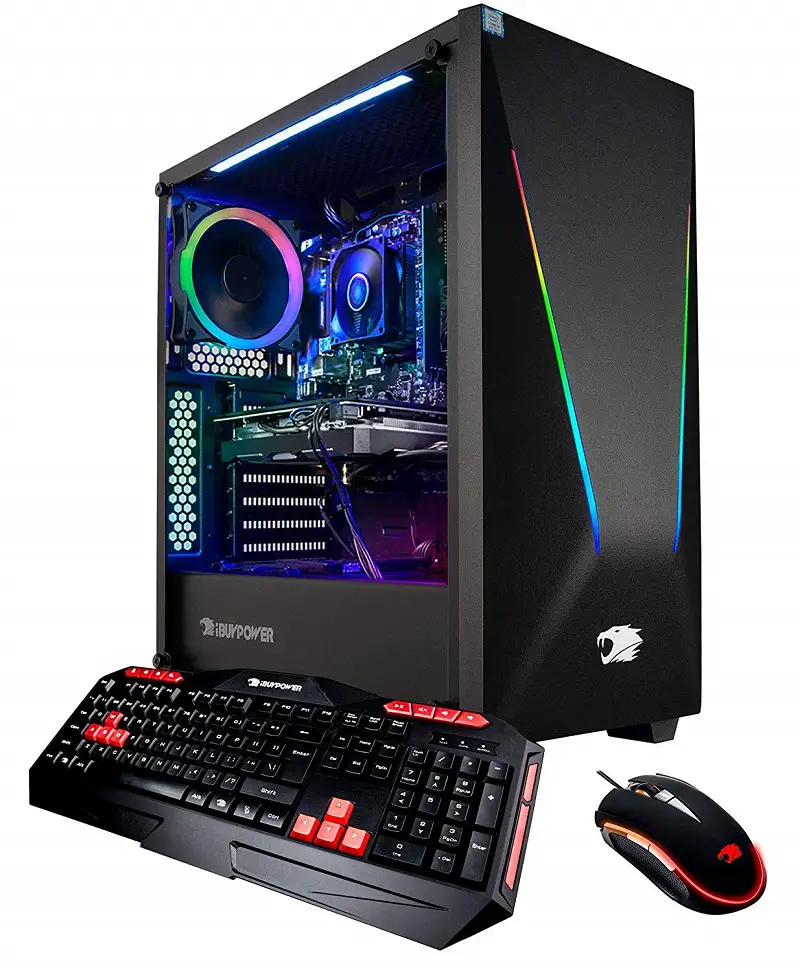 The last but not the least is from iBUYPower. This is one of the best brands that make pre-built systems and this is the best pre-built system with GTX 1660. It features a Ryzen 5 3600 which is the best value processor right now in the mid-tier and has 6 cores and 12 threads. Though it has lower core and thread count than the Ryzen 2700, it has better performance in gaming than the latter.
With Ryzen 3600 you can expect the highest number of fps in games as compared to the other builds on this list. You will get 8GB 2666MHz RAM, 240GB SSD, 1TB HDD and Windows 10 Home 64 bit. And also a keyboard mouse combo. For aesthetics, it has integrated RGB lighting on the front panel and an RGB fan at the rear. There is also an RGB LED strip installed in it so that your whole RIG illuminates while you game.
This PC will cost you $880 and is the last recommendation if you want the best value for money. Going above it will be wastage of money only. Check out Full Specs Here.
---
Conclusion
In case you want good performance in gaming at 1080p resolution, then GTX 1660 is a great choice but if you don't get the other components right, then you will end up in wasting your money and won't receive the desired performance. Make sure you choose the rig wisely from the above-mentioned Pre-builts and if you have any doubts, then comment down in the comments section below.