Nvidia launched GTX 1650 on April 22, 2019, and with that gamers not only got a chance to game on desktop at 1080p with 60 fps but also a great chance to play games on laptops as well that use this GPU. GTX 1650 is aimed at providing close to 60 fps in most of the games with ultra settings however, most of the intensive games are stuck at 50-60 fps with ultra settings.
If you can compromise a few settings to medium or high, then you can easily achieve 60+ fps without buying an entirely new GPU. But in this post, we are not going to recommend you to change your GPU because gaming laptops can't do that easily. So, in case you have a budget which is not so high, then consider the following options in laptops if you want to get a smoother gameplay experience without wasting a lot of money.
ASUS TUF FX505DT [Recommended Choice]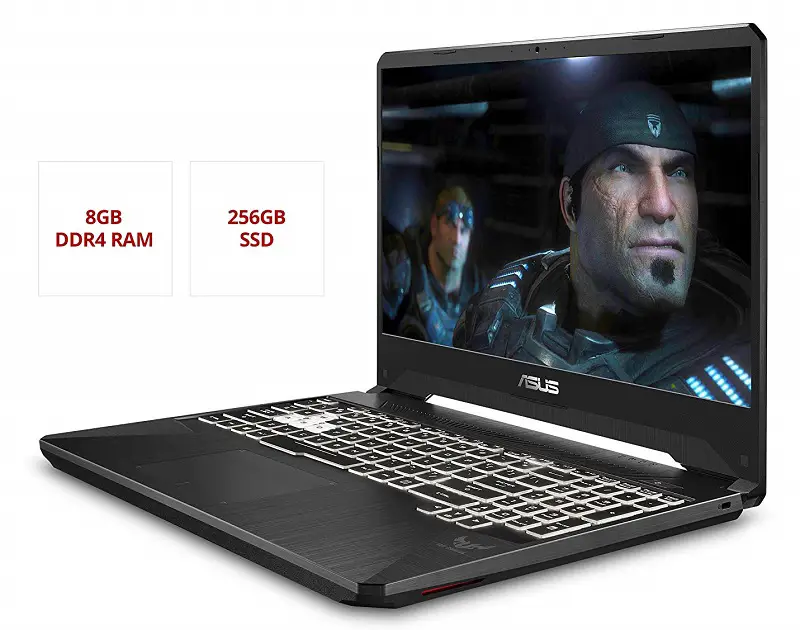 If you want a good but the cheapest GTX 1650 gaming laptop, then consider buying TUF FX505DT from ASUS which costs only $650 but features 256GB PCIe SSD as well as 8GB RAM. It's an ideal gaming laptop for the one who doesn't have enough money to get a high-end processor like an i7 or Ryzen 7 processor but still want smooth gameplay. Remember that although it doesn't feature a high-end processor, it still comes close to our expectations because of the Ryzen 5 3550H processor.
Ryzen 5 3550H has 4 cores and 8 threads and features base/boost clock speeds of 2.1GHz/3.7GHz. While the base clock is comparatively very low to the boost clock, the laptop automatically boosts it to the desired frequency when needed. Ryzen 5 3550H may not be the best match for GTX 1650 but it's still an ideal choice for budget gaming and considering the fact that this laptop comes with a 120Hz refresh rate 1080p IPS display, this one is our Recommended Choice for anyone who wants the best value for money.
Taking a look at the exterior of this laptop, we find that it has a strong and reliable body that uses a brushed aluminium exterior. It uses an RGB LED backlit keyboard as well which you can customize through the TUF Aura Core Panel software. Most of the budget gaming laptops that cost up to $1000 don't feature RGB LED backlighting, so this one is really unique among them. Check out TUF FX505DT Full Specs Here.
---
Lenovo Ideapad L340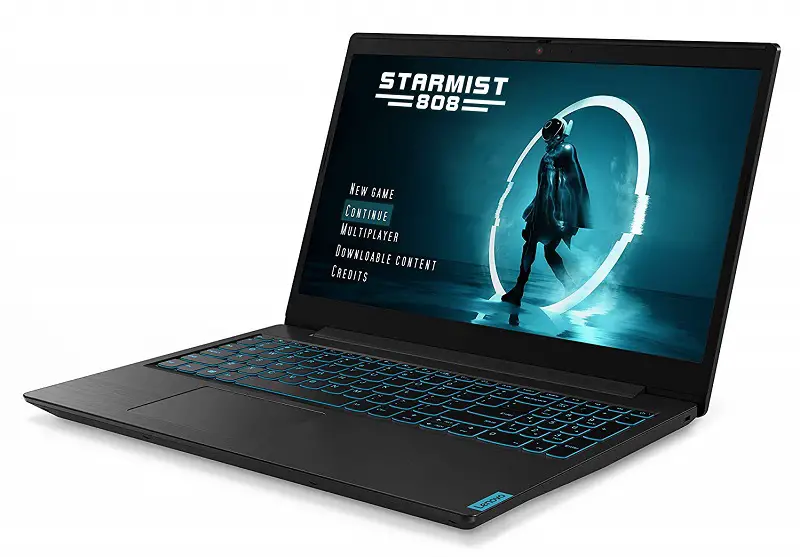 If you want the best performance with GTX 1650 under $700, then Lenovo has the option for you. The Ideapad L340 features i5 9300H which has 4 cores and 8 threads and features a base/boost clock speed of 2.4/4.1GHz which is almost equivalent to the Ryzen 5 3550H but is superior when only the base clock is compared. Intel i5 9300H has a little better single-core performance than the 3550H and gains some good significant lead in a few games like GTA V and Battlefield 5. But there are more games in which both clash with each other head to head and come out equivalent to each other.
The i5 9300H is definitely a better option for pure gaming but this laptop will cost you 50 bucks more. But there are other specs on this laptop which are better than the previous one like higher capacity SSD which in this case is 512GB which definitely adds some weight to the recommendation of this laptop rather than the TUF FX505DT.
The aesthetics of this laptop aren't better than the Asus TUF laptop like the body seems to be of brushed aluminium but it isn't actually. The keyboard does features backlighting but it isn't RGB. So, there are some drawbacks too which makes it confusing choosing between the two but in my opinion, the previous one is better because 120Hz display is an exceptional thing to get. Check out Lenovo Ideapad L340 Full Specs Here.
---
ASUS TUF FX705DT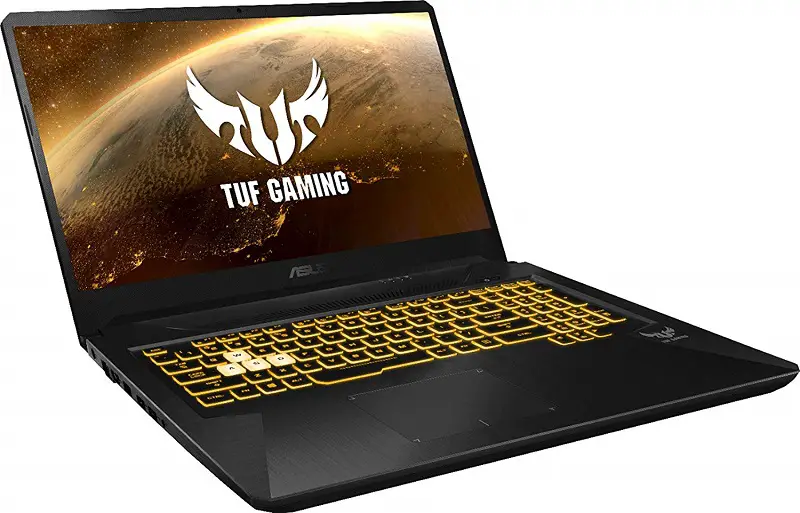 Stepping up a little bit, we have GTX 1650 combined with a Ryzen 7 3750H that features 4 cores and 8 threads with a base/boost clock speed of 2.3GHz/4.0GHz. Ryzen 7 3750H is certainly a little faster than the Ryzen 5 3550H and comes close to the i5 9300H. This one costs $800 and comes with a wider screen with 17.3″ IPS NanoEdge display and RGB backlit keyboard. As the capacity of SSD is increased by double when compared to the Asus TUF FX505DT, the FX705DT is definitely gonna cost some more considering the fact that it has a better processor and a larger display.
The resolution on this laptop will be 1080p but it will be now better for gaming because of the larger screen. This laptop, unfortunately, doesn't feature 120Hz refresh rate like the FX505DT, so, in case you want smoother gaming for fast-paced games, then better buy the FX505DT. Check out Asus TUF FX705DT Full Specs Here.
---
ASUS ROG G531GT-BI7N6 [Editor's Choice]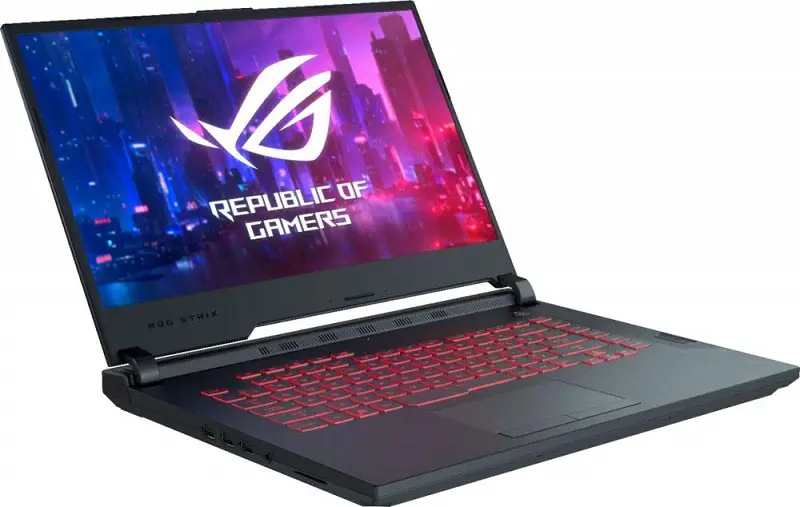 Asus has even a better series which is the ROG Strix and the Asus ROG Strix G531GT brings some high-end specs to provide smooth gaming at 1080p. This laptop features an i7 9750H 6 cores and 12 threads and boasts a base/boost clock speed of 2.6GHz/4.5GHz that is the highest among the laptops listed here. With GTX 1650 and i7 9750H combined, you will be able to achieve the full potential of this GPU.
Aside from that, the other specs of this laptop include 8GB of DDR4 RAM clocked at 2666MHz, 512GB of PCIe SSD, 802.11ac WiFi, 15.6 inches IPS display with 1080p resolution, 120Hz refresh rate and thin bezels. It also features a fully RGB backlit keyboard that can be controlled using the Aura Sync software. I believe that after the Asus TUF FX505DT, this is the second laptop that I recommend for those who are looking for a great laptop using GTX 1650. Check out Asus ROG G531GT Full Specs Here.
---
Conclusion
Taking a look at most of the laptops on the market that feature GTX 1650 graphics card, these are the four laptops we believe are worth the money. Each of these is having advantages in one way or another considering their pricing and the FX505DT and G531GT are our recommendations for getting the most out of your money.