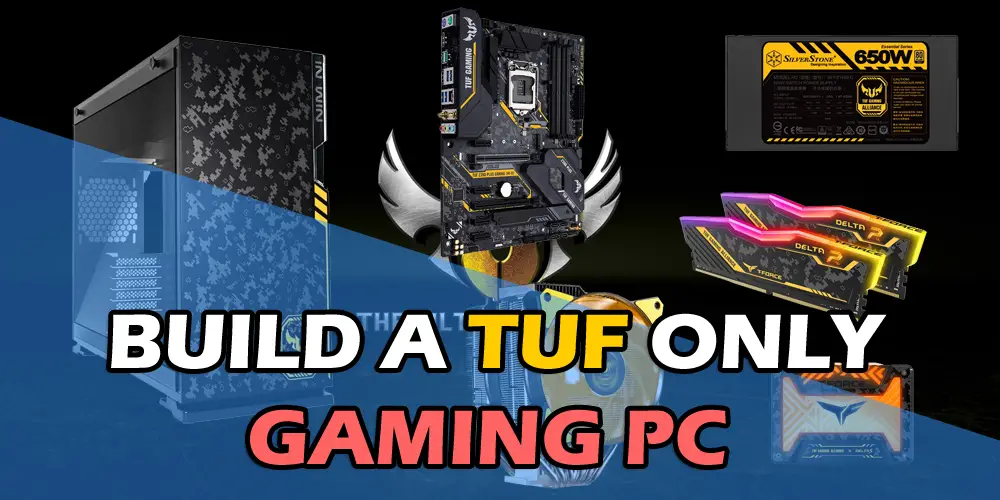 During the last decade, the Computer world has witnessed many changes both in terms of performance as well as aesthetics. As of today, most PC Enthusiast doesn't only prefer performance, they are also interested in showcasing their build and presently there are a lot of options that are available which lets an individual, choose their build according to their style. Some of us might prefer a colour theme build while some may prefer to get that hardware that is meant for gaming.
In this topic, we will narrow down some hardware components from the TUF Gaming series, where an individual can get a PC build with TUF components only. It will cover all the necessary components that are essential for gaming and are from the TUF series only.
The TUF gaming series are meant to durable and they are tested to standards that are higher than the industry standards for better compatibility, stability, and durability. TUF Series recently extended its supports to other OEM manufactures which is a collaboration between ASUS and major PC-component manufacturers, including trusted brands like Antec, Apacer, Ballistix, Cooler Master, Corsair, Deepcool, Enermax, G.Skill, GeIL, ID-COOLING, In Win, Scythe, SilverStone, T-FORCE, and XPG. We will list out the best components from these brands.
Chassis
A PC Case or a chassis is one of the most important hardware components because of the fact that it houses all other components and also having a trendier case, let you highlight your build. The first one on the list is the InWin 101 TUF Gaming and it is followed by another case from Cooler Master, the MASTERBOX MB500 TUF GAMING EDITION.
The InWin 101 has joined its hands with TUF Gaming and as a result, the exterior looks more rugged and it is complemented by a camouflage design along with the TUF gaming logo at the front and the same design also spans across the tempered glass side panel.
The InWin 101 TUF Gaming comes with top-mounted IO ports to make the front side of the chassis neat and minimalistic. It is equipped with an RGB In Win bezel on the front panel and also possesses an RGB TUF GAMING Alliance PSU chamber cover that can be customized and synced with other RGB illuminated products.
In terms of cooling the InWin 101, TUF Gaming supports up to six 120mm case fans along with supports for multiple liquid cooling radiators of a wide range (120/240/360mm). However, the unique feature of the InWin 101 TUF Gaming is the toolless approach to open the side panel. It comes with a quick-release side panel to quickly swap and change or clean your hardware inside it.
It also comes with a separate PSU chamber along with 2.5/3.5 inch HDD bays and also supports long graphics cards.
MASTERBOX MB500 TUF Gaming Edition can be an alternate PC chassis from the TUF Gaming. It retains the core features of the Master Box MB500 but comes with some minute changes. Firstly it sports a camouflage design pattern along with the TUF Alliance Logo at top.
The TUF Gaming Edition comes with 4mm Thick Edge to Edge Tempered Glass Side Panel, full Black Coated Body and PSU Cover, along with PSU Shroud Cut Out to showcase your PSU.
In terms of performance and cooling, the MB500 TUF Gaming Edition supports up to ATX motherboards along with the support of radiators up to 360mm and GPU length of 400mm. The IO panel consists of 2x USB 3.0, Audio In & Out and the MB500 TUF Gaming comes with 2 x 120mm pre-installed RGB fans at the front and one 120mm fan at the rear.
Power Supply Units(PSU)
The TUF Gaming Alliance also has various PSUs for an individual to choose from. However, we do recommend to get the most valued one from the available models.
The MASTERWATT 750 TUF Gaming Edition PSUs are a semi-fanless modular 80 Plus bronze rated power supply unit. It offers semi-fanless operation along with modular cabling that is thicker than standard market cables, and these come covered with a 5-year warranty.
When the total load of your system is under 15%, then the fan won't be spinning and it helps in reducing the noise and power as well. It comes equipped with 16 AWG PCI-e cables that ensure increased efficiency due to the higher current allowance.
SilverStone is renowned for its efficient power supplies over a long period of time. The ET650-G is a high efficiency 80 Plus gold certified power supply unit. It is capable of delivering 24/7 continuous power output with a 40℃ operating temperature.
It comes with a Class-leading single +12V rail along with Silent running 120mm fan, flat cables, and the TUF certification.
Motherboards
Motherboards can be considered as one of the key components for a high-performance gaming system. The TUF gaming series offers a lot of options for an individual to choose from. The range of motherboards varies from ATX and goes up to m-ATX and they also support the latest CPU from Intel and AMD.
If you are using a processor that belongs from Intel Family, and you are in need of an ATX motherboard then the following can be considered as the best option to choose from.
The TUF Z390-PLUS is an ATX gaming motherboard that can be an excellent choice for those who are trying to have a gaming motherboard that can be used for long-duration and along with that, the same should come with the latest technologies.
The Z390-PLUS offers Military-grade TUF Components such as TUF LANGuard, TUF chokes, TUF Capacitors, and TUF MOSFETs for maximum durability along with TUF Protection: SafeSlot, ESD guards, DDR4 overvoltage protection, Digi+ VRM, and stainless-steel back I/O for long-term reliability.
It is compatible with Intel® Socket 1151 9th / 8th Gen Intel Core™ Processors along with memory support of up to 64GB. It also comes with Intel Optane Memory support and a bunch of additional features. In terms of aesthetics, it also comes equipped with Aura Sync RGB that lets a user synchronize LED lighting with different RGB pieces of equipment.
Conclusion
We have created a list of TUG Gaming PC components that can be used to build a TUF Gaming PC. So if you are trying to build a theme-based PC, then this might help you, in making your choice.