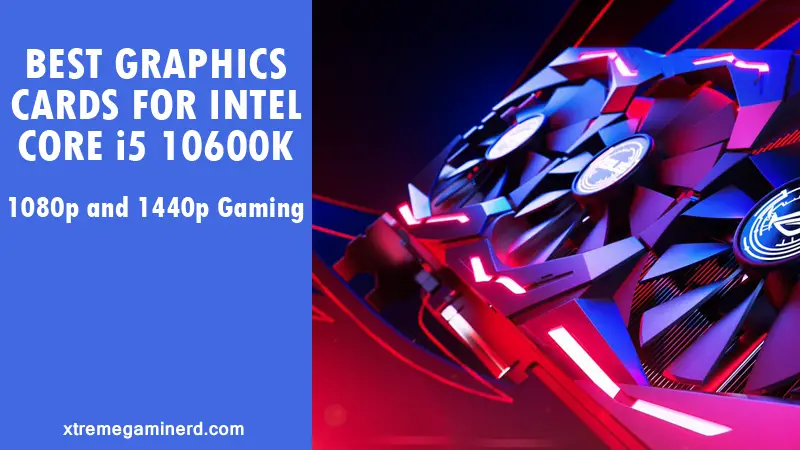 Intel released another i5 processor on the same 14nm lithography but now it's more powerful than the older gen i5 processor which is the i5 9600K although the initial release price is the same, thanks to the competition between AMD and Intel. The 10600K now features 6 cores with 12 threads that were absent in the 9600K and thus you will be able to do better multitasking and CPU intensive tasks with saving a little bit of more time than what you would save with the 9600K.
I always provide the best possible matches with processors from graphics cards and motherboards and as i5 10600K will replace the 9600K, it's time to know what will work best with it. Previously we used to have i7 processors with 6 cores and 12 threads like we have in i7 8700K but now the i5 10600K is a better processor with higher clock speeds sitting at 4.10/4.80GHz as base/boost clock speeds.
This will achieve better results than any processor costing around $250 and will definitely beat the Ryzen 7 3700X too in gaming purposes although the latter one is more expensive but also has more cores.
For i5 10600K, I recommend gaming at 1080p at the minimum and 1440p at the max to achieve the best gaming experience. Following are the best graphics cards to achieve the best results at these two resolutions:-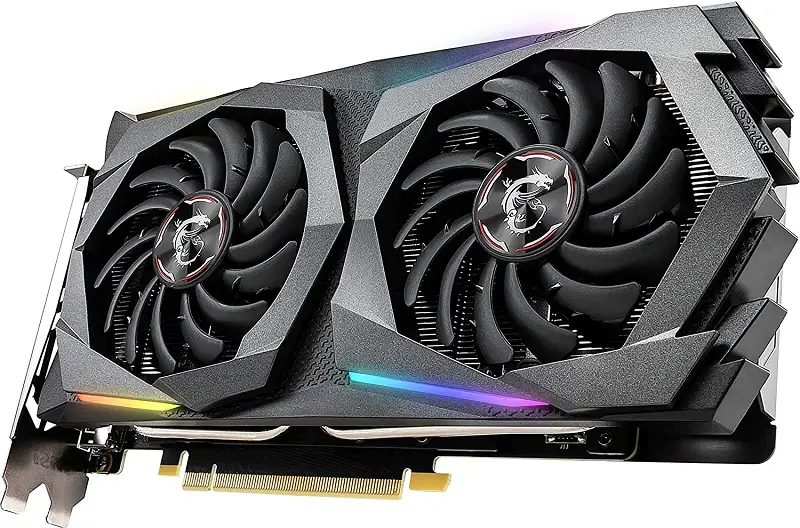 GTX 1660 Super was released in October 2019 which filled the gap between the GTX 1660 and GTX 1660 Ti. It features an upgraded VRAM over the GTX 1660 which is now GDDR6 and therefore performs faster than the original version though the pricing difference was initially huge. GTX 1660 Ti on the other hand is more expensive and it's better to get the Super which is very close to its performance and considering the fact that 1660 Ti is more expensive.
It features a VRAM of 6GB and 1408 Cuda Cores which are exactly the same as the original 1660 features however, the memory speed is much faster sitting at 14Gbps instead of 8Gbps. The MSI Gaming X edition I recommend here uses an 8 pin power connector and it's recommended to go with a power supply that is 450W at the minimum. Note that the MSI Gaming X is among the most expensive editions you can get and will cost you more than $250 but if you want something more affordable then go with the Super Ventus XS OC or Zotac Gaming GTX 1660 Super which are also great options but have lower clock speeds.
This card can easily max out every game at 1080p resolution with much more than 60 fps. Many games will easily cross above 90fps mark but there are always a few games that struggle to get past 60 fps. Though this card is also good for 1440p resolution, it won't be able to run the games at 1440p in the future easily. Take it as the best 1080p gaming card with i5 10600K and a great option for eSports games such as CSGO and Valorant.
---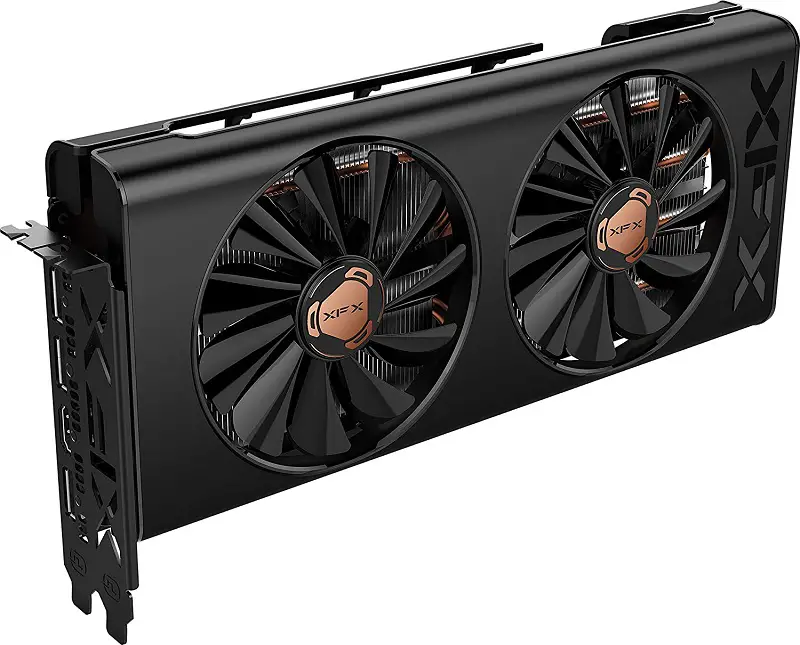 RX 5600 XT features identical memory specifications to the GTX 1660 Super but due to different architecture, lithography, and clock speeds, it performs faster. RX 5600 XT costs the same as the GTX 1660 Ti but provides 10% more performance than the latter.
With 6GB of GDDR6 VRAM and 336GB/s of bandwidth, you can ensure that you never run out of memory for taking textures to the max at 1080p resolution. This card is capable of maxing out games at 1080p with more than 100 fps and performs 15% faster than the GTX 1660 Super in most of the games.
The XFX Thicc II Pro edition features a dense heatsink with copper heat pipes for better heat dissipation. Its clock speed starts from 1560MHz up to 1620MHz which of course you can surpass using an overclocking software we recommend. You should also try using the best available GPU benchmarking software to check stability.
---
Let me make one thing very clear:- I DO NOT RECOMMEND THIS GPU AS IT COSTS $100 MORE THAN RX 5600 XT AND GIVES YOU ONLY 10% MORE PERFORMANCE. 
If that doesn't convince you and there are certain reasons due to which you have to go for this graphics card, then go ahead. It will be great for 1440p gaming but for the price it comes at, it's actually one of the worst choices for i5 10600K. If it costed somewhere between $300 to $330, I would definitely suggest you to buy it if you wanted 60+ fps at 1440p resolution.
This card also features GDDR6 memory but 2GB more VRAM than the 1660 Super and RX 5600 XT which is enough for any game at 1440p resolution.
---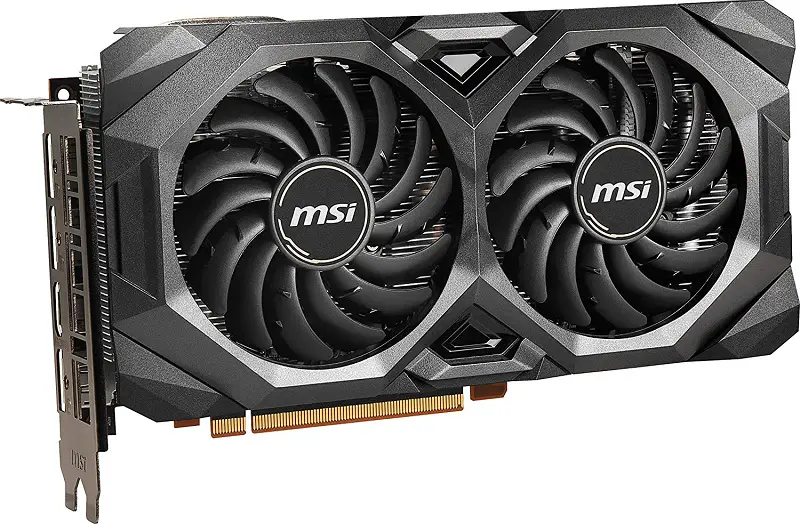 RX 5700 is the direct competitor to the RTX 2060 Super from AMD and both are almost equivalent when we see their performances in different games. In some games, the 2060 Super takes the lead while in some games RX 5700 looks more promising.
It has 8GB of GDDR6 VRAM and is based on Navi architecture on which the RX 5600 XT is based. This card, however, is cheaper than the RTX 2060 Super and due to that, I recommend it for 1440p gaming over the former. The only drawback it has is that it doesn't have the capability to provide Ray Tracing effects in games and that's a very minor issue as only a few games feature Ray Tracing in graphical settings and RTX 2060 Super itself isn't able to provide good performance at 1080p. So, don't even think about Ray Tracing at 1440p resolution as it is not achievable even with the RTX 2080 Ti with 60+fps.
Related:- 25 tips to increase computer performance
The MSI Mech edition listed above is one of the cheapest RX 5700 cards that will cost you around $350 however if you are lucky, then you can get it under $350. I don't know if the reference editions are available right now but they are the cheapest.
---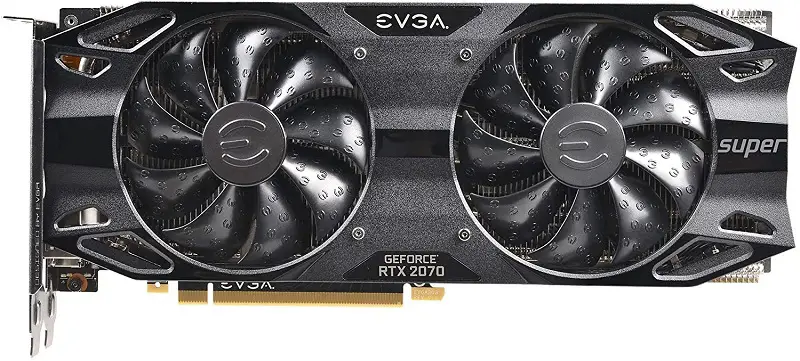 RTX 2070 Super is one of the best potential matches for i5 10600K and will give you the best bang for the buck as it can max out games at 1440p resolution with over 90 fps in almost every game. This is 20% faster than the RX 5700 and 10% faster than the RX 5700 XT. It will cost you around $500 but if it is available for more than $550 in your country or if its cost is more than $150 than the RX 5700, then go for the RX 5700 XT instead.
Similar to the RTX 2060 Super, it also has 8GB of GDDR6 memory but more Cuda Cores. The 2060 Super has 2176 Cuda Cores while the 2070 Super has 2560. Not only this but the core clocks of this card are higher than the 2060 Super. Also, there is more headroom for overclocking as this card features 6+8 pin connectors through which you can increase the voltage and head for advanced overclocking.
---
Conclusion
If you want something even higher than the RTX 2070 Super, then you can go with the RTX 2080 Super and will face no bottleneck but it's recommended to go with something like i7 10700K for a GPU like 2080 Super. You can let me know if you have any questions in the comments section below.