The war of AMD vs Intel is never ending but we have some great CPUs from both manufacturers. Even though it is 2022, we still have the Core i5 10600K kicking ass and is a decent choice for building a powerful mid-end gaming PC.
The 10600K features 6 cores with 12 threads that were absent in the 9600K and thus you will be able to do better multitasking and CPU-intensive tasks with saving a little bit more time than what you would save with the 9600K.
For i5 10600K, I recommend gaming at 1080p at the minimum and 1440p at the max to achieve the best gaming experience. After analyzing dozens of GPUs considering their specs, performance, compatibility, power consumption, and value for the money, I have listed a few GPUs that will go well with the Core i5 10600K.
---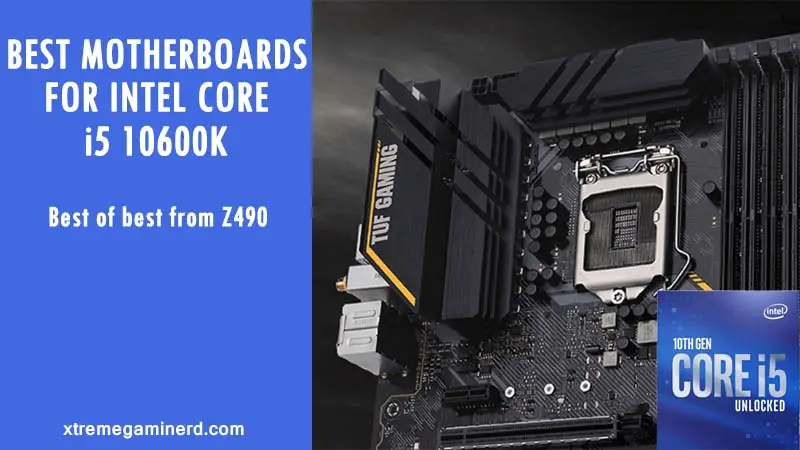 Even in 2022, the Intel 10th gen CPUs are still kicking ass for the value they bring for a cheap price. The Core i5 10600K is a top-notch choice for gaming if you don't have the budget to get the latest-gen CPUs. With a good processor, you also need a good motherboard that allows overclocking […]
0 comments
---
The Best Graphics Cards for Core i5 10600K
Nvidia Geforce GTX 1660 Super
GTX 1660 Super was released in October 2019 which filled the gap between the GTX 1660 and GTX 1660 Ti. It features an upgraded VRAM over the GTX 1660 which is now GDDR6 and therefore performs faster than the original version though the pricing difference was initially huge. GTX 1660 Ti on the other hand is more expensive and it's better to get the Super which is very close to its performance and considering the fact that 1660 Ti is more expensive.
It features a VRAM of 6GB and 1408 Cuda Cores which are exactly the same as the original 1660 features however, the memory speed is much faster sitting at 14Gbps instead of 8Gbps. The MSI Gaming X edition I recommend here uses an 8-pin power connector and it's recommended to go with a power supply that is 450W at the minimum.
This card can easily max out every game at 1080p resolution with much more than 60 fps. Many games will easily cross above the 90fps mark but there are always a few games that struggle to get past 60 fps. Though this card is also good for 1440p resolution, it won't be able to run the games at 1440p in the future easily. Take it as the best 1080p gaming card with i5 10600K and a great option for eSports games such as CSGO and Valorant.
AMD Radeon RX 6600
The Radeon RX 6600 is based on the RDNA 2 architecture and is quite faster than the GTX 1660 Super. It features 1792 stream processors and a good VRAM size of 8GB GDDR6. It is easily up to 30% faster on average in almost every game and costs just a little more right now.
This makes it an excellent choice and perhaps the best choice for the i5 10600K for the price. You will be able to max out games at 1080p resolution and as it also supports Ray Tracing, you can try that in supported games with low to medium settings.
Nvidia Geforce GTX 1660 Super
Nvidia's Ampere-based GPUs have dominated the market for quite a while. Among the best, is the Geforce RTX 3060 which features a good 12GB of GDDR6 memory. It has 3584 Cuda Cores for fast processing and rendering and is much more powerful than the Turing RTX 2060 in Ray Tracing, thanks to the latest gen RT and Tensor cores.
It is 10% faster than the RX 6600 but is also more expensive. You can expect 60+fps at both 1080p and 1440p resolutions, however, at 1440p, you might need to compromise on a few settings depending on the title you are playing. With the i5 10600K, it will go very well and will be pushed to 100% of usage without any bottlenecking.
AMD Radeon RX 6700 XT
Going a little higher, the best GPU I can recommend is the Radeon RX 6700 XT. While Nvidia has more GPUs like RTX 3060 Ti, RTX 3070, etc., I think it is best to stick with RX 6700 XT as it costs much less and provides an RTX 3070 equivalent performance except for the Ray Tracing.
The RX 6700 XT features 2560 stream processors, a good clock speed of more than 2.5GHz, and a VRAM of 12GB GDDR6 to max out all the graphical settings at 1440p resolution. You can expect a game-killer performance at 1080p with 100+fps in most modern titles, therefore, you will be having future-proof gaming for a couple of years.
---
Final Words
If you want something even higher than the RX 6700 XT, then you can go with the RTX 3070 Ti and will face no bottleneck but it's recommended to go with something like i7 10700K for a GPU like 3080 or higher. You can let me know if you have any questions in the comments section below.