Motherboards
5 best Z590 motherboards for Intel 11th gen processors
Xtremegaminerd.com is a participant in Amazon Associate Program and is supported by the readers. The qualifying purchase you make through our links may get us some commission and doesn't cost you an extra penny.
---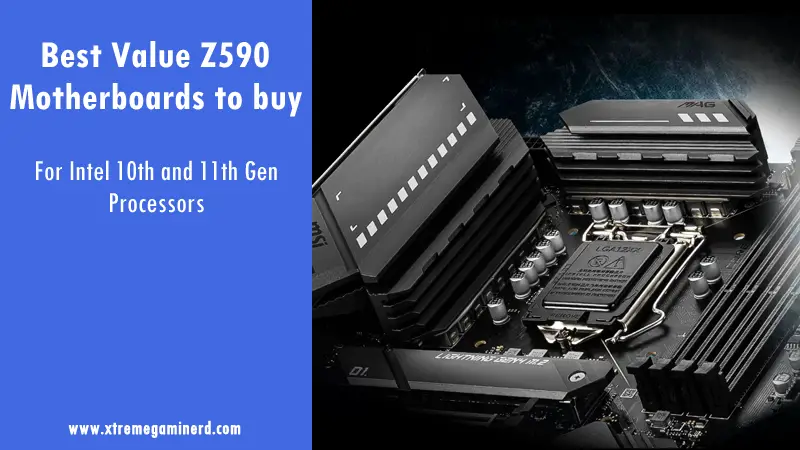 Z590 motherboards are here, thanks to Intel for releasing the 11th gen processors. Though the new-gen processors haven't proved themselves to be as worthy to be upgraded from 10th gen processors, if you are upgrading from 7th or 8th gen Intel processors, then that would be a reasonable upgrade.
Today's Amazon Deal
To support the new processors, Intel hasn't changed the socket from the previous LGA 1200 lineup. That means you can use the 10th gen processors too on the Z590 motherboards. The good thing is that Z590 supports PCI-E Gen 4.0 natively unlike the Z490 and comes with x4 more PCI lanes through the CPU making a total of 20 PCI lanes from the CPU.
While there are only a few basic differences between Z490 and Z590 chipset, it's always better to get the latest one which has more features and if you haven't bought the Z490 board till now.
So, here is the list of top-performing Z590 motherboards which have the best features available for the money and will be sufficient for any overclockable Intel's 10th and 11th gen processors.

Asus ROG Z590 Maximus XIII Extreme
Enthusiast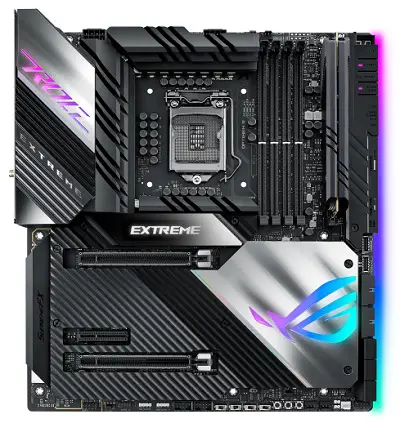 Specifications
VRM: 18+2 Power Stages
Memory: 128GB DDR4, 5333MHz
Expansion Slots: 2x PCI-E x16, 1x PCI-E x4
Storage: 6x SATA, 5x M.2
I/O: Total USB ports- 10, 2×2 Tri-Band Intel Wi-Fi, 10G LAN, 2.5G LAN, 6x Audio jacks, Bios Flashback, Clear CMOS
Summary
A very strong 20 power stage VRM board that excels in overclocking and contains all the required advanced troubleshooting feature onboard. This motherboard for $500 can do an extreme level of overclocking and will support super high-speed internet
When it comes to extreme overclocking, you can't go wrong with the ROG Maximus motherboards. Just like the older chipsets, the Z590 from Asus has its own lineup of Maximus motherboards. While the top one is not required for most users and requires a lot more effort in custom loop cooling, the ROG Z590 Maximus XIII Extreme is perfect for those who are going to use an AIO cooler.
The motherboard features an outstanding 18+2 power phase VRM where each phase is rated at a whopping 100Amps and are cooled actively by the large heatsinks on top. The VRM is ridiculous and is overkill for any mid-end processor like i5 11600K. So, better use it with i9 11900K which features 8 cores and 16 threads.
It has all killer features such as advanced onboard troubleshooting and overclocking options if you are going to do trial and error in overclocking. Moreover, it has 5x M.2 connectors for fast NVME drives but be sure to read the documentation before populating each one of them.
At the I/O you will find 10x USB ports including Type C and Clear/Flashback BIOS buttons for easy troubleshooting. For connectivity, the board features 2×2 Tri-Band Intel Wifi and 2x LAN ports that support up to 10G and 2.5 of bandwidth.
The best part is that this board is available for only $500 which is although not cheap but for the specs, it brings on the table for this price, there is nothing better than this one.

Gigabyte Z590 Aorus Ultra
Best Premium Choice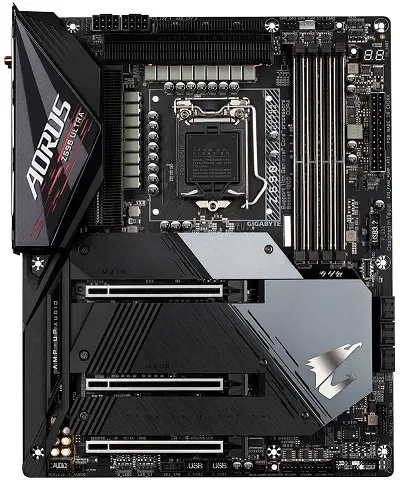 Specifications
VRM: 16+1 Power Stages
Memory: 128GB DDR4, 5400MHz
Expansion Slots: 3x PCI-E x16
Storage: 6x SATA, 3x M.2
I/O: Total USB ports- 13, Wifi 6, 2.5G LAN, 6x Audio jacks
Summary
Z590 Aorus Ultra gives you whatever you need for less than $350 and brings tons of USB ports at the I/O along with onboard troubleshooting features you will need for overclocking. Its VRM and heatsink quality is unmatched for its price
I have been a fan of Aorus motherboards for the last few years and as a user of an Aorus motherboard, I can guarantee you the satisfaction of performance. For me ROG Strix and Aorus motherboards are competitive and the Z590 Aorus Ultra is definitely a good improvement over the Z490 Aorus motherboard and a great alternative to the Strix motherboards in the same price range.
The Aorus Ultra features a very strong 16+1 power phase VRM with each power stage supporting up to 90A of current. These are cooled by the finned aluminium heatsinks which are way better than the traditional ones. So, you won't have any problems with strong overclocking of your CPU and with the help of an LCD error display on the PCB, it is only going to be easy to detect the possible fault for not booting properly.
Another distinguished feature of this board is its I/O which is populated with 13x USB ports which are rare to see and the inbuilt Wifi adapter which will give you access to the internet wirelessly out of the box.
Related: best B560 motherboards

Asus ROG Strix Z590-A Gaming Wifi
Alternate premium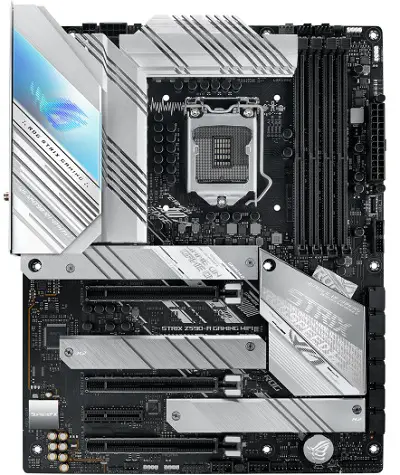 Specifications
VRM: 14+2 Power Stages
Memory: 128GB DDR4, 5333MHz
Expansion Slots: 3x PCI-E x16, 1x PCI-E x4
Storage: 6x SATA, 3x M.2
I/O: Total USB ports- 10, Wifi 6, 2.5G LAN, 6x Audio jacks, 1x Bios Flashback
Summary
Currently the best value Asus motherboard in the Z590 lineup which is enough for strong overclocking and comes with all the advanced features such as inbuilt Wifi, lots of USB ports, multiple PCI-E slots and support for highly overclocked memories
The Strix Z590-A Gaming wifi features a powerful 14+2 power phase VRM that uses big and dense heatsinks over them and also on the M.2 connectors as well. The Strix series is very well-known for the premium features and comes in second place from the Asus enthusiast motherboard series that is below the Maximus.
Regardless of that, you can expect this motherboard to overkill processors like i5 11600K and i7 11700K like crazy and maintain that performance for a long period of time especially if you use a liquid cooling solution. The board features 3x PCI-E x16 slots which natively support Gen 4 with the 11th gen processors and Gen 3 with 10th gen CPUs.
The board is definitely great at the I/O with a total of 10x USB ports including USB 2.0, 3.2, and Type C. For connectivity, the board is equipped with inbuilt Wifi 6 adapter and a 2.5G Intel LAN port for flawless internet speed.
Aesthetically also, it is very pleasing with all white-silverish heatsinks and I/O cover along with the RGB ROG logo on the I/O. Currently priced at less than $350, this one is definitely one of my favourite choices to go with.

MSI MAG Z590 Tomahawk Wifi
Great Value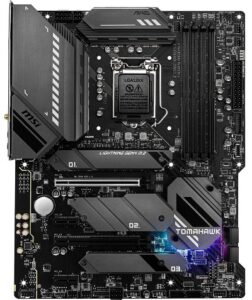 Specifications
VRM: 14+2 Power Stages
Memory: 128GB DDR4, 5333MHz
Expansion Slots: 2x PCI-E x16, 2x PCI-E x1
Storage: 6x SATA, 3x M.2
I/O: Total USB ports- 8, Wifi 6, 2.5G LAN, 6x Audio jacks,Bios Flashback
Summary
MSI Z590 Tomahawk is a very fairly priced motherboard with all the features you would get on an expensive MSI motherboard. With 16 power phases and an inbuilt wifi adapter, this motherboard is perfect for $269.99
The second tier MSI motherboards are confusing if you look at them the first time but pricing is what makes the Tomahawk the better choice among all. While other boards are also good, Tomahawk will help you save around $70.
It features a 14+2+1 power phase VRM for stable overclocking and has decent heatsinks for continuous heat dissipation. The board features 4x DIMM slots with support of up to 5333MHz memory and comes with 2x PCI-E x16 and 2x PCI-E x1 slots for expansion cards.
The good thing is that it is equipped with an inbuilt Wifi adapter that is the Intel Wifi 6E AX210 and also a 2.5G LAN. For storage, the board features 6x SATA and 3x M.2 connectors which is common on most tier 2 Z590 motherboards and some Debug LEDs to troubleshoot problems.
A thought on other MSI motherboards
As far as the other boards are considered, the Carbon Wifi and Gaming Force are exactly the same board with the same price but differ in aesthetics. They both cost around $350 which is $70 more than the Tomahawk and feature 16+1+1 power phases which are solid for overclocking and will be fine even for the i9 11900K.
Other boards like ACE and MPG Z590 CARBON EK X are good too but they are overpriced for the features they bring. Similarly, there are motherboards like Edge Wifi and Gaming Plus which are behind the Tomahawk Wifi but their prices are still equivalent to the former.
MAG Z590 Torpedo is another good motherboard which you can buy and costs $30 less than the Tomahawk wifi but doesn't feature any inbuilt Wifi adapter.

MSI Z590-A Pro
Best Budget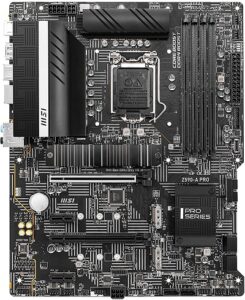 Specifications
VRM: 12+2+1 Power Stages
Memory: 128GB DDR4, 5333MHz
Expansion Slots: 2x PCI-E x16, 2x PCI-E x1
Storage: 6x SATA, 3x M.2
I/O: Total USB ports- 8, 1x PS/2, 2.5G LAN, 6x Audio jacks, Bios Flashback
Summary
For less than $200, the MSI Z590-A Pro is a perfect choice for beginners and can overclock pretty well. It comes with some basic troubleshooting options and can support up to 3x M.2 SSDs.
For those who are unwilling to spend over $200 on a motherboard, then the MSI Z590-A Pro is an ideal option that features a 12+2+1 power phase VRM design that is sufficient for a processor like i5 11600K. It comes with 2x PCI-E x16 slots for graphics cards, 2x PCI-E x1 slots for other expansion cards and supports up to 5333MHz memory speeds.
For $189.99, the board is not bad at all and comes with 6x SATA ports and 3x M.2 connectors. Other features such as Debug LEDs and Bios Flash button are also equipped to make things a little easier. Unless you can't stand its confusing and terrible zig-zag line pattern on the PCB, there is no loss going with this board.
Wrapping Up!
Out of dozens of Z590 motherboards, the above-mentioned 5 stand out and while there are other good boards too, you won't be getting additional benefits except for different aesthetics. Let me know which motherboard from Z590 you like the most and what motherboard you think should have made to the list.