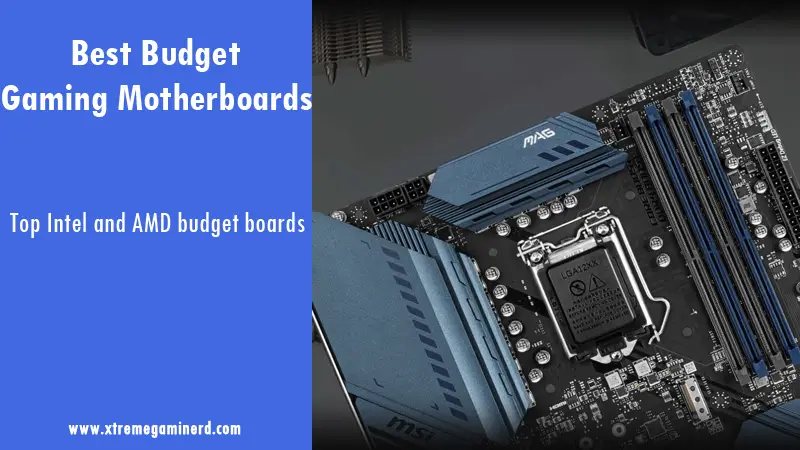 Every year we get a new range of motherboards from Intel and AMD. With new-gen processors, new motherboards release and gamers get opportunities to get their hands on better motherboards for a lower price.
If you are here for getting a great gaming budget motherboard, then you are either upgrading your system with an already existing processor with you or you are building a completely new gaming PC. As listing out the best budget motherboards from every chipset is not possible, you will find only the latest ones in this article.
Intel currently has 10th and 11th gen processors being dominant with 12th gen processors around the corner whereas AMD has Ryzen 5000 series CPUs/APUs that use AM4 socket. I will list down the best motherboards in all the latest chipsets from Intel and AMD from which you can decide what will be best for you.
Intel Motherboards
MSI H510M Pro
Best Budget H510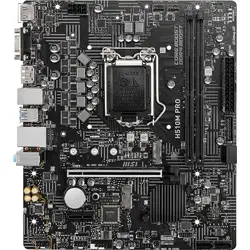 Specifications
VRM: 5+2 Power Stages
Memory: 64GB DDR4, 3200MHz
Expansion Slots: 1x PCI-E x16, 1x PCI-E x1
Storage: 4x SATA, 1x M.2, 1x M.2 with E Key
I/O: Total USB ports- 6, 1x PS/2, 1G LAN, 3x Audio jacks
The H510 chipset brings very basic features to the table where you can mostly install your basic components like graphics card, memory, M.2 SSD etc. This chipset is not made for enthusiast-level of performance although the difference in gaming will be hardly noticeable as games don't rely on motherboards.
Getting an entry-level motherboard from MSI is preferable as they have all the basic features that are available in other branded motherboards with the addition of Debug LEDs. These LEDs notify you about the malfunctioning component whenever your system refuses to boot. Due to this feature alone, MSI H510M Pro is a great deal for a cheap price.
On this board, at the I/O, you will get 6x USB ports and 3x display output ports to choose from. While it doesn't come with inbuilt wifi, you can install a PCI-E wifi card on the PCI-E x1 slot. For adding a graphics card, it is equipped with a steel armour covered PCI-E x16 slot and for storage, it gives you a single M.2 connector and 4x SATA ports.
MSI MAG B560 Torpedo
Best Budget B560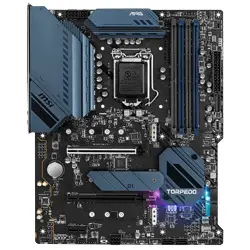 Specifications
VRM: 12+2+1 Power Stages
Memory: 128GB DDR4, 5066MHz
Expansion Slots: 2x PCI-E x16, 1x PCI-E x1
Storage: 6x SATA, 3x M.2
I/O: Total USB ports- 9, 2.5G LAN, 6x Audio jacks
Except for the lack of a Wifi adapter, this board is exactly like Tomahawk Wifi and therefore $20 less expensive. It's the best B560 motherboard for the least money you can have that excels in overclocking and provides great features.
As the chipset is overclockable, you can overclock any Intel 10th or 11th gen unlocked processor. It features a powerful 12+2+1 power phase VRM with decent heatsinks for heat dissipation. It has 4x DIMM slots that support up to 5066MHz of frequency which is crazy. Also, it has a total of 9 USB ports at the I/O that allows you to connect multiple peripherals at the same time.
For installing graphics cards and other expansion cards, it is equipped with 2x PCI-E x16 slots and a single PCI-E x1 card. For fast SSDs, you can install up to 2x M.2 NVME SSDs and if you want affordable options, you will have 6x SATA ports for SATA drives. As usual, this board also has EZ Debug LEDs which is rare on $150 motherboards from other manufacturers.
Related- Best Budget Graphics Cards
MSI Z590-A Pro
Best Budget Z590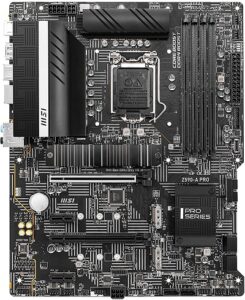 Specifications
VRM: 12+2+1 Power Stages
Memory: 128GB DDR4, 5333MHz
Expansion Slots: 2x PCI-E x16, 2x PCI-E x1
Storage: 6x SATA, 3x M.2
I/O: Total USB ports- 8, 1x PS/2, 2.5G LAN, 6x Audio jacks, Bios Flashback
For better compatibility and better components onboard, I recommend going with a Z590 chipset. This chipset is perfect for overclockers but it has a lot of expensive options that a lot of gamers can't afford. Therefore, this Z590-A Pro from MSI comes to be the top quality budget motherboard in the Z590 series.
It has a 12+2+2 power phase VRM that is sufficient to overclock a processor like i5 11600K. This will ensure that you get the free performance just by overclocking but do not forget to use a good CPU cooler that can maintain the increased performance for a longer time.
Compared to the MSI B560-A Pro, it has one more M.2 slot and due to having double the PCI lanes from the chipset, you can install more components than on a B560 motherboard. This will allow you to upgrade your system easily than on the B560 motherboards.
AMD Motherboards
Best Budget A520
Gigabyte B550 Aorus Pro AC
Best Budget B550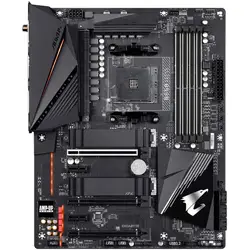 Specifications
VRM: 12+2 Power Stages
Memory: 128GB DDR4, 5200MHz
Expansion Slots: 3x PCI-E x16, 2x PCI-E x1
Storage: 6x SATA, 2x M.2
I/O: Total USB ports- 12, Intel Dual Band 802.11AC WiFi, 2.5G LAN, 6x Audio jacks, Bios Flashback
I am a big fan of Gigabyte's B550 Aorus Pro AC. I have recommended this board in a lot of articles. The reason is obvious. This board provides the best value for under $200 and is on the top of the list even when compared to other chipsets whether they are from Intel or AMD.
It features a quality 14 power phase VRM that has dense heatsinks with fin array. These are much more effective in cooling the VRM than a traditional grooved heatsink. It can easily let you overclock a CPU like Ryzen 5600X or 5800X strongly and comes with proper PCI lanes distribution. Unlike the B550 Aorus Elite, it comes with an inbuilt wifi adapter with just a $10 increase in its cost while delivering better VRM and wireless connectivity.
It also comes with a dozen USB ports at the I/O which hardly any other motherboard comes with and for troubleshooting, it is equipped with Debug LEDs. Moreover, you can update your BIOS with the help of a BIOS switch at the I/O and beside it, lies a 2.5G LAN that offers blazing internet speed.
Gigabyte X570 AORUS Elite Wi-Fi
Best Budget X570 (Specs need editing)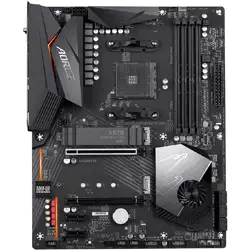 Specifications
VRM: 12+2 Power Stages
Memory: 128GB DDR4, 4400MHz
Expansion Slots: 2x PCI-E x16, 2x PCI-E x1
Storage: 6x SATA, 2x M.2
I/O: Total USB ports- 10, Intel Dual Band 802.11AC WiFi, 2.5G LAN, 6x Audio jacks
For only $20 more, the X570 chipset is a lot better option if you want to connect more components as the X570 chipset offers more PCI lanes. While this is not a significant improvement over other areas such as VRM or memory configuration, you will get a native Gen 4.0 PCI-E x16 slot that provides higher bandwidth than the B550 chipset.
It offers 14 power phase VRM and memory support of up to 4400MHz. There are dual PCI-E x16 slots for graphics cards where the primary slot is using steel armour for reliability and will support heavy graphics cards easily. For storage, you can use dual M.2 connectors or 6x SATA ports while for smaller expansion cards, there are 2x PCI-E x1 slots.
Thankfully, the board is equipped with an Intel Dual Band wifi adapter and there are a total of 10 USB ports that are handy for connecting a lot of peripherals at the same time. Unfortunately, there are no USB Type C ports and onboard Debug LEDs for troubleshooting but this is expected with a budget X570 chipset motherboard like this.
Wrapping Up
The list features only the best ones from each chipset but it doesn't mean that there aren't any other good boards. You will find a couple of boards in each chipset from different manufacturers that come close to the listed ones but they better value for performance. Rest is up to the pricing which fluctuates on a daily basis that is also a big deciding factor.
If you need any help in building a PC or if you have any other PC-related queries, you can drop down your comment down below.