Noctua recently showcased its roadmap on its website that shows its upcoming plans for PC hardware. Noctua is one of those companies whose CPU coolers are unmatched in performance and are therefore held in high esteem.
Noctua showed their plans starting from Q3 2021 up to Q2 2022 where the first ETA shows that they are working on releasing CPU coolers for workstation computers using the LGA4189 socket. They didn't mention how many CPU coolers will be launched and what their names will be as the current showed ETAs are subject to change based on research, fine-tuning, development and other project-related stuff.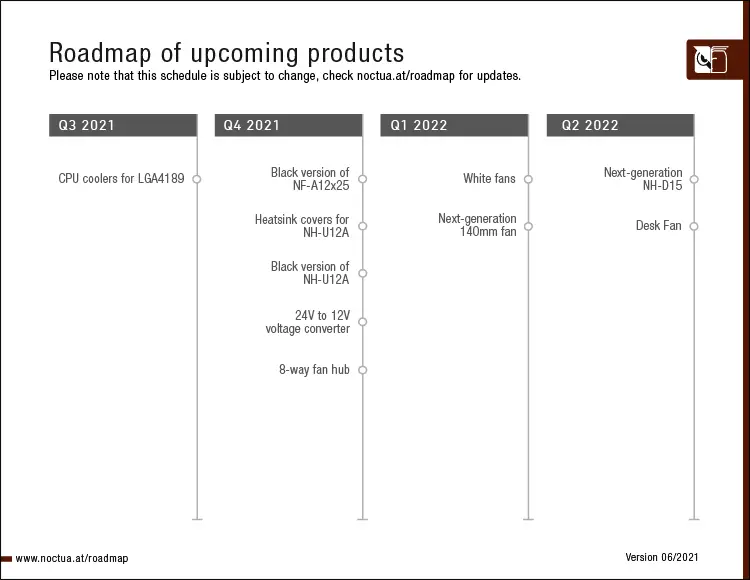 In Q4 2021, they are set to release a Black version of the NF-A12x25 premium quiet fan and a black version of budget cooler NH-U12A. Some of its coolers are already available in black colour such as Noctua NH-U12S and the legendary NH-D15S. Therefore, to fulfill the demands of PC builders looking to build a PC with a different colour theme other than the brownish-beige colour combo, Noctua is going to update its catalogue with black coolers and fans soon.
However, they are also planning to launch White coloured PC fans as shown in the roadmap along with some next-generation 140mm case fans to achieve better cooling which is one of the best addition PC builders can rejoice over. Noctua already teased their Chromax all-white fans in Computex June 2019 but they are still waiting for their turn to get to the market.
As for the popular NH-D15 CPU cooler, Noctua is set to release another edition in Q2 2022 which shall be better than the current one. I believe it is also possible to see this cooler in white colour as we already have the black one but now with some possible redesign.
The launch of these products, however, depend upon different conditions as stated above and can be delayed if Noctua needs more time in the future. They keep their page updated in case of delays and we would love to see more information about the new products.