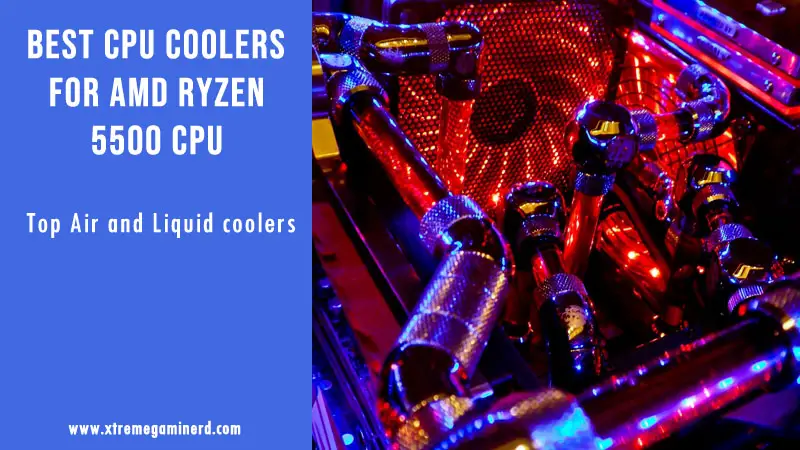 AMD's Ryzen 5 5500 is among the batch of CPUs that were launched in April 2022. It is based on the Zen 3 architecture and uses a 7nm process node. This CPU was released to compete with Intel Alder Lake budget CPUs and therefore, it is priced at $160 which is much lower than the launch price of Ryzen 5600X which shares a lot of common things with this CPU.
The Ryzen 5500 comes with 6 cores and 12 threads just like the 5600X, however, there are some significant changes to other specs. While the clock speeds are down to 3.6GHz/4.2GHz (base/boost), the L3 cache is doubled to 32MB. This makes the 5500 a better choice for around $160 but the cooling requirement is still there as the processor is overclockable.
It comes with a TDP of 65 Watts but the power consumption will increase as you feed it higher voltage. This can lead to overheating in some cases especially if you are going hard on it. At this time, the stock heatsink which is the Wraith Stealth won't be sufficient for maintaining optimal temperatures.
Be Quiet! Pure Rock 2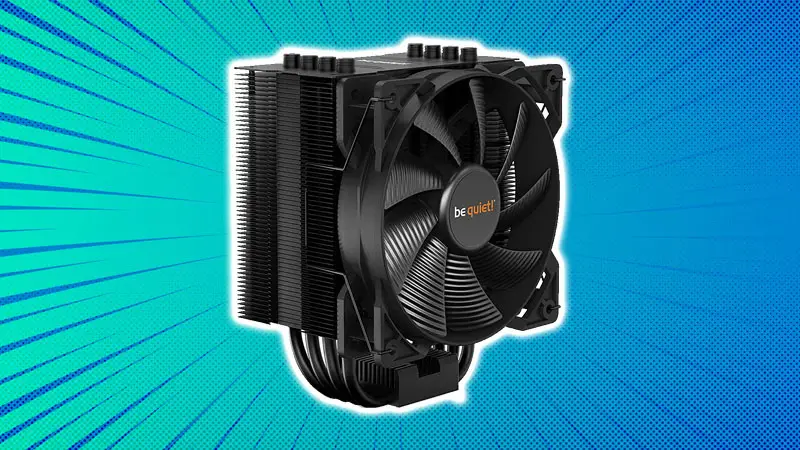 Be Quiet CPU coolers are fantastic when it comes to high airflow and low noise. The company offers various types of Air CPU coolers in budget and high-end categories. To start off, we have the Pure Rock 2 which comes for less than $50 but is a deal-breaker for PC builders. It comes with an all-black single tower aluminum heatsink that has 4 copper heat pipes embedded to rapidly dissipate heat.
Those heat pipes go inside the metal base which makes perfect contact with the CPU and absorbs a lot of heat before transferring to the aluminum heatsink fins. The 120mm Pure Wings 2 fan, on the other hand, cools down the heatsink at a max RPM of 1500 that doesn't even reach 30dBA. This makes it very silent and perfect for those who want to overclock Ryzen 5500 without going to extremes.
It is rated at 150W of cooling efficiency and will be sufficient even for 8-core processors like the Ryzen 5700X or the 5800X. I recommend using a good airflow chassis in case you want to go a little harder on overclocking.
Related- Best CPU Coolers for Ryzen 5800X
---
Noctua NH-U12S Redux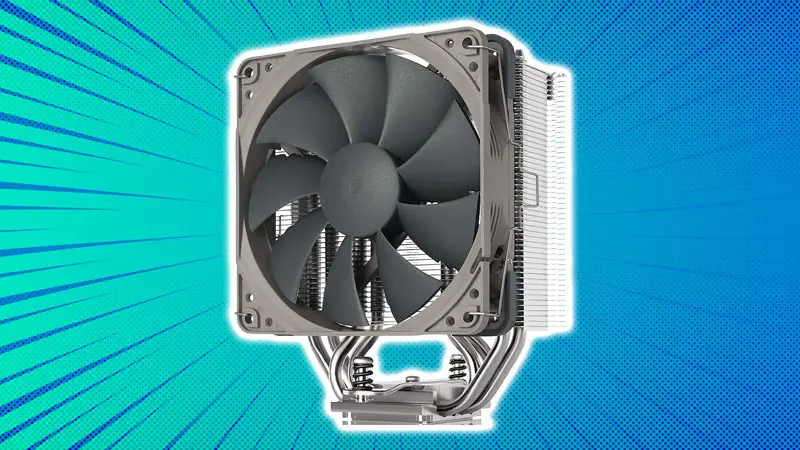 Noctua's NH-U12S Redux is a newer version of the NH-U12S but in the sense that it is less expensive at the cost of a little more noise. The cooler does perform just as Noctua advertised((https://www.anandtech.com/show/16898/the-noctua-nhu12s-redux-cooler-review/3)) and its performance is a little worse than the original NH-U12S but in my opinion, such a small and almost unnoticeable performance gap can be ignored.
It comes with a single tower aluminum heatsink with 4 copper heat pipes with nickel plating. The fan used here is a grey-colored Noctua NF-P12 Redux 120mm fan that runs at a maximum of 1700RPM. At that speed, you can expect its noise somewhere around 35dBA which is almost inaudible from a working distance. But the benefit is that you can easily maintain a good temperature range of your Ryzen CPU while it is overclocked.
Noctua is surely the best CPU air cooler company even today and has succeeded to provide great cooling even with single towers.
Related- Intel Core i3 12100F vs Ryzen 5 5500- Which is Better?
---
Noctua NH-D15 Chromax.Black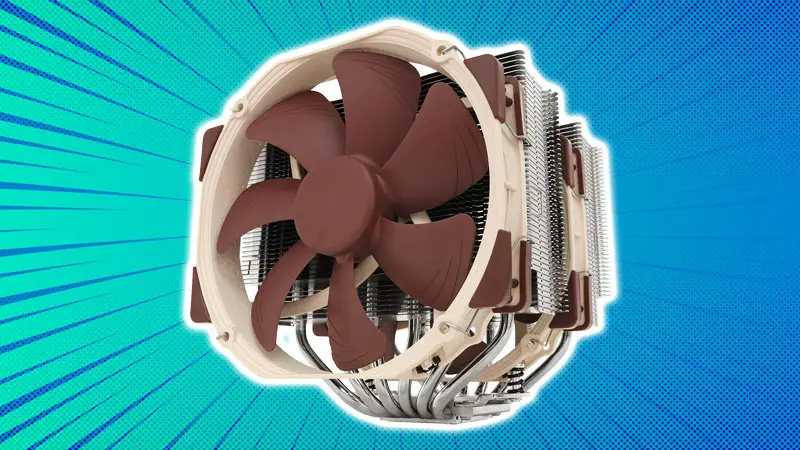 Noctua NH-D15 still stands as the best CPU air cooler of all time. It has been 7 years since this heatsink took the crown and nobody has come close to it in its cooling performance. Thanks to its massive heatsink and ultra silent fans, this cooler can beat many budget 240mm AIO coolers.
It comes with dual aluminum heatsinks that have one fan sandwiched in between and another fan on one side to create a push-pull configuration. This helps it quickly dissipate the heat from the CPU and due to the oversized heatsink, it is very easy for it to maintain low CPU temperatures.
There are a total of 6 copper heat pipes that further speeds up the transfer of heat from the CPU to the heatsink and if you add another fan on the other side, you won't have any problem whatsoever, no matter how hard you go for overclocking. This thing is an absolute beast even for higher-end CPUs like the 5800X, 5900X etc. and for $100, it will your best purchase.
---
MSI MAG Series CORELIQUID 240R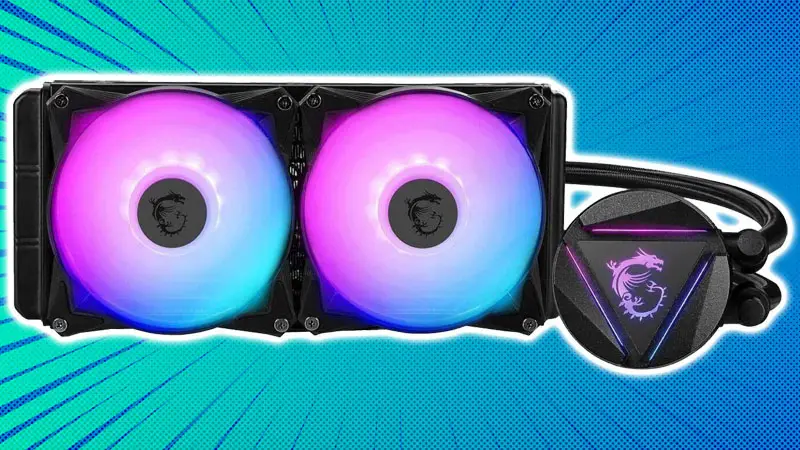 Not everyone loves air cooling and not everyone has a big case that is required for beefy air coolers like the NH-D15. These big air coolers need a lot of space in your chassis and it is super difficult to work on other things once you install them. Therefore, a lot of PC builders go for an AIO cooler if they can spend $80 or more on a cooler.
The Coreliquid 240R from MSI not only cools CPUs well but also looks dope. It comes with a 240mm aluminium radiator with dual MSI ARGB 120mm fans. Moreover, you also get the ARGB LEDs on the CPU block as well. This creates a mesmerizing effect inside your case and through various RGB software, you can choose from the pre-defined effects or you can create one for yourself.
It is much cheaper than most premium 240mm AIO coolers and provides better value for the money. It is certainly not the best 240mm AIO cooler but for under $100, it is hard to find one with a lot of features.
---
Corsair iCUE H100i RGB Pro XT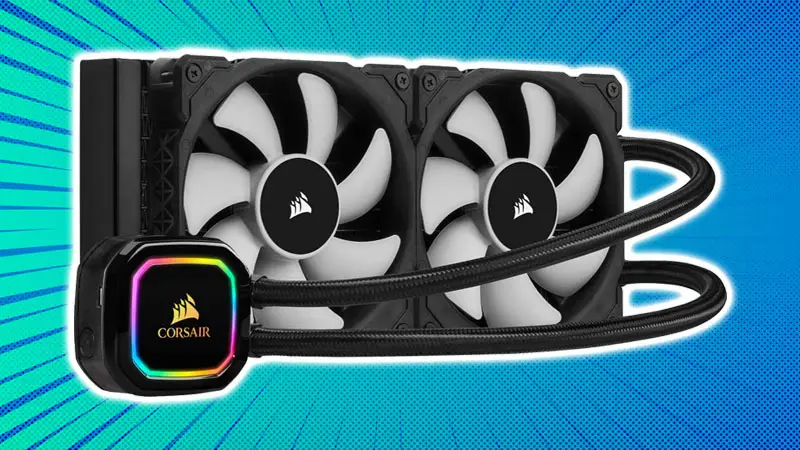 The H100i RGB Pro XT is one of the latest versions of the original Hydro Series H100i. It was very popular a few years ago and due to being very successful, Corsair redesigned it a little bit to make it fit for 2022 and the time to come. It comes with a 240mm radiator with dual 120mm Corsair ML series PWM fans. These are high air pressure fans that are very effective in cooling down aluminium radiators.
These fans have a wide range of speed from 400 to 2000 RPM where 400RPM gets you the least possible noise and I simply don't recommend maxing out at 2000 RPM because that will get a lot noisy which is difficult to bear in a working environment.
The cooler features an ARGB CPU block that can be customized from the iCUE software and you can create whatever lighting effect you want. As tested by many reviewers, this cooler is one of the best if not the best $100 240mm AIO cooler which is fit for any high-end CPU.
---
Wrapping up
For basic daily use, I simply don't recommend buying an aftermarket CPU cooler for the Ryzen 5500 but when you are going to game for a few hours, then getting a basic air cooler is essential. If your need is higher than that, then consider going either with the NH-D15 or any of the AIO coolers mentioned above.
If you have any doubts or any queries, leave them down in the comments section and let me know what CPU cooler are you going to get for the Ryzen 5 5500.