The best way to squeeze out a processor's performance is overclocking and thankfully, all the Ryzen CPUs from the very first generation to the 7000 series are overclockable.
When the processor is overclocked, the load on the CPU increases and the voltage may increase either automatically or through a manual increase in voltage. This results in an increase in CPU temperature and unless it hits the critical temperature, you are good to go.
To solve the overheating issues, there are aftermarket CPU coolers for a reason. Using them is extremely necessary if you are going for a strong overclock and want consistent clock speed for a long time.
In this post, we are looking at the top CPU coolers in both Air and Liquid categories that will provide sufficient cooling to the Ryzen 7700X which is a fantastic 8-core CPU. Read our recommendations carefully and let us know about your questions if you have any.
Our Top Picks
Ryzen 7 7700X Overview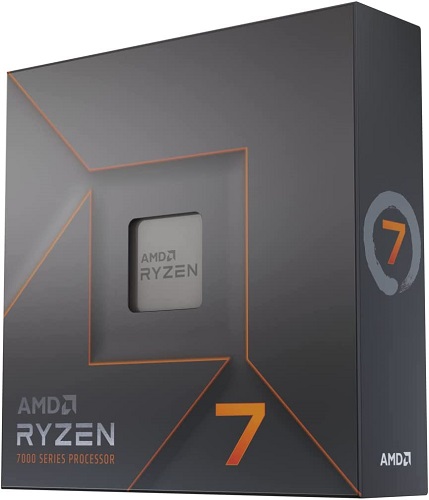 Ryzen 7 7700X is based on the Zen 4 architecture and is made using the latest TSMC's 5nm process node. It brings several enhancements over the last generation but retains the core and thread count to 8/16.
The core clock speeds it features are 4.5GHz to 5.4GHz which are almost 1GHz more than the 5700X. This improvement alone brings up to 50% of the total performance boost out of the total gains over the 5700X.
The L2 cache is doubled over the last gen and now it comes with 8MB of L2 cache and 32MB of L3 cache memory that are accessible directly by all the cores. The Zen 4 die design is very similar to the Zen 2 where 8 cores are present in two CCX but several architectural improvements make it significantly faster than both the Zen 2 and Zen 3.
Ryzen 7700X will only be compatible with the AM5 socket and will only support DDR5 memories out of the box. The TDP is 105W and the processor is unlocked for overclocking.
Ryzen 7700X Needs A Better Cooling Solution
Just like any other Ryzen 7000 series CPU, the Ryzen 7700X has thermal issues. The 7700X runs very hot and easily reaches up to 90C or higher even with an aftermarket CPU cooler. Therefore, cooling the 7700X is not easy as cooling any other previous-gen processor.
Unfortunately, this is how the 7000 series is designed and there is nothing you can do as AMD calls 90C and above "Normal". Even though AMD states that the max. operating temperature of 7700X is only 5°C more than the 5700X, the latter runs at a fairly lower temperature and stays under 80C easily.
Ryzen 7700X won't be able to perform normally if used with a budget single-tower air cooler. You need premium cooling solutions both in Air and AIO cooling categories.
Investing For The Cooler Realistically
Ryzen 7 7700X was launched at an MSRP of $399 and speaking realistically, most users will end up paying $100-$150 for the cooler. While the previous-gen Ryzen 5700X could be cooled with a cheaper cooler, you can't go below $100 if you want consistent performance at higher clocks.
While cooling the processor can be done fairly easily if the clocks are set to operate near the base clock, I am sure you are not going to like a lower performance than what the 7700X is capable of. Still, I will be listing some good cheaper but premium cooling solutions if your budget doesn't allow that.
However, most coolers on this list will include CPU coolers that fall in the $100-$150 price range. As for coolers that fall out of this range, I am currently not including them as coolers can cost hundreds of dollars and it takes away from the value of your build.
Best CPU Coolers For Ryzen 7 7700X
---
Noctua NH-U12S Chromax.Black
Noctua is the king of CPU coolers and most of its coolers have outstanding performance without creating much noise. The NH-U12S Chromax.Black is the black edition of the original NH-U12S cooler which was an award-winning cooler and was praised by most third-party reviewers.
Judging by its looks, it seems just like a simple budget single-tower cooler but it actually performs way better than them. This is achieved through the combination of the aluminum heatsink that is dense and Noctua's NF-F12 PWM fan that is ultra silent and is an amazing static pressure fan.
There are 5 nickel-coated heat pipes in total that go through the base and to the top of the aluminum heatsink for faster heat dissipation and enhance the cooling performance of the cooler. The cooler can support one more fan on the other side for a push-pull config and is compatible with almost every modern socket including AM5.
Supported by 6 years of warranty, the NH-U12S is the best budget air cooler for the 7700X you can buy right now and has no issues with RAM clearance whatsoever.
Noctua NH-D15 Chromax.Black
Multiple award-winning NH-D15 is again a champ from Noctua that was and still is the best air cooler of all time. It literally crushes every air cooler we have seen till now and features unmatched cooling and low noise performance that makes it undisputedly the best dual tower cooler.
The cooler comes with big dual aluminum heatsinks with as many as 7 heat pipes that connect the base of the cooler as well as the two aluminum towers. The cooler can support up to 3 fans in total and comes with 2x NF-A15 PWM fans for ultra-silent performance and superb airflow.
It is beefier and heavier, weighing more than 1KG, and requires much more clearance than regular single tower coolers. However, it's perfectly fit for any high-end CPU for overclocking and gives good competition to one of the best 240 and 280mm AIO coolers.
For a price of $110, it doesn't break the bank but it surely fulfills the purpose of cooling the processor better than any other air cooler.
Arctic Liquid Freezer II 280
Arctic Liquid Freezer II 280 is hands down the best 280mm AIO cooler right now. As tested by various reviewers, the Liquid Freezer II 280 can crush any 240mm or 280mm AIO cooler with its performance and features a slick design.
Compared to many AIO coolers, the company didn't focus on its aesthetics more than its performance. This resulted in a cooler that is superior in dissipating heat from the CPU to the radiator where the aluminum fins are quickly cooled by the static pressure fans.
Its CPU block looks amazing with that tiny RGB fan and is more compact than the traditional AIO cooler CPU blocks. The pump is designed in such a way that makes it operate much more quietly than traditional pumps and this reduces the overall noise of the AIO cooler which won't bother you.
Currently, the cooler is available in both RGB and non-RGB editions. The latter is more expensive but gives you better aesthetics.
Corsair iCUE H115i RGB Pro XT
While not the best, the iCUE H115i RGB Pro XT is definitely among the top performers when we compare all the 280mm AIO coolers. The H115i RGB Pro XT is one of the latest editions of the original hydro series H115i AIO cooler and features a 280mm radiator.
The cooler comes with dual 140mm Corsair magnetic levitation PWM fans that throw a good amount of air for faster dissipation of heat. These fans can operate between 400RPM to 2000RPM where the max speed will generate a lot of noise but you will be fine with a fan speed ranging from 800-1500RPM. The cooler also has a Zero RPM mode that shuts down the fans completely if the CPU temperature is low.
The CPU block you get here is compact and comes with RGB Lighting and a Corsair RGB logo for an appealing look and can be controlled via Corsair iCUE software which is the best RGB software for Corsair devices. The cooler is compatible with almost every type of socket you will find on modern motherboards including the AM5 and gives you full clearance for memories.
EK AIO Basic 360mm
EK AIO Basic 360 is perhaps the best-value AIO cooler that costs less than $130 and still beats most 360mm AIOs out there. The cooler excels in cooling but stays behind in aesthetics if you are looking at it from an RGB POV.
EK is the biggest manufacturer of custom liquid coolers and therefore, we can trust the company on AIOs more than any other brand. The cooler features a big 360mm radiator and triple 120mm Vardar high-performance PWM fans. These fans can be adjusted at a speed ranging from 550 to 2200RPM and even at the maximum speed, the fans don't make noise more than 33.5dBA which is more silent than the H115i RGB Pro XT.
The cooler comes with diamond-cut rotary fittings that make it ultra-durable and sleeved rubber tubing to prevent the pipes from leaking and from any minimal external damage. The cooler is also available in the RGB edition but will cost you almost $30 more. So, if you are looking for cooling purposes only, consider the non-RGB edition and you are good to go.
Corsair iCUE H150i RGB Pro XT
Last but not least, Corsair also has a 360mm AIO in the iCUE series. The H150i RGB Pro XT is an excellent combination of aesthetics and functionality that should be considered for the ultimate cooling performance. The looks and design of this cooler are identical to the H115i as it is in the same Pro XT family.
The cooler features a 360mm radiator with triple 120mm Corsair ML fans and feature different fan speed modes for silent and performance cooling operations. As tested by Tweaktown1)https://www.tweaktown.com/reviews/10141/corsair-icue-h150i-rgb-pro-xt-cpu-liquid-cooler/index.html, the cooler performs absolutely silent in Quiet mode and gives great thermal results at the Extreme mode. The results are mostly similar across different review sites but do remember that it is not the best-value AIO cooler at all.
And of course, you are also going to get an RGB CPU block that can be controlled from the iCUE software which has amazing compatibility with Corsair devices.
Which Cooler Will Be Ideal?
By going with either the Arctic Liquid Freezer II 280 or the EK AIO Basic 360, you are going to get the best value for your money. These coolers outperform most AIO coolers for their prices and also have RGB editions for those who don't want to compromise with RGB stuff.
Personally, considering that the 7700X already runs very hot and has more cores than the 7600X, I would stick with the EK AIO Basic 360 which is only $20-$25 more expensive than the Liquid Freezer II 280.
Final Words
If you have planned to build a PC with Ryzen 7700X or already have bought it, we recommend that you only buy an AIO unless there is a strong reason for not being able to do so. Go with at least a 280mm AIO if you don't want your CPU to throttle.
Related: