Since AMD's brand new Ryzen 7000 series is out, many are upgrading their systems by adapting to the faster Ryzen chips such as the 7600X.
One of the reasons is the impressive gaming performance it delivers for just under $250 and can easily compete with chips like the Ryzen 5800X3D which costs more.
In case you are upgrading to this CPU, you may use your older CPU cooling solution but unlike its predecessor, you will have to consider better coolers as the 7600X generates more heat.
As it is extremely important to lower the temperatures when using an overclockable CPU like the Ryzen 7600X, we are going to look at the top CPU coolers you should get for this processor and the reasons for choosing those coolers.
Ryzen 5 7600X Overview
Ryzen 5 7600X belongs to the Ryzen 7000 family and is built using the Zen 4 architecture. It is built using the TSMC's latest 5nm process node and brings some significant uplifts in the performance through the improved block design.
While the block design of the die isn't created from scratch, there are several improvements made over the Zen 3 to provide a performance boost of up to 20%. The 7600X features 6 cores and 12 threads that run at a base/boost clock speed of 4.7/5.3GHz.
The TDP is 105W which is 40W more than its predecessor, the 5600X and it is only compatible with DDR5 memories. Ryzen 7600X is an overclockable processor and is only compatible with the AM5 socket.
Ryzen 7600X Needs A Better Cooling Solution
Unlike previous Ryzen processors including the 5000 family, the Ryzen 7000 series CPUs run hotter. This is true across all the Ryzen 7000 chips released till now and therefore, it is now even more important to have a well-performing CPU cooler that can stop thermal throttling.
Ryzen 7600X runs very hot even with aftermarket CPU coolers and getting a basic one isn't recommended. As tested by several users, the 7600X easily crosses or at least touches 90C in CPU-intensive tasks. This is alarming yet not "too hot" according to AMD.
While the company may call these temperatures "normal", it is not recommended to run the processor continuously around this range to avoid any thermal issues. 90 degrees is going to warm your house in winter but that's not a good idea for summer.
Investing For The Cooler Realistically
The Ryzen 7600X is launched for $299. Most users who are going to buy this processor are going to end up spending a total of $1000-$2000 on their PCs depending on how much performance they want or whether they want casual gaming or an ultimate immersive gaming experience.
When we break down the budget, realistically the user will spend around $50-$150 on a CPU cooler for the 7600X. While $150 is the upper limit, most users will end up in the $70-$120 zone. This is why it is important to focus more on the realistic price range than considering all the CPU cooling solutions irrespective of the prices.
Therefore, I am going to list down most of the CPU coolers that fall in this price range and give my reasons on why I think they will be the best fit for the 7600X.
Best CPU Coolers For Ryzen 5 7600X
---
Noctua NH-U12S Chromax.Black
CHECK AMAZON PRICE
NH-U12S is incredibly good even though it's just a single-tower cooler. It features an all-black cooler design where everything is painted black. So, you have a fully black heatsink, a black cooler fan, and even black copper heat pipes.
To dissipate the heat faster, it uses five highly heat-conductive copper heat pipes that are embedded into the CPU cooler base channeling all the way to the top of the aluminum heatsink.
NH-U12S is definitely superior in both cooling and silent operation. The fan used is a 120mm high air-pressure NF-F12 PWM fan that can be controlled easily using the BIOS or fan software. Unfortunately, there is no LED on the cooler but you do get premium cooling performance that matches a lot of budget dual tower coolers.
This cooler was originally launched as a mustard-colored version but now is also available in full black to match various color-themed builds. The NH-U12S comes with an AM5-compatible kit. So, there is no need to worry about compatibility.
Noctua NH-D15 Chromax.Black
CHECK AMAZON PRICE
Next, we have the multiple award-winning air cooler that is still beating every air cooler on the planet. While launched nearly a decade ago, the NH-D15 doesn't fail to amaze us. The cooler is superior in cooling high-end CPUs and competes with many 240mm AIO coolers.
NH-D15 is a big and beefy dual tower CPU cooler that features two big aluminum heatsinks with two pre-installed fans while a third can also be added. The cooler has 6 copper heat pipes in total that are connected to both the aluminum heatsinks and the cooler base dissipating heat faster than the single tower coolers.
This is an amazing option for those who don't want to take any leakage risk with AIO coolers and can be used with almost any high-end CPU without any fear of thermal throttling.
Similar to the NH-U12S, it too has two color versions where the original one features Noctua's traditional mustard-colored fans but there is a Chromax Black edition too which looks way better.
EVGA CLC 280mm AIO
CHECK AMAZON PRICE
EVGA has a couple of CPU coolers but it simply kills many AIO cooling solutions for the price. While a 240mm will also be ok for the 7600X, the CLC 280mm AIO isn't very expensive and costs around or even less than most 240mm AIO coolers from other brands.
The CLC 280mm features a 280mm radiator that provides a larger surface for heat dissipation. The CPU block used is compact which makes it easier to install without any hindrance from other components. The pipes are also well-protected, sleeved, and adequately flexible to manage.
The radiator uses dual 140mm high air pressure fans that feature a max speed of up to 2200 RPM. However, the speed can be lowered to 600RPM for totally silent operation.
As of now, this cooler is currently the cheapest 280mm AIO cooler you can find online and EVGA is also providing an AM5 kit for installing on AM5 motherboards.
Corsair iCUE H115i Elite Capellix XT
CHECK AMAZON PRICE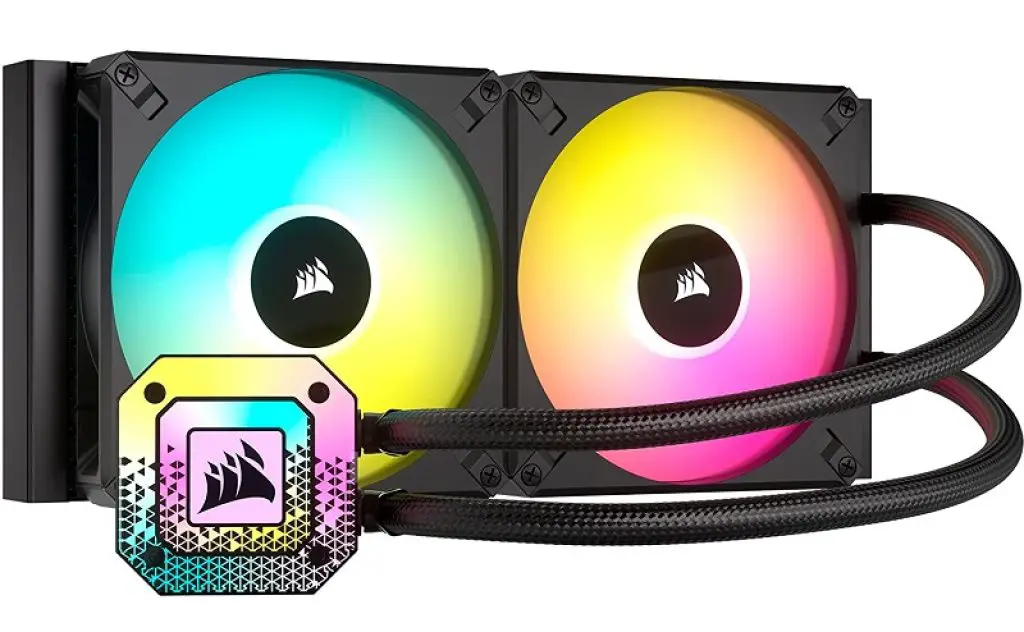 Corsair is definitely one of the most if not the most popular manufacturer of AIO coolers. Corsair AIO coolers have always been on the top when it comes to cooling performance and since the release of its first Hydro Series, Corsair has been upgrading its AIO coolers every year.
The one that is more than enough for the 7600X is the iCUE H115i Elite Capellix XT which is not cheap as it features one of the best premium features. It comes with a 280mm radiator with dual AF140 RGB Elite PWM fans. These are fully controlled ARGB fans and deliver a high airflow of up to 89CFM at 1700RPM speed.
The cooler even supports Zero RPM mode where if the CPU is sitting idle, the fans will simply stop spinning to save power and will generate almost no noise.
The CPU block is thin and features RGB LEDs that can be controlled via the iCUE software. This software also helps you customize the RGB lighting of various Corsair RGB devices or sync them all. Corsair iCUE is a well-known RGB software that has fantastic compatibility and offers a lot of options to tweak your RGB devices.
Arctic Liquid Freezer II 280 A-RGB
CHECK AMAZON PRICE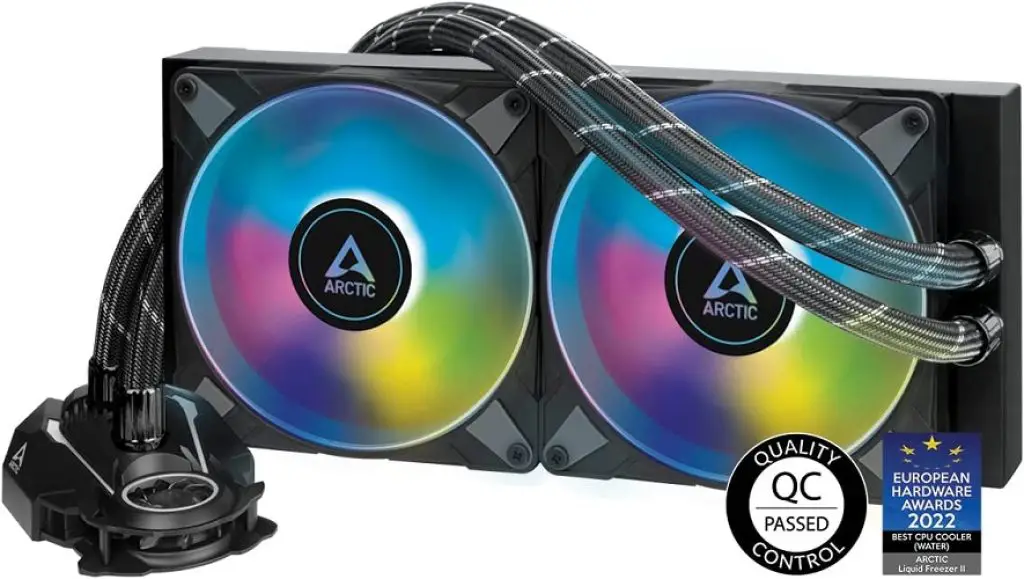 The Arctic Liquid Freezer II 280 is simply the best 280mm AIO cooler right now. It completely overwhelms every other 240mm or 280mm AIO cooler with its amazing cooling and has been recommended the most by various third-party review sites.
The cooler features a 280mm radiator with dual RGB 140mm P-fans designed for high air pressure. The company made its own unique pump for super quiet operation and this is where it shines the most. Commonly, AIO coolers are louder than air coolers due to the combined noise of the pump and the fans. Here, not only the pump runs quieter but the fans are also super quiet.
It is superior to the previous gen Corsair H115i RGB Platinum cooler and many other similar performing AIO coolers but at a lower cost. The cooler is currently available in both RGB and non-RGB editions where the non-RGB one will give you the best value for money but if you also care for the aesthetics, the 280 A-RGB edition is still a good value cooler.
EK Nucleus AIO CR360 Lux D-RGB
CHECK AMAZON PRICE

Lastly, for the best possible cooling performance without breaking the bank, you should use the EK Nucleus CR360 Lux cooler that features a big 360mm rad that has a lot of surface area to dissipate the heat quickly.
It is the successor of the EK Basic 360 AIO and features better aesthetics and an improved design. Normally, for 6-core processors, I generally don't recommend a 360mm radiator as most 240 and 280mm coolers do the job well. But here, the Ryzen 7600X needs a better cooling solution than any other 6-core CPU, and what can be a better option than this 360mm AIO that completely dominates most AIO coolers for just over $150?
It features Digital-RGB fans and a CPU block that provide you with several lighting modes and the control to customize the lighting effects as you wish. Moreover, it retains the fantastic cooling the Basic model used to come with which makes it among the top 3 best CPU AIO coolers if not the best AIO cooler at the moment.
Which Cooler Will Be Ideal?
For those who aren't planning to overclock the 7600X to the extremes, the Arctic Liquid Freezer II 280 A-RGB looks like a promising option that is affordable and brings impressive functionalities.
The cooler is perfectly fit for those who want the best cooling performance on a budget without compromising on RGB lighting. While those who don't have a higher budget, the EK Nucleus CR360 is a fantastic and perhaps the best choice for the 7600X.
It is absolutely impressive whether we consider its thermal performance or silent operation. But in case you are looking for only an air cooler, the Noctua NH-D15 is absolutely killer for $100 and is suitable for overclocking.
Final Words
Cooling the Ryzen 7600X is not similar to other 6 cores/12 threads CPUs as it runs way hotter. You can't go with any basic single tower cooler expecting it to allow you to overclock the CPU as well as keep down the temps below 70C.
Let me know what cooler you are going with the Ryzen 7600X in the comments below.