It has been only a month since AMD launched the 7900 XT and XTX cards but AMD thought why not just expose the real value of these cards by comparing them to the 6000 series?
And so AMD set up a test rig with a Ryzen 7900X and benchmarked 11 GPUs from the latest 7000 as well as 6000 series in 6 different titles including the COD Modern Warfare 2, GTA V, and some eSports titles.
But instead of proving that the recently launched 7900 GPUs are actually better, AMD just published numbers that tell us otherwise.
If you see the chart, you can see that even though the 7900 XT is faster than the 6950 XT, the gap is not significant. What's interesting is that the 7900 XT is considered as a better value GPU compared to the RTX 4070 Ti but here the 6950 XT is looking very close to the 7900 XT's performance.
AT 4K resolution, the 7900 XT is just 7% faster but as of now the 6950 XT is super cheap compared to its launch date and this makes it a significantly better value card at a 29% lower price than the 7900 XT.
The gap closes even further when the games are run at 1080p resolution.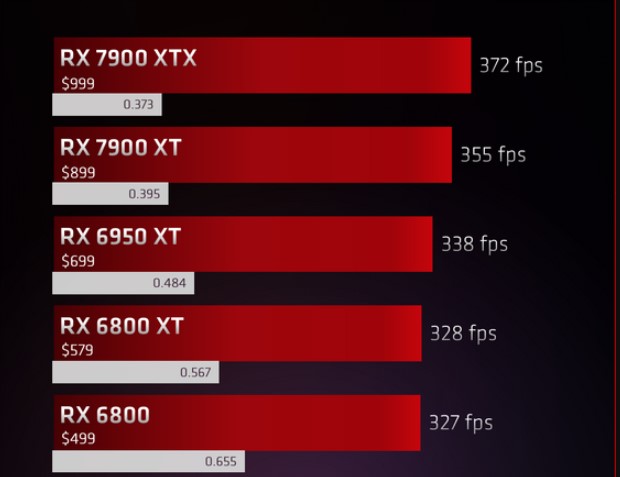 Here you can see that the 7900 XT is just 5% faster than the 6950 XT and it feels like AMD is just trying to tell the people here, "hey, don't buy the 7900 XT because it's more expensive".
I believe that AMD is trying to clear its 6000 series inventory quickly so that people can then switch to the 7000 series which at that point will be the only one you will be able to find on the shelves.
The RX 7900 series was already beaten in sales by the RTX 4070 Ti alone as recently reported by Techepiphany. Even though it was the sales stats of Mindfactory retail store, it still gives us a good idea.
What's interesting to see is that how would the sales go now when AMD itself admits that the 6950 XT is a better value card than the 7900 XT.
Source:- AMD.com