It's true that you don't need a 12-core CPU for gaming but if you own a beastly CPU like Ryzen 7900X or are planning to buy it for productivity, content creation, and also want to play games after your whole day of tiring work, then a powerful graphics card is a must.
As an owner of 7900X, I don't recommend cheating out on a GPU especially if you have a high-resolution monitor that also features a high refresh rate. Therefore, we will be discussing the best possible CPU-GPU combos you can have if you are using 7900X to get those fps numbers insanely high.
But before that, do read the points which you should consider before buying a GPU.
Best Picks
Ryzen 9 7900X Overview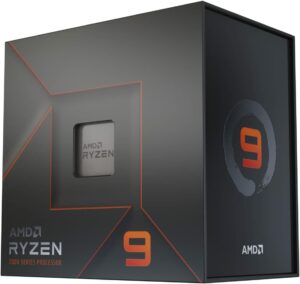 AMD Ryzen 9 7900X is based on the Zen 4 architecture and uses TSMC's latest 5nm process node which is currently the smallest node used for desktop processors. The 7900X features 12 cores and 24 threads at a clock speed of 4.7/5.6GHz which is the highest we have ever seen on the Ryzen 9 CPUs.
With a default TDP of 170W, this processor is power-hungrier than its predecessors but at the same time brings an average of 13% IPC gains over the 5900X. It is compatible with AM5 socket and DDR5 memories and can't be used on the older AM4 platform.
With a refresh die design, the processor brings a double L2 cache and a good 64MB L3 cache memory that makes it superior in gaming and productivity over the 5000 series. Priced at $549, the processor is at a very competitive price point and goes head-to-head with the top processors available right now.
Things To Consider Before Buying A GPU
The processor and the graphics card combo matter the most. If you buy an overpowered GPU or a CPU, the other will make your performance suffer as if your system isn't able to handle the components. In order to make full use of your components' potential, you must consider their specs and their requirements to achieve the highest possible performance.
Avoid The Bottleneck
Bottlenecking, in simple words, can be defined as limiting the potential of a particular component due to the inability of your computer to handle all the requests that need to be assigned to that component.
In other words, if your CPU is too fast, it will assign more instructions to your GPU than the latter can handle. This will cause your GPU to bottleneck your CPU and this is also possible if the case is reversed. In order to maintain the balance and let both CPU and GPU utilize their maximum strength, one should always use a CPU-GPU combo that doesn't max out the usage of the other component.
Get A Better Power Supply
With a high-end CPU like 7900X, you are probably going with a much more powerful graphics card you would be considering otherwise with a CPU like Ryzen 3300X. With performance, comes higher wattage requirements and that necessitates the usage of a better and bigger power supply.
Make sure you check the wattage requirement of your GPU and buy a solid and reliable PSU that is at least 300W more than the GPUs TDP. This will give your PC some room for adding smaller upgrades.
Best Graphics Cards List For Ryzen 9 7900X
AMD Radeon RX 6800 XT
Originally launched at a price of $649, the RX 6800 XT is currently one of the best graphics cards in the high-end category that allows gaming at 1440p without breaking a sweat. AMD Radeon RX 6800 XT is the bigger sibling of the non-XT version of the 6800 but features some good uplift in the specifications.
It comes with 4608 Stream processors and a good memory size of 16GB which is missing in most Nvidia Ampere-based high-end GPUs like the 3070 and 3070 Ti. It also supports Ray Tracing and is pretty good at it when you want to play ray tracing-supported games at 1080p but in no terms, it is better than the Nvidia competitors.
RX 6800 XT can easily give you way over 100 fps at 1440p and is easily up to 30% faster than the 3070 Ti while costing only $50 more if we consider their original MSRP. Of course, the RTX 3070 Ti is way more expensive at the time of writing but I would still give preference to the 6800 XT even if their prices were equal.
Nvidia Geforce RTX 3080
If you love Nvidia, then the RTX 3080 is a fantastic choice for those who are looking at maximizing their visual quality with the help of Ray Tracing without having to compromise much on performance. It's already well-known that the Ampere GPUs perform fairly well compared to the RDNA 2 based AMD GPUs when it comes to Ray Tracing and on top of that you also get to use the DLSS which improves the performance significantly.
Geforce RTX 3080 comes in two different editions: 10GB and 12GB. Both these GPUs differ in some specs like the amount of Cuda Cores, Memory Bus Width, Memory Size, and even Clock speed. The one I am recommending is the 10GB edition which is less expensive and brings almost the same performance as the 12GB one, making it a better value card.
It features 10GB of GDDR6X memory on a 320-bit memory bus, 8704 Cuda Cores, and a TDP of 320 watts. The card can destroy literally any game at 1440p and can play most games on ultra settings with 60 fps at 4K resolution.
AMD Radeon RX 6950 XT
The Radeon RX 6950 XT was launched in the second batch of RDNA 2 GPUs and is currently the flagship RX 6000 graphics card that runs through any graphics card under $1000. While originally launched for $1100, this card can be found for as low as $800 in many retail stores including Amazon.
This makes the 6950 XT literally the best high-end GPU for any gaming build that can max out graphics at 4K resolution. It features 5120 stream processors and a memory size of 16GB GDDR6. It brings significantly more Compute Units and more Ray Accelerators than all the RDNA 2 GPUs making it superior in Ray Tracing performance.
Compared with the best high-end GPUs we have from Nvidia at a price range of $800-$1000, it dominates every GPU with significantly higher performance and puts the RTX 3090 and 3090 Ti to shame if we consider the price-to-performance ratio.
Nvidia Geforce RTX 3090 Ti
Not the best value card out there, the Geforce RTX 3090 Ti is definitely the top dog and the fastest Nvidia GPU in the Ampere family. Bringing roughly 10% higher performance than the 6950 XT, it is an ideal choice for those who are looking for no-compromise gaming performance.
Originally launched at the same MSRP of 3090, the 3090 Ti is down to $1500 or even lower at some retail stores. The 3090 Ti brings a whopping 10752 Cuda Cores, a memory size of 24GB GDDR6X, and a TDP of 450W. It is surely power-hungrier than any Ampere GPU and will need 3x 8-pin PCI-E cable connectors. So, make sure you have at least 850W of a reliable power supply before you proceed to purchase this GPU.
Nvidia Geforce RTX 4090
Last but not least, the RTX 4090 is the latest addition to Nvidia's GPU catalog. Considering the amount of problems users are facing with this card, purchase it at your own risk. The card features the brand-new 12-pin GPU connector which is the root cause of the meltdowns but if you think performance is what matters the most, the 4090 is the killer of all the GPUs on the planet that won't disappoint you in the least.
The 4090 is at least 40-70% faster than the 3090 Ti and is overkill even for 4K resolution. Here we are talking about 4K gaming with 144fps on the highest possible settings. The 4090 comes with 16384 Cuda Cores, 24GB of GDDR6X memory on a 384-bit memory bus, and a base/boost clock of 2.23/2.52GHz on the reference design.
It supports Nvidia DLSS 3.0 and brings the latest 3rd gen Ray Tracing cores and 4th gen Tensor cores for significantly faster Ray Tracing performance in supported games. The 7900X will be able to handle this card easily, so don't worry about any bottlenecking issues.
At the original MSRP of $1599, this is significantly a much better value card than the 3090 Ti.
Final Words
If I were to settle down with a GPU that would complement the 7900X in the best way, the RX 6950 XT would be my choice if I consider the performance and value. Let me know what is your favorite GPU in the list in the comments below and why.
Related: