For those who need a lot of fast storage but don't have enough slots for adding multiple NVME SSDs, then ASRock has the answer. ASRock just launched a brand new Blazing Quad M.2 card that supports up to 4x NVME SSDs at the same time.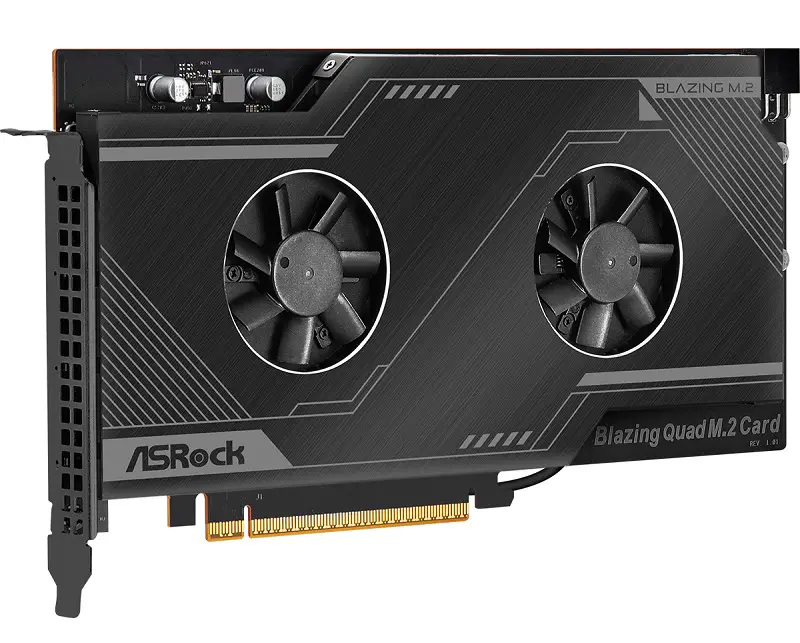 It's not the first time we are getting an AIC with 4 SSD support but what is special about this AIC is that it comes with PCI-E Gen 5 support which means that if you own a motherboard with PCI-E Gen 5.0 interface, you can have double the bandwidth compared to PCI-E Gen 4.0 slots.
The Blazing Quad M.2 card is designed in such a way that each M.2 slot is placed at a 45-degree angle which keeps the signal traces short and provides better signal integrity. As each SSD can now have 4 PCIE lanes, they are going to enjoy the full bandwidth of up to 16GB/s. Even though we don't have such high-speed SSDs but this Quad card makes it possible to support faster SSDs in the future.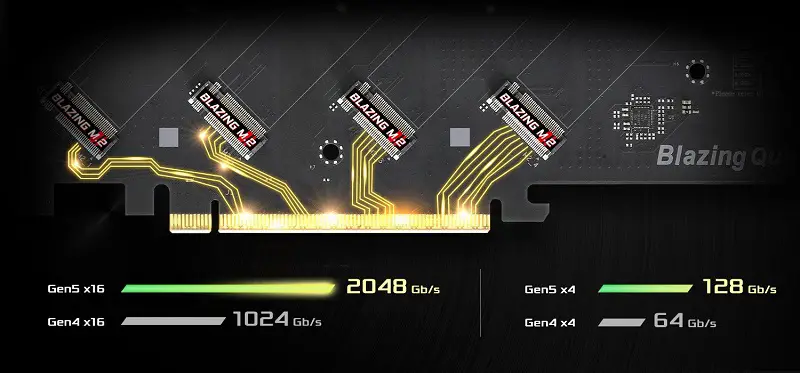 As AICs like these also run very hot, ASRock has equipped it with dual aluminum fans that will keep the SSDs cooler and on top of that, it comes with a 6-pin PCI-E connector as 75W from the PCI-E slot won't be enough to provide the required power supply to the SSDs.
All of this combined, the AIC doesn't look any different from a low-profile GPU. So, imagine what a rig would look like if you install five of these on the W790 WS motherboard that was launched alongside this Quad M.2 card.
Currently, the pricing and availability of this AIC are not known but the reports suggest that it won't be available worldwide.
Source: Tomshardware