Right after the launch of the RTX 4060 Ti, we have some early sale stats for the GPU and even though it might be a little too early, usually how the sales go the first few days after launch are the most crucial ones.
According to 3DCenter.org, one of the biggest online retailers Mindfactory only sold 20 units in the first few hours that combined all the different editions of the 4060 Ti. In the next 12-14 hours the sales stats were the worst where the 4060 Ti only sold 30 units compared to the 4070 and 4070 Ti that sold way over 300 units in the same time frame.
nVidia GPU launches 2023: Graphics cards sold at german retailer 'Mindfactory' at launch day (incl. night, ~12-14h after launch)

4070Ti (Jan): ~540 units
4070 (Apr): ~315 units
4060Ti (May): ~30 units

— 3DCenter.org (@3DCenter_org) May 25, 2023
This is why Palit had to reduce the price of its 4060 Ti dual active GPU from 439 to 419 Euros. Still, only 5 units of this card were sold on Mindfactory which made up the 20 sales in total in the first 4 hours.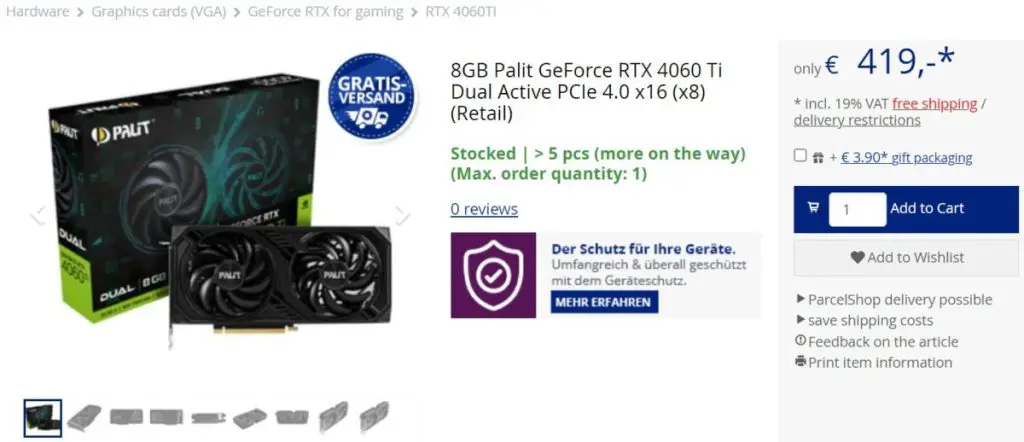 And if we check the latest stats, the 4060 Ti isn't even in the top positions which is the worst-case scenario for a GPU launch. Currently, the 4070 is the top seller on Mindfactory which surprisingly was another failure by Nvidia for which the company stopped production recently. So, you can just imagine how the 4060 Ti is just sitting on the shelves collecting dust due to its poor pricing.
However, it did have a positive effect on the previous gen cards. Currently, the 30 series cards from MSI have dropped significantly in price where the 3060 8GB is now available for as low as $260 and the 3060 12GB is available for $290. So, in a nutshell, these cards still make more sense than the 4060 Ti as they have more VRAM and also a bigger bus width for $130 less