Intel Core i3 12100F is hands down the best budget gaming processor for under $100 right now. This chip features 4 cores and 8 threads which makes it capable of playing any AAA title and is also sufficient for most CPU-dependent applications.
Intel has locked this processor for overclocking although the chip can go up to 4.3GHz with turbo boost technology. So, you still need a decent motherboard with reliable VRM to handle the high temperatures.
While you won't need any Z690 chipset motherboard for this task, an H610 or a B660 motherboard with reliable VRM will do the job just fine. Also, you must ensure that all of your components go into the motherboard without any possible bottleneck. At the same time, I recommend going with the one that is more future-proof and can have better upgradeability.
Considering all of these options carefully, I recommend the following 5 motherboards where you will be able to pick one according to your needs and budget.
Best Motherboards to use with Core i3 12100F
Gigabyte H610M S2H DDR4
Buy at Amazon
Buy at Newegg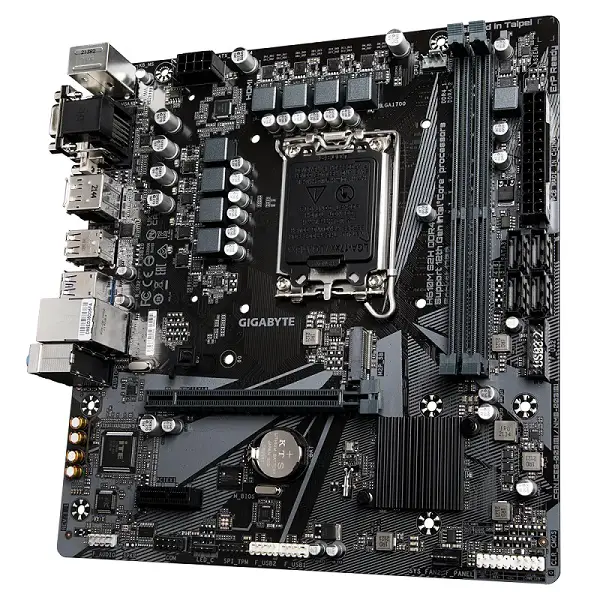 This motherboard is very basic for any locked Alder Lake processor and I have recommended it for the i5 12400F in another post. This board features an 8 power phase VRM that doesn't have any heatsinks over it but won't overheat if your case has enough airflow.
For your components like RAM modules, it comes with 2x DIMM slots that support up to 3200MHz of clock speed. This is not the best but it is still perfect for most games. For expansion cards, you will get 1x PCI-E x16 slot for a graphics card and 1x PCI-E x1 slot for a wifi card that you might need to purchase separately if you want higher internet speed wirelessly.
Compared to the other H610 motherboards from Gigabyte, it is superior in features and I/O where you will find 6x USB ports, 2x PS/2 ports for peripherals, and 4x Output ports for display including HDMI, VGA, DVI, and DP. What a perfect combination!
Asus Prime H610M-A D4-CSM
Buy at Amazon
Buy at Newegg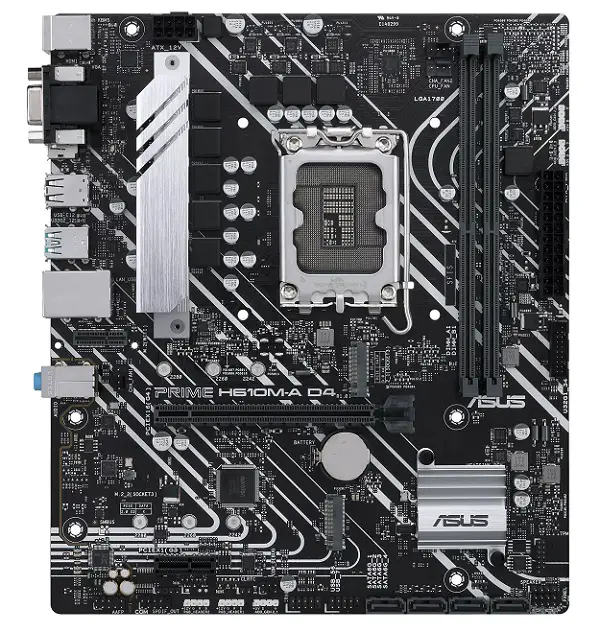 From Asus, we have an even better option which although will cost you more, the extra benefits are going to cover that CON. This particular model comes with 8 power phases with a decently sized heatsink for continuous heat dissipation. This will make the boost clock stable for a longer time and hence better performance constantly for a greater period of time.
Moreover, there are 2x M.2 slots compared to One on the Gigabyte H610 listed above it. This makes upgradeability better as you can now install faster NVME SSDs. But note that the second M.2 connector works at X2 mode which gives you a max transfer speed of 1970MB/s which is still decent but you should not put a very high-speed SSD in that connector.
Other features are very much similar to the Gigabyte H610 board and you will have a decent amount of USB, PS/2 ports at the I/O, and triple output ports for display.
Asus Prime B660M-A D4
Buy at Amazon
Buy at Newegg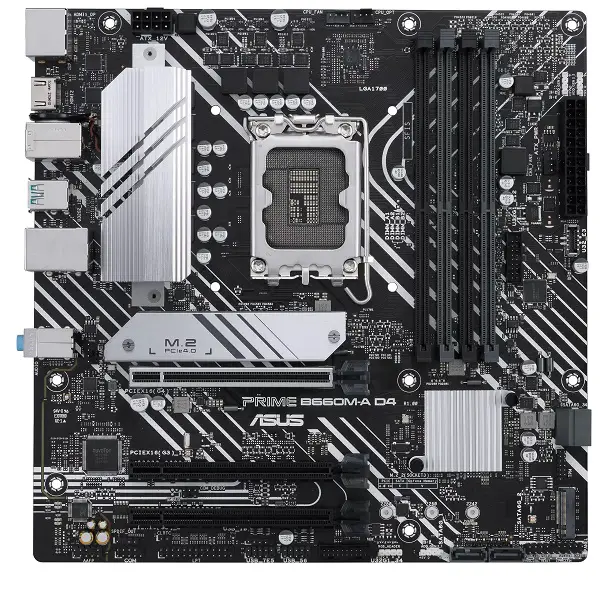 Asus has some decent-looking B660 motherboards that are rich in features. I am particularly impressed with the Prime B660M-A D4 as it comes with so many ports and slots. There are 4x DIMM slots for memory installation which support clock speeds higher than 5000MHz and you can have double the memory size on this one compared to the H610 motherboards listed above.
It also comes with more heatsinks including the M.2 connector and the VRM where the size is not big enough to totally eliminate thermal throttling even when your case doesn't get a lot of airflow. There are triple PCI-E x16 slots where the first one is using steel armor for more strength and supports gen 4.0. The other two can also be used for graphics cards but those have limited bandwidth.
It comes with 2x M.2 connectors and 4x SATA ports for storage and has 4x Fan headers for cooling as well as 4x RGB headers(3x ARGB) that allow you to install ARGB fans and ARGB LED strips for a better-looking build.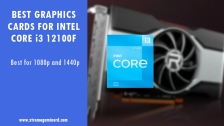 The Intel Core i3 12100F replaces the previous-gen Core i3 processors by taking the best budget gaming processor crown ...
MSI Pro H610M-G DDR4
Buy at Amazon
Buy at Newegg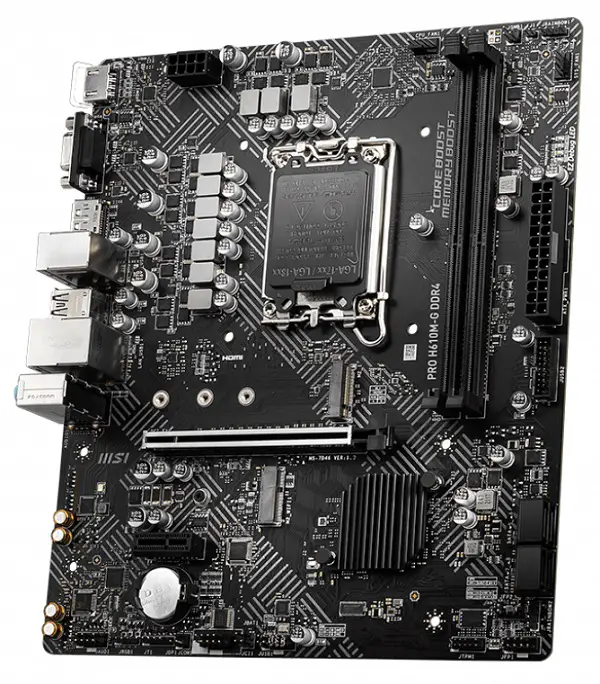 MSI has one of the best entry-level motherboards no matter which chipset you choose. There are a couple of features present on MSI boards that are almost impossible to find on any other entry-level board from other manufacturers.
It comes with 6x actual power phases using doublers for better stability and therefore, won't need any heatsink. There are dual M.2 connectors that include one for storage and one for a Wifi module making it easier to use wireless internet. And if you want to go with a PCI card, you can use the PCI-E x1 slot.
It comes with EZ Debug LEDs on top which is the best feature among all the H610 motherboards listed here. These LEDs help you find out the cause of the problem when your computer refuses to boot. One of the LEDs will turn on indicating the possible failure of one of your components including CPU, GPU, RAM, and Storage Drive.
Related: What Motherboard do I have?
MSI PRO B660M-A Wifi DDR4
Buy at Amazon
Buy at Newegg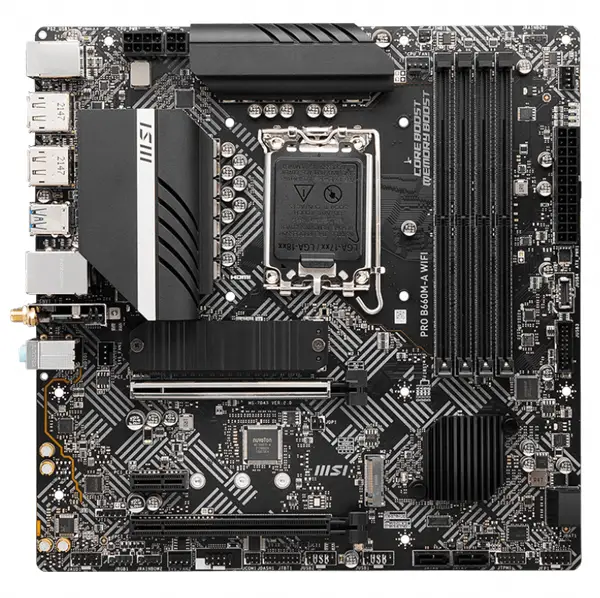 If you want almost everything for the minimum price, then only a few motherboards are out there that provide you with all the features like wifi, better VRM, more slots/ports, better cooling, good quality PCB, etc. I find the MSI's Pro B660M-A Wifi DDR4 as the most perfect motherboard for the i3 12100F that will be worth buying even for i5s and i7s.
Looking at the power phases underneath the heatsinks, it looks like there are a total of 14 power phases but of course, MSI uses doublers for budget motherboards. So, it's most likely that the actual power phases are 6+2 where the phases for CPU use doublers. It's really a strong VRM especially when it is cooled by the big heatsinks.
For expansion cards, there are 2x PCI-E x16 and 1x PCI-E x1 slot and dual M.2 connectors for NVME SSDs. There are 4x DIMM slots that can support very high memory clock speeds and on the right side, there are EZ Debug LEDs.
There are even more advantages of this board other than what is mentioned above. It comes with Intel Wifi 6 adapter and a Realtek 2.5G LAN that provide incredibly higher internet speed support. At the I/O too, it is rich with USB ports and display outputs which makes it a solid choice for $140.