This gaming PC has the best components right now present in the market. If you have looked over my previous builds you will find some of the components were not really the best for gaming but the processor and the graphics card I have listed in this build will definitely get you the best gaming experience. There is no game right now which demands specification more than this PC and it can max out everything at 4K. Yes, it's for 1440p and 4K, not for 1080p.
As the AMD Ryzen 7 series processors are the best for getting most out of your system and ddr4 memories are faster than the ddr3 memories. I have used only the latest components that will make it future proof and will enable you to add one more graphics card in future and upgrade or modify it easily.
I named it "THE CONQUEROR"
Now if you don't know how to assemble and setup your system or if you really want to get information about building a gaming PC from scratch, you can grab my guide from HERE: Build a computer from scratch.
NOTE:- Currently there is a shortage of graphics cards so it's difficult to build a PC on your own in proper prices. Therefore, I have provided the link to the pre-built PC you can get instead of building this. 
Processor
AMD Ryzen 1700X
AMD Ryzen 1700X is, in my opinion, the best processor in the Ryzen 7 series processor. Ryzen 7 1800X is overpriced for a little more clock which you can achieve with a Ryzen 1700X by overclocking. It easily beats the i7 7700K in overall performance. There is a little difference in gaming although, but a few fps doesn't even matter when you can have an 8 core 16 threads processor at the same or less price. This processor is something that I own myself and I am using in my current rig. I can say confidently that it is a beast for multitasking and in a $1750 gaming PC, you should never compromise the multitask. The best high-end gaming PC should also be able to stream at the same time and be ready for other stuff as well.
It has a base clock of 3.4Ghz and a boost clock of 3.7Ghz which can be overclocked to 3.9Ghz with a good CPU cooler. The temperature of this chip will be under control if you have a good CPU cooler but it's recommended that you don't go above 3.9Ghz at all circumstances. I have just fixed my clock speed at 3.7Ghz and it's working fantastic. This chip can handle any high-end graphics card and multi-GPUs as well. It has 16MB cache memory and can be used with an AMD B350 and X370 chipset motherboard for overclocking.
---
Cpu Cooler
MSI CPU Cooler, 
Core Frozr L
I was confused about which CPU cooler should I use for the processor. There are some very good liquid coolers but it will make the overall expense more than $1800 but I want to make it near $1750. So, after searching a while, this seems to be the one which will be the best bang for the buck. This one is from MSI which is not as famous as some brands like Cooler Master or Corsair in CPU coolers but definitely, we all know that it produces great coolers for GPU's.
So, taking a look at the design, I liked it instantly and its features are really good. It's heavy and has a big heatsink with silver and red accents. The MSI LOGO at the top makes your build looks stylish and the Fan used over the heatsink is a static pressure fan which will cool down the aluminium fins effectively. The heatsink has a nicked plated copper base which is better than aluminium. Also, it has 4 heat pipes which are passing through the fins. The heatsink can use two fans at the same time for push and pull configuration for better cooling. So, it's similar to the Cooler Master Hyper 212 EVO which I have used in my $1500 build and $1250 build but is a little better in construction.
The most difficult things are to find a compatible AM4 CPU cooler as there aren't as many as CPU coolers compatible with the AM4 socket as for Intel and AMD's previous generations. So, for $50, this one is really a good bargain that will perform similarly to the entry level liquid coolers.
---
Motherboard
Gigabyte 
AORUS GA-AX370-Gaming 5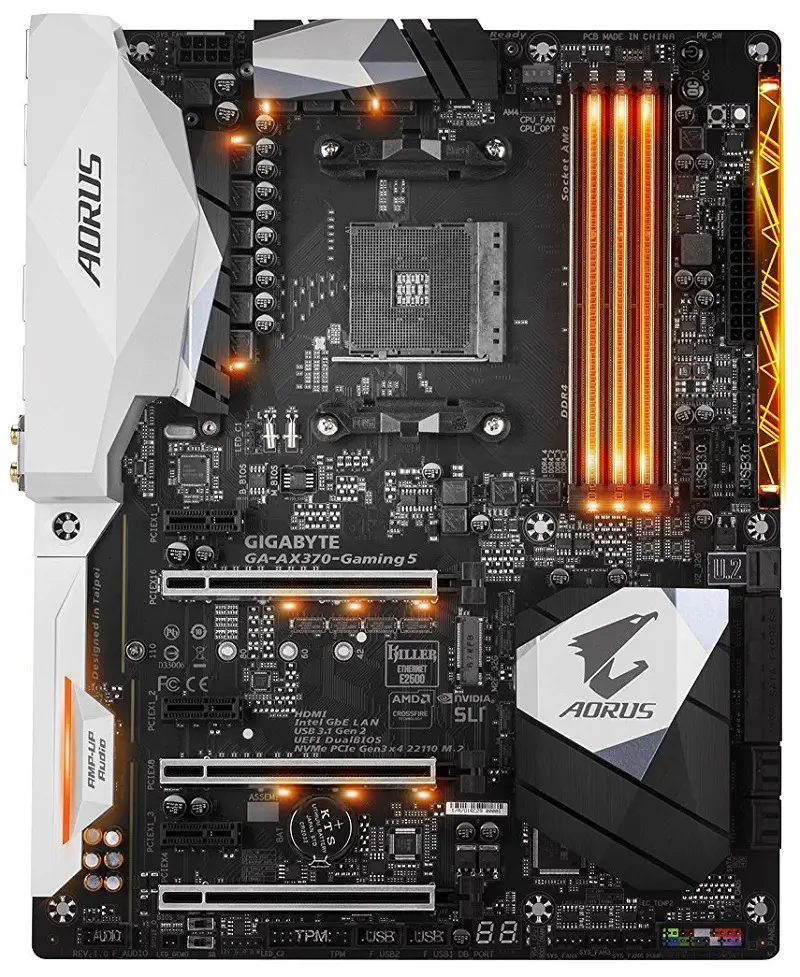 This is indeed without a doubt the best AM4 gaming motherboard of all the motherboards present on the market. A lot of big tech websites which review motherboards in depth has declared this to be the best value for the price and I have this motherboard myself in my personal rig. Not only the looks but the special additional features really help a lot.
It can overclock any Ryzen processor up to its full potential easily and can supply adequate power through its 8 pin CPU power port. It has all its memory and PCI-Ex 16 slots covered with steel armour for more strength and have 3 PCI-Ex 1 slots for additional expansion cards. There are a lot of zones that have LEDs for illumination. My favourite ones are the DIMM and Right side zone that has a zig-zag pattern. It's an RGB motherboard and with the Gigabyte APP centre, you can customize them with different types of effects to match your other components.
The handiest features are it's bios on board Power/Reset and Bios switches. Whenever you want to overclock they are the best features to use. Updating bios makes the bios switch in use for ease and I have messed up several i.e., more than 20 times when I went for overclocking and bios update and the system won't boot if you don't do it properly but the bios switch instantly switch it up to the other one making your system boot again. So, you can try whatever you want to but make sure you know the basics.
See also:-
---
Memory
Corsair Vengeance LPX 16GB (2x8GB)
Memory for a high-end build like this should be 16gb. 8gb is fine but as our motive is to build a PC which is future proof, 8gb will only fulfil your need for about 1-2 years. 16gb of ddr4 memory is quite fast and enough for running applications and games at 4K and even on 3 monitors. You won't be able to play games at 4k on three monitors but applications will run butter smooth.
As ddr4 memories are much faster and more power efficient, the power consumption of this PC won't go higher. With 2x8gb sticks in your build, you will be still having 2 DIMM slots empty for upgradations. Therefore, no need of worrying.
Taking a look at the specs, these memories are the among the fastest you can get right now. Each of these sticks is clocked at a whopping 3000Mhz. As AM4 motherboards have difficulty in running memories at or more than 3000Mhz, you have to try the overclocking by yourself. It's possible to manage to run these at 2666Mhz without any problem but above that, it may or it may not. But these will still be good even if you aren't able to overclock them up to 3000Mhz as 2666Mhz is close in performance.
---
Graphics Card
Gigabyte GeForce GTX 1080 Ti GAMING OC
The GTX 1080 Ti is the fastest graphics card in the 1000 series from Nvidia and without a doubt, it's meant for 4K. You can't play with this card at 1080p because it's a shame if you do that. If this card can max out any game at 4k with 60+fps then think about 1440p. 1440p monitors with 144Hz refresh rate will love this card and ultra wide with resolution 3440x1440p with 60-100Hz will love this card even more.
It has 11GB of VRAM which is more than enough for any game as there is no game today that uses this much Video memory. The clocks are similar to the other GTX 1000 series graphics cards. It has a base clock/boost clock of 1518Mhz/1632Mhz in gaming mode and 1544Mhz/1657Mhz in OC mode. You can overclock it further and make it reach 1800Mhz if you do custom fan curve as it has good cooling with 3 static pressure fans and a huge heatsink. The white colour matches the Gigabyte AX 370 Gaming 5 motherboard a lot and it will be a very good white/any colour themed build.
It also has RGB LED areas on the heatsink which are in orange colour in the picture above which can be customized to any colour and effects. And you can match it with your motherboard easily as both are from Gigabyte.
This card has 3x DP, 1x HDMI and 1x DVI ports that also supports up to 4 monitors at once. And as the graphics card is very powerful it uses 2x 8 pin power connectors that use up to 250 watts of power. This Gigabyte version is the cheapest among all the other famous brands like EVGA, MSI or ASUS and performs similar, that is the reason I preferred this one over the others that will save you more than $50.
---
Hard Drive
Western Digital Blue 1TB
The 1tb hard drive is the minimum you should get and for a build like this frankly saying is the least you should opt for. As we may go over our budget, I chose 1tb of storage. As for storing games, applications and movies, you will have no trouble and you will not run out of space so fast. But in future, it's better to upgrade to 2Tb or more. But it will still be enough for GTA V, Rise of the tomb raider, COD Black Ops 3, Titanfall 2 etc. to be put together.
---
Solid State Drive
Samsung 850 EVO 250GB
For faster operations, an SSD is a must for a build like this. As you are investing a lot of money in graphics card and processor. Consider going with an SSD also, it is really worth the money. For the price of $100, you can get 250GB of SSD which is 10 times faster than an HDD and also cheaper nowadays. It is best for installing an Operating system like windows in it as it decreases the booting time massively.
Although you will not get an increase in fps in games you will find the difference between the loading time when you run the same game from either HDD or SSD. 250GB may not be enough for storing a lot of games but it's good for your system's speed and you will not have to wait longer for applications to open up.
---
Power supply
EVGA SuperNOVA 750 G1, 80+ GOLD 750W
This is EVGA 750 watts Supernova 80+ Gold power supply. It has enough power to power the graphics cards, processor and all other components. Previously this build used a 650 watts PSU which has the same cost as this one right now, so it's better to get more wattage for future proofing. Gtx 1080 Ti is not as power efficient as the GTX 1080 which I used previously in this build, so we need a little more for removing any type of bottlenecking for overclocking.
This PSU uses the highest quality Japanese capacitors and as it is 80+ Gold, the power efficiency is more than 90% and up to 92% at typical loads which will make it generate less heat. You will also get flexibility with choosing the only cables you want as this is fully modular making your build more neat and clean. With this power supply, you will get 10 years of huge warranty and customer support from EVGA. What more do you want?
---
Case
Phanteks 
Eclipse P400 
Tempered Glass Edition Mid Tower
For matching everything, we need to choose the case in accordance to that. But not only the theme is important, the features are even more important. And after some research, I chose this case over the others for a perfect build. Yes, there are decent cases for $100 like NZXT S340 elite but the overall construction, features, looks made me use this case over that one. This case is completely white from outside and black from inside.
The PSU shroud covers everything from the power supply to hard drives. You can easily manage cables inside the PSU shroud and behind the motherboard tray. This case has a lot of cable tie pass throughs and two straps for holding your cables together. There are two SSD mounts behind the motherboard tray and two HDD cages inside the PSU shroud that are completely hidden from the front making your rig look cleaner.
There are two big routeing holes with rubber grommets that will hide your cables well and a few routeing holes in the PSU shroud will help you route your front headers easily from the bottom.
This case is also fully liquid cooling compatible. You can install a 240mm Radiator at the front and it comes with two pre-installed 120mm fans, one at the rear and one at the front for pull-push configuration. There are however two CON's that I found out. One is the limited amount of space at the top to install a radiator and one is the lack of enough ventilation at the front. There is some ventilation under the front panel but it would have been better if it had some ventilation at the sides. But overall, this case is very good in everything except that and I would prefer this one over the NZXT S340 elite.
---
TOTAL~$1756(Prices Fluctuate)
Operating System(Recommended)
Windows 10 Home USB Flash drive
A genuine operating system is necessary for a high-end build like this. You don't want your build to be incomplete and un-updated. So better buy windows for it as it will benefit you for the lifetime. It's under $100 and you can only install windows 10 on this rig. Windows 7 or 8 won't work on it.
---
Recommended Peripherals:-
Gaming Keyboard
EagleTec KG011 LED Backlit Mechanical Keyboard
Peripherals are important if you don't own right now and I am listing the best suitable peripherals that are best for their price and match the build. This is a budget mechanical keyboard that has blue LED's and has an aluminium construction. You will not find a good mechanical keyboard for under $50 especially from Corsair and Cooler Master but this one is available for around $40 which has got more than 800 positive reviews and is very famous among the gamers as well as content creators. It is a complete keyboard with Numpad and will be reliable for years.
---
Gaming Mouse
Corsair Gaming M65 Pro
This is an amazing gaming mouse for $50 and I own it myself. It's very good for fps games and adventure games as well. The mouse features RGB LOGO and up to 12000 DPI sensor. You can also manage the weight of the mouse by removing the 3 available weight bits at the bottom and they are very easy to remove. You have to use a coin to screw/unscrew them.
The mouse has two side buttons for additional functions. In games like CSGO, these are very handy for mic operations and useful for other works like surfing where you can simply use them to go to the previous or next page without hitting the back button.
---
Wifi Card
TP-Link N300 
TL-WN881ND
If you have a router which is situated in the other room or far away from your PC, then you need a PCI wifi card which can use the internet without the use of ethernet cable. Again, I am recommending this one because I have two of these and works perfectly with no speed loss at all. You just have to install it in one of your PCI-Ex 1 slots and connect to your router. Simple as that and works like a charm.
---
Monitor
ASUS ROG SWIFT PG278QR
For this beastly build, you need a beastly monitor. Otherwise, there is no use of building it. If you have a crappy 1080p monitor then you won't be able to utilise the whole power of your build. The best I can recommend is a 1440p 144Hz monitor which is cheaper than an ultra wide 1440p monitor or a 4k monitor. It has 165hz refresh rate which is best for CSGO, 1ms response time and a good amount of pixel quantity for you to see extra details.  The monitor stand is very sturdy and can be detached if you want to wall mount your monitor.
It's a TN panel and the colours won't be good as that of an IPS panel but an IPS 144HZ 1440p monitor will cost you a lot more. But if you have $200 more, then you can get the IPS version of this monitor as well which is ASUS ROG SWIFT PG279Q.
---
---
---