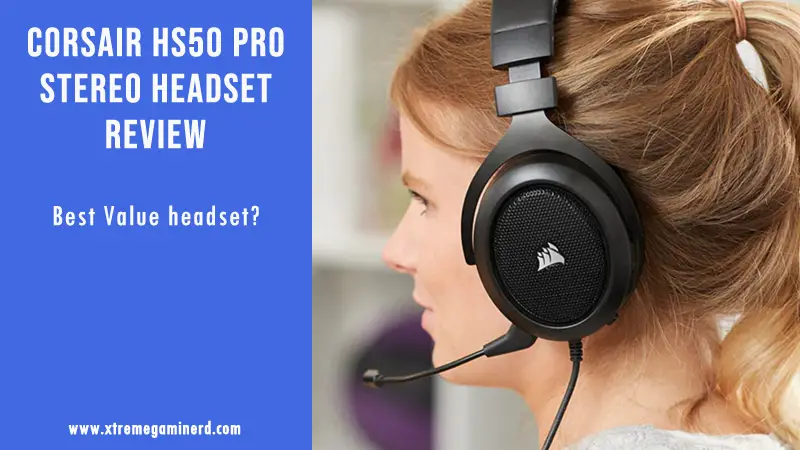 Living in 2022, everyone's life is connected with technology whether it is intended or not. If you are a user who is related to the technical field then over the past year due to the pandemic, many were working remotely from their home. Whether it was a meeting or a group discussion or even one to one conversation, you were in need to have two things at your disposal. One is good internet connectivity and the other is a good communicating device.
Even I was working remotely last year, all of a sudden, my existing headset got faulty and therefore, I was looking for a headset that would be under my budget and yet it will suffice my needs both in professional aspect and as well as a good option for my leisure time while playing some competitive games.
While searching, I came around a few notable headsets that seemed to be a good choice and I decided to try the Corsair HS50 PRO. It is currently priced at around $50 which makes it quite the perfect one in its class. 
If you are not looking for a superior 7.1 sound with a few additional features like bass enriched voice, and RGB illumination, then the Corsair HS50 is the perfect option for you. It is minimalistic in design and comes with decent features that will satisfy one's need of having a proper device for communication.
In the Box
The packaging seems to be decent yet trendy which will definitely attract your attention. After opening the box, one will find the headset itself along with the detachable boom mic, an Y- adapter, and manuals. 
Design & Build
At first glance, one would surely fall for the headset. It looks premium with a decent colour accent without anything extra. The headset weighs a bit on the higher side and doesn't have anything cheap in its structural integrity. It comes equipped with two large oval size ear dens that are having metal grills behind to add a bit of elegant appeal and one the same time feels more sturdy.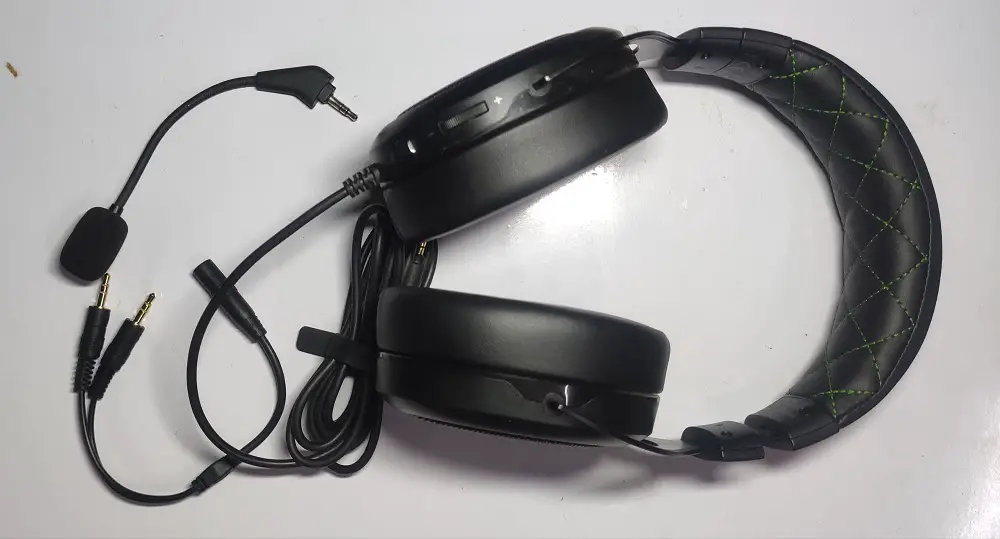 The frame is made up of metal that is accompanied by sleek faux leather with colour-accent stitching on the plush inside and the Corsair logo on the top with a matte finish making it more appealing.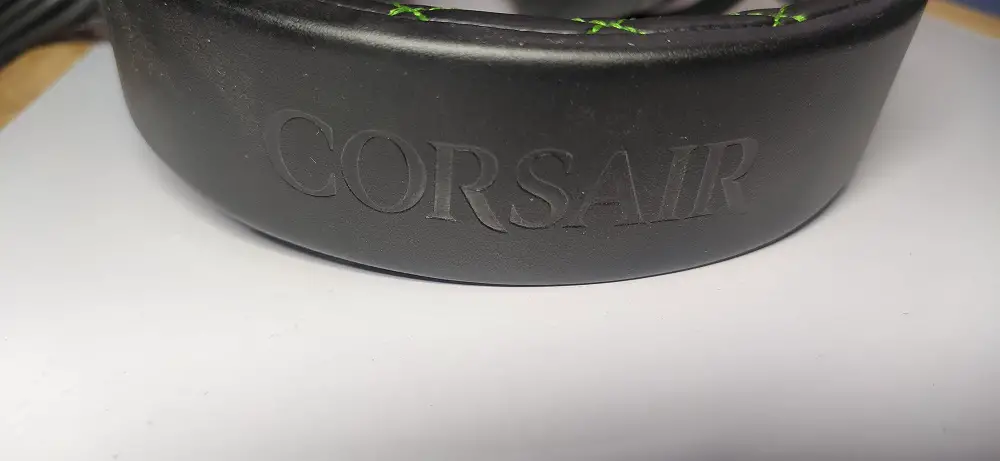 The main difference that can be identified with other headsets at this price point is the fact that there are very ones that are having a metal frame holding the ear cups. Most of those headsets use plastic frames, unlike the Corsair HS50 PRO which actually uses a metal frame.
The earcups are huge and offer great comfort, but one can get a bit of dissatisfaction over prolonged use. Both the earcups and headband are heavily padded and covered in synthetic leather material. The ear cups fit perfectly and rest over your ears, but the HS50 PRO does not rotate like those on more expensive Corsair headsets where they can be kept in a flat direction on your chest when you are not using them.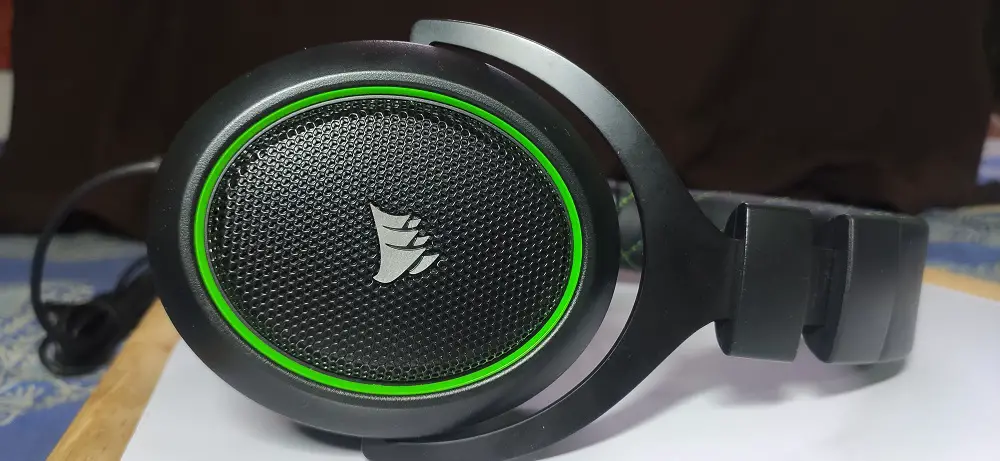 The Corsair HS50 PRO comes with a detachable boom mic. It is definitely the best of its class but yet, in this price segment, it is indeed quite good. The mic can be tilted but it is sturdier and also accompanied by a mic cover. 
Features
Priced at around $50, the Corsair HS50 PRO offers a decent number of features that makes it one of the best one in this class. It comes equipped with Specially tuned 50mm neodymium speaker drivers that ensure that one is able to get the most out of it.  
Sleek, stylish, and elegant, the Corsair HS50 PRO is equipped with dense fitted with plush memory foam cushioning to make certain that a user will be able to use them over a long duration. 
Furthermore, the Corsair HS50 PRO also comes with Discord certification. The mic is kind of a basic one, that will be able to suffice your most requirements. It features noise-cancellation and reduces ambient noise for excellent voice clarity.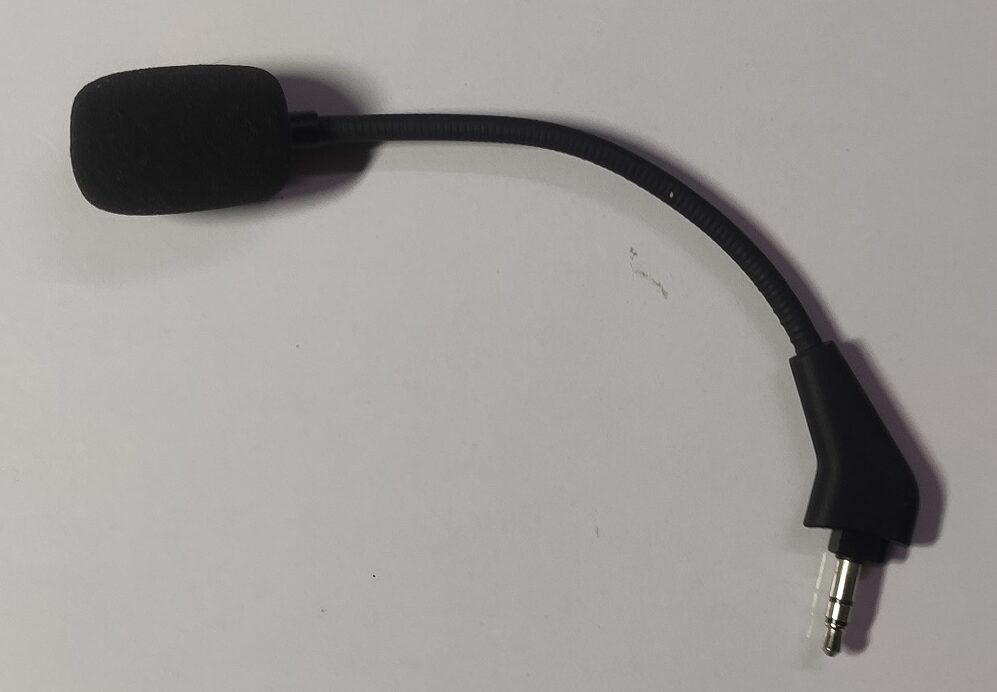 It is Multi-platform compatible and it can be used with PC, PS4, Xbox One, Nintendo Switch, and mobile devices via a 3.5 mm connector. Furthermore, if you want to go outside, you can detach the mic and use it as normal headies.
The input option features a combination of a volume controller and a mute button that is perfectly fitted on the left ear cup that blends perfectly. The wire is of normal quality that can be used in either a mobile phone or any gaming controller as it is equipped with a 3.5mm audio jack.
How well does it perform!
Before writing this review, I used the headset for more than two months. My main use case is both to serve the purpose of office meetings as well as to enjoy my leisure time while playing games. 
Therefore, on multiple occasions, I have used this headset to attain meetings that had been for almost 2-3 hrs constantly and during that time, I didn't face any issue with the device. My voice was crisp and the audio quality was also good.
During my gameplay sessions which mostly consist of DOTA 2 and CSGO, I was able to clearly communicate with my team and especially when playing competitive MMR on CSGO, call-outs are an essential part and in that scenario, the Corsair HS50 PRO did a good job. The audio quality, to my surprise, is quite great. I was able to hear every minute detail of my surroundings. 
To summarize, the Corsair HS50 PRO performed well beyond my expectation. I compared it with the Logitech G231, and in terms of overall build quality and performance, the Corsair HS50 PRO is way ahead of it.
Conclusion
In this particular product review, I have upheld my personal experience using the Corsair HS50 PRO. The product was self-purchased and therefore, the review is an unbiased one. However, it can be confirmed that, in this price segment, no other headsets as of now are as good as the Corsair HS50 Pro.
However, there are certain negative points related to this particular headphone, the first being the fact that it is a stereo headset. The wire is a simple wire which might have been replaced with a braided cable to improve the durability from wear and tear. Furthermore, the headset lacks any software control and if it was having that feature, then the performance could have been fine-tuned even more.
All the negative factors don't affect the price to performance ratio of this device. I have found these particular points my personal suggestion for improving the headset that will make it undoubtedly the best headset in this price segment.
Our Award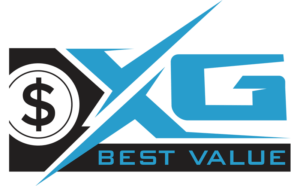 Comfortable build quality and Perfect-sized ear cups
Compatible with PC and many game consoles
Cheap price yet premium design and performance
[/i2pros][i2cons] It's a stereo headset and not a gaming headset
Cable not braided
Headset lacks software control
[/i2cons][/i2pc]