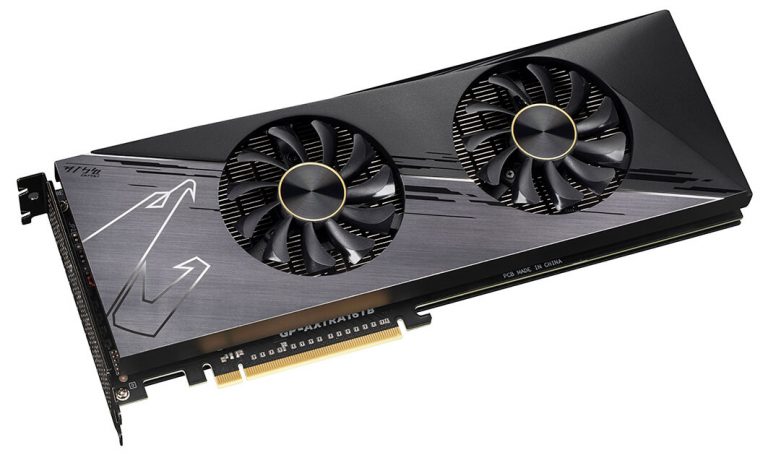 Earlier today, Gigabyte announced a Gen 4 AIC SSD that features 28 GB/s of ultra-fast speed. The AORUS XTREME Gen4 AIC SSD offers higher storage capacity and takes the performance to a whole new level.
We have already seen, Gigabyte is one of the best hardware manufactures in present days. They are already a domineering figure in GPU and motherboard segment. However, they are moving to SSDs and that too they are doing it with a bang.
AORUS XTREME Gen4 AIC SSD features 2nd generation PCIe 4.0 NVMe M.2 SSDs with PHISON PS5018-E18 controller along with superior performance via RAID configuration. It also comes equipped with large aluminum finned heatsink along with M.2 baseplate for passive cooling, 10 temperature sensors, and an active dual-fan heat dissipation design.
In terms of utility offering, the AORUS XTREME Gen4 AIC SSD offers a user to monitor the status and temperature of the device in real-time. With the help of GIGABYTE AORUS Storage Manager, users can configure RAID in just three simple clicks. It also allows a user to control the fan speeds.
Configuring RAID also increases the sequential read speed to 28 GB/s, which surpasses the AORUS Gen4 7000s SSD up to 4 times the speed compared to other available SSDs in the market.
Not only that, AORUS XTREME Gen4 AIC SSD supports PCIe 4.0 and also offers backward compatibility to PCIe Gen3 devices. Therefore, if any user is not having an upgraded system, then the user won't need to worry about compatibility.