Playstation 5, unfortunately, doesn't come with an audio jack, and therefore, you cannot simply plug PC speakers directly into the PS5.
If you are using a TV that has terrible speakers or a monitor which doesn't even have speakers, you will need some good speakers to enjoy the immersive gameplay.
While PS5 offers you to connect headphones through the controller to enjoy the audio, not everyone is a fan of using those for a longer time.
In order to connect PC speakers or Bluetooth speakers, fortunately, there are a few ways through which you can connect those speakers to your PS5.
Here, we have 2 ways for connecting wired speakers and 2 ways for Bluetooth speakers. Follow the guide step by step to get your desired speakers connected to the PS5 and let us know if you encounter any problems.
Connecting Wired Speakers to PS5
Wired speakers don't have a direct method to be connected to PS5 as the console doesn't have any optical audio jack. It only has an HDMI port through which you can obtain the audio signal. Therefore, when you connect the PS5 to your TV or monitors having speakers, you automatically receive the sound signals as the interface is HDMI.
If you want to connect speakers, then you can do it in two different ways as follows-
#1. Using Monitor or TV Audio Jack
A lot of monitors and TVs come with an Audio jack at the back. This gives you the opportunity to get the audio output through your speakers.
-> Simply connect the HDMI cable from your PS5 to your monitor.
-> Then connect the aux cable from your speakers to the Audio output jack of your monitor or TV as shown below.
Now the audio signal through your HDMI cable can be obtained through the speakers and you can enjoy the sound just like you do on your desktop computer.
#2. Using HDMI Audio Extractor
If your monitor or TV doesn't have an audio jack, then you won't be able to extract the audio from the HDMI connection.
However, this can be done using a device known as HDMI Audio Extractor Converter. It will cost you about $15-$25 but it does a great job of extracting the audio signal from the HDMI cable connection.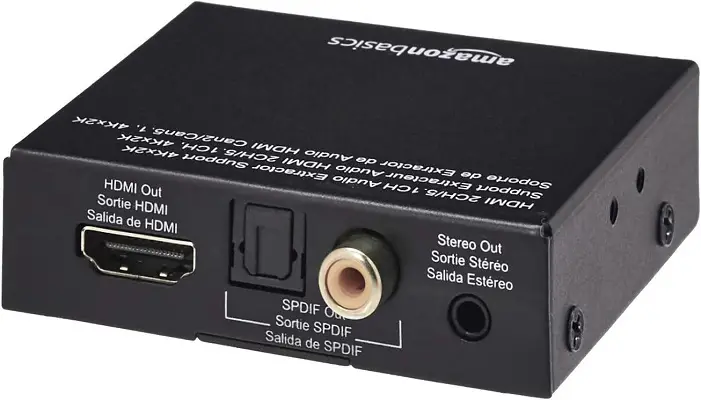 With this device, you will need two HDMI cables and an AUX cable from your speakers.
-> Connect one end of the HDMI cable to the PS5 and the other to the HDMI IN port of the Audio Extractor.
-> Connect the other HDMI cable from your monitor to the HDMI OUT port of the Audio Extractor.
-> Now connect the AUX cable from your speakers to the Stereo Out jack on the Extractor. You can also use the SPDIF jack if your speaker has this SPDIF connector cable.
Connecting Bluetooth Speakers to PS5?
Bluetooth speakers have the benefit of being wireless and can work anywhere you put them till they are in the range.
PS5 can also connect to Bluetooth speakers but of course, they have different methods of connection compared to wired speakers and can be connected in two ways.
#3. Using Bluetooth Adapter
The first method is using a Bluetooth Adapter.
Now you may be wondering why on the earth you even need to use a Bluetooth adapter when the PS5 already comes with Bluetooth 5.1 technology.
The reason is that the Bluetooth inside the PS5 can only help you connect your controller to the console wirelessly. It doesn't help you connect a Bluetooth speaker. Therefore, you will need a Bluetooth adapter to do the same.
Any Bluetooth adapter with a USB Type A or Type C interface will work just fine and you don't have to worry about compatibility as PS5 has both Type A and Type C ports.
A decent Bluetooth adapter doesn't cost much and can be purchased for under $20. They work out of the box without any manual configuration and are generally plug-and-play.
-> Simply connect the USB adapter to PS5 and turn the console ON.
-> Head to "Settings" and select "Accessories". Here you will find your Bluetooth adapter for pairing.
Now you have to pair your Bluetooth adapter to your Bluetooth speakers. Most Bluetooth Speakers can be paired with the adapters by simply scanning and pairing the Bluetooth button.
After you pair the speakers, set your PS5 Audio Output to the Bluetooth Adapter.
-> Go to "Settings" and choose "Audio Output". Under the "Output Device", choose your Bluetooth Adapter and you are good to go.
#4. Using PS5 Controller
Another workaround for using Bluetooth speakers is to connect them through the PS5 controller. This may sound weird but your controller can actually let you use Bluetooth speakers for the audio.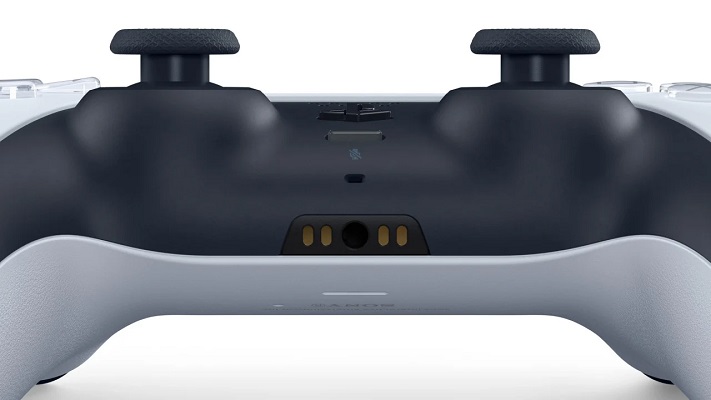 All you need to do is use an AUX cable and connect the speakers to your controller through it. It is a simple Plug and Play method and doesn't cost you extra.
Final Words
These four methods of connecting the speakers to PS5 are the easiest ones. In the future, we might have an even easier way to connect the speakers but if you are using any of the methods above, let us know if you have any queries in the comments below.