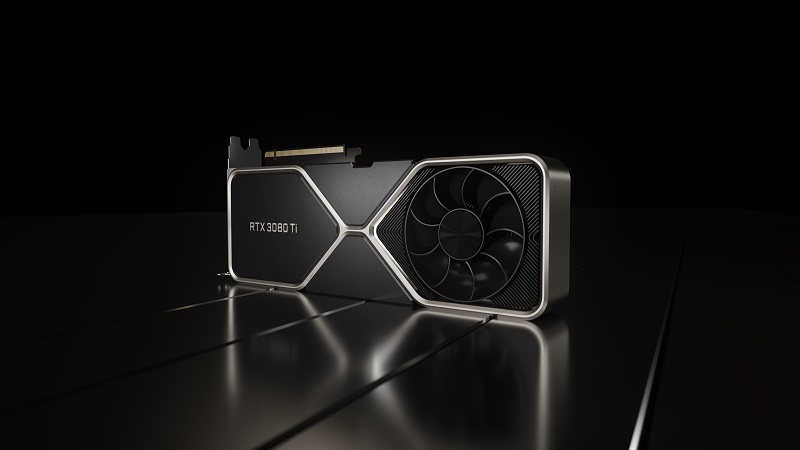 It's time! Nvidia launched the hyped RTX 3080 Ti and 3070 Ti today at Computex with the MSRP of $1199 and $599 respectively. Unlike we thought previously, RTX 3080 Ti is $200 more expensive but still reasonable for the specs it is packed with.
Unlike RTX 3070 Ti, RTX 3080 Ti takes a big leap over RTX 3080 and according to the recently leaked benchmarks, it is much closer to the 3090. But as we thought that RTX 3090 won't be a good value GPU for its price, $1199 for RTX 3080 Ti makes both of these high-end cards stand as they should be.
RTX 3080 Ti with 12GB GDDR6X memory
As revealed multiple times, the RTX 3080 Ti is going to feature 12GB of GDDR6X memory that is clocked at 19Gbps and will feature 912GB/s of memory bandwidth. It features 10K+ Cuda Cores and a memory bus of 384-bit.
Nvidia adds, "Powered by the NVIDIA Ampere architecture, the GeForce RTX 3080 Ti delivers an incredible leap in performance and fidelity with acclaimed features such as ray tracing, NVIDIA DLSS performance-boosting AI, NVIDIA Reflex latency-reduction, NVIDIA Broadcast streaming features and additional memory that allows it to speed through the most popular creator applications as well".
RTX 3070 Ti and performance
RTX 3070 Ti will come with 8GB GDDR6X memory on a smaller bus width of 256-bit and 6144 Cuda Cores. According to Nvidia, RTX 3070 Ti will be 1.5X faster than RTX 2070 and 2X faster than the GTX 1070 Ti.
According to Nvidia, "These new GPUs deliver great performance for the world's 45 million-plus creative professionals, too. Backed by the NVIDIA Studio platform and powered with 12GB of GDDR6X memory for creative applications, RTX is accelerating the No. 1 photography application (Adobe Photoshop), the No. 1 video editing application (Adobe Premiere Pro), the No. 1 Broadcast application (OBS) and every major 3D renderer. There are now over 70 content creation applications that support RTX-accelerated ray tracing, DLSS or AI features."
Availability
RTX 3080 Ti will be available for purchase starting 3rd June worldwide while RTX 3070 Ti will be getting to stores on 10th June. It's the official date when the sale of these cards will start, however, we already saw RTX 3080 Ti GPUs available for sale in several countries weeks before this launch.
Let's hope that these GPUs end in the hands of gamers more than the scalpers.