Xtremegaminerd.com is a participant in Amazon Associate Program and is supported by the readers. The qualifying purchase you make through our links may get us some commission and doesn't cost you an extra penny.
---
Earlier this month, I purchased a Cooler Master H500M and I had also reviewed the case which is pretty much awesome to me except for some particular things which won't be going to be a problem in my case.  And after setting it up, I somehow feel it incomplete. The side tinted tempered glass is a little bit darker and I was thinking of getting an RGB LED strip/ or a couple of RGB fans to get some illumination inside of this beautiful case and after doing some R&D, I finally went for an RGB LED Strip.
After that, I spend some more time to see which one of the available RGB Strip will be best suited for my needs. I came across a couple of RGB LED strips such as Corsair NODE PRO, NZXT Hue Plus Advance and few others. Among these available RGB strips, I was literally confused on which one to get and after some more study about these Strips, I finally went for the Corsair Lighting NODE PRO. So in this review, we are going to discuss Why You should choose Corsair Lighting NODE PRO among the other available RGB Strips available in the market.
Let us first introduce you to Corsair NODE PRO first so that we are able to provide you with every minute details about this product. The Lighting NODE PRO was released back in last year and it is priced at $60. The product is compatible with Corsair's Link as well as its latest iCUE which gives you more control over the RGB Strips as well as other Corsair products.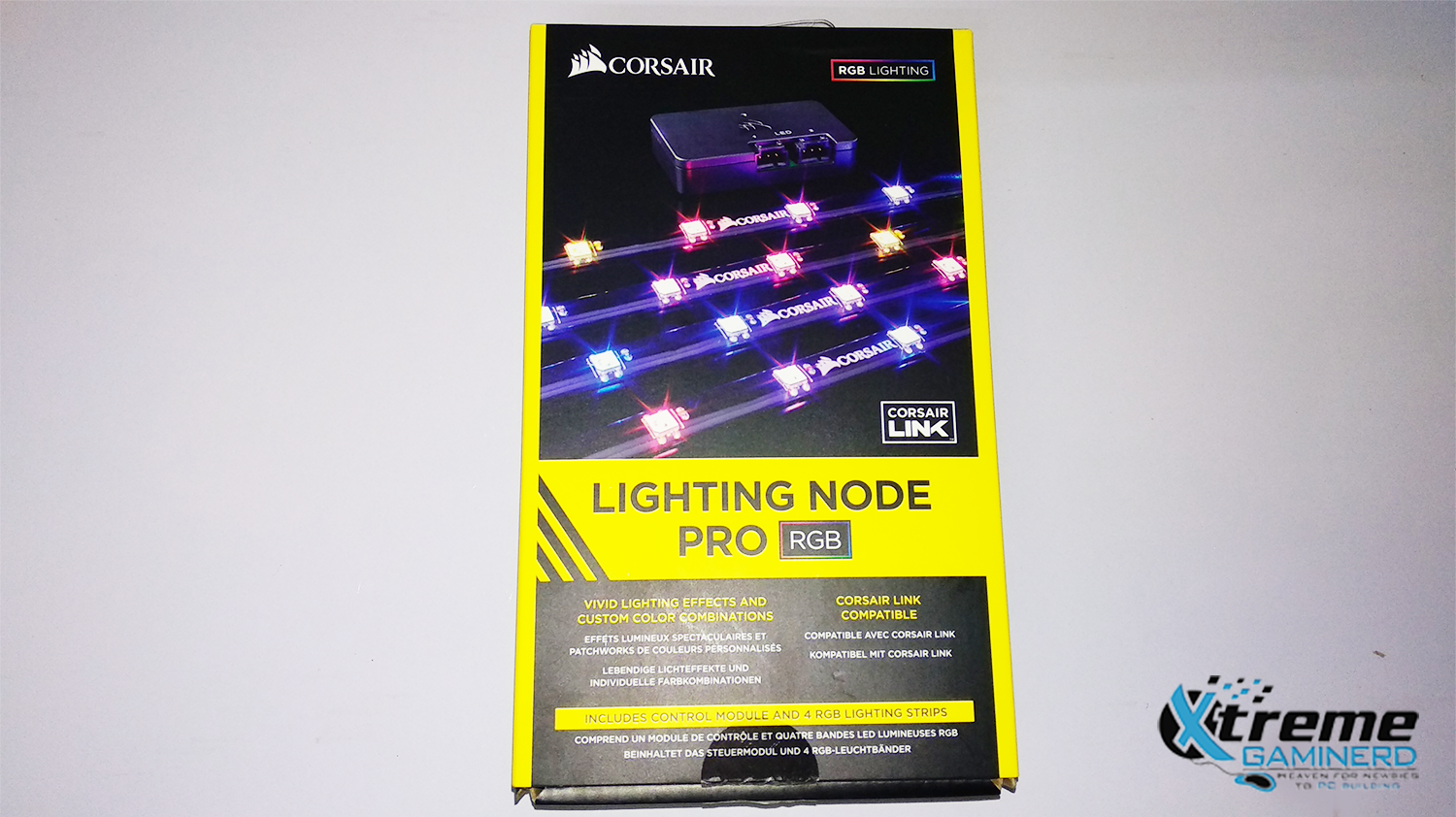 Packaging & Contents
The Lighting NODE PRO comes in a small box and on opening the package itself it will reveal the main controller unit along with four magnetic RGB Strips. Underneath the controller and the strips, there are the warranty details along with user guide and few other documents and beneath those documents lies four RGB extension cables, Mini USB to 9-pin internal USB Cable and a pair of HD RGB LED HUb Cables. Two mounting tapes can be found with the controller itself.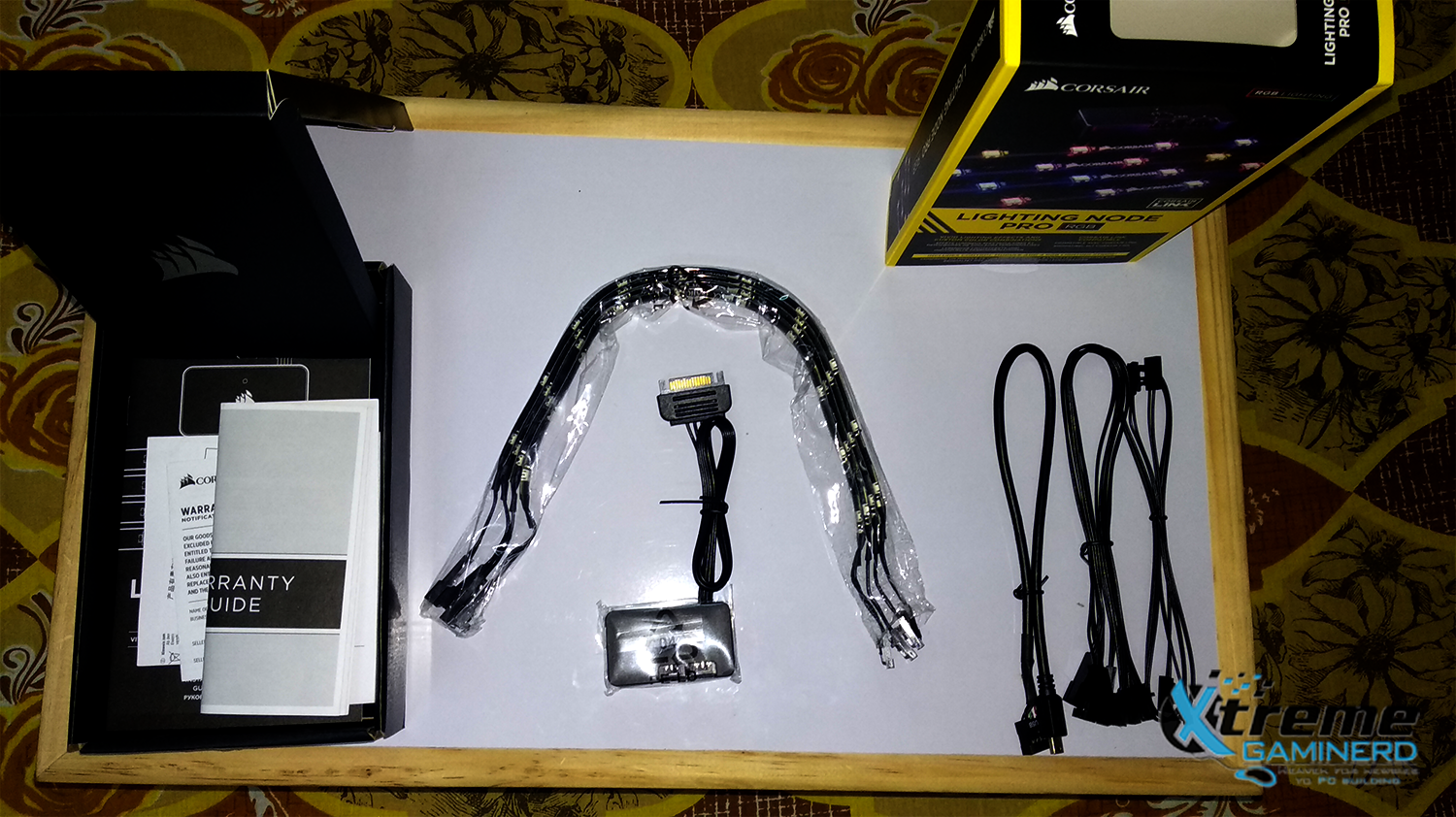 The Lighting NODE PRO comes with four RGB LED magnetic strips which are black in colour and has a length of 410mm. Each of these strips is having ten Addressable RGB LED's and 4 magnets which means that they can be fitted to almost any surface which has metal in it and to make them more secure each strip has been provided with full-length adhesive tape. The RGB LED Strips comes with IP65-rated transparent silicone that makes them water-proof.
Now about the controller and it is the most interesting part in this review. The controller which is provided with the Lightning Node Pro comes is quite small in size and the dimension wise it is  55mm x 31mm x 12mm which makes it an obvious choice for me as the controller coming with NZXT will occupy a 2.5″ Drive slot and I am already running low on 2.5″ slot. The NODE PRO controller comes with SATA connector with it and supports dual RGB LED channels where on one channel you can connect all the RGB Strips and on other you can connect Corsair RGB fans. It can be controlled both by Corsair Link or iCUE software. And the advantage of having this controller is that you can stash the unit anywhere inside your case as it will occupy a negligible amount of space. Two adhesive tapes are included along with for the mounting purpose. There is tiny reset button present on the controller and it will help to reset the unit in case any problem with the lighting is noticed.
Apart from the main items, the other accessories coming with the Lighting Node Pro are worth mentioning. There are a total number of four RGB extension cables which will help with the installation of the strips along with two HD RGB LED hub cables which will help you to connect Corsair's LED Fans and a Mini USB header which needs to be connected to your motherboard. In my case, I have kept the USB header apart as no internal USB header is free in my motherboard and thus used a normal USB cable and connected it with a USB port of the motherboard.
After completing the installation which is quite simple, all you need to do is to connect all the Stips in and then connect the SATA connector of the controller to one of the SATA connectors of your PSU and then connect the USB header with the controller. If everything is ok then powering it on will start your RGB Setup.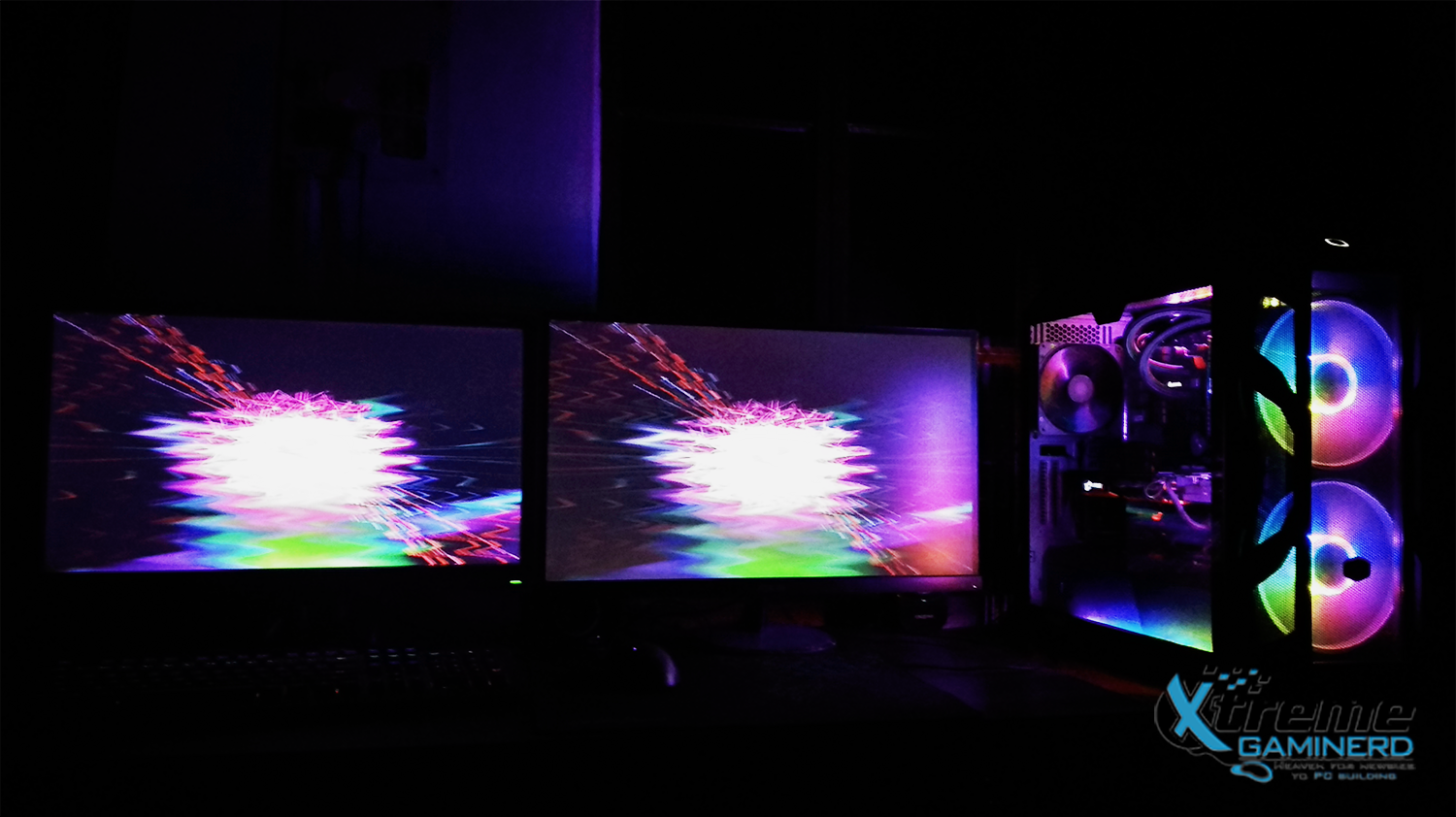 Control & Configuration
The Lighting NODE PRO can either be controlled via Corsair's Link or it's latest iCUE software to get some awesome lighting effects.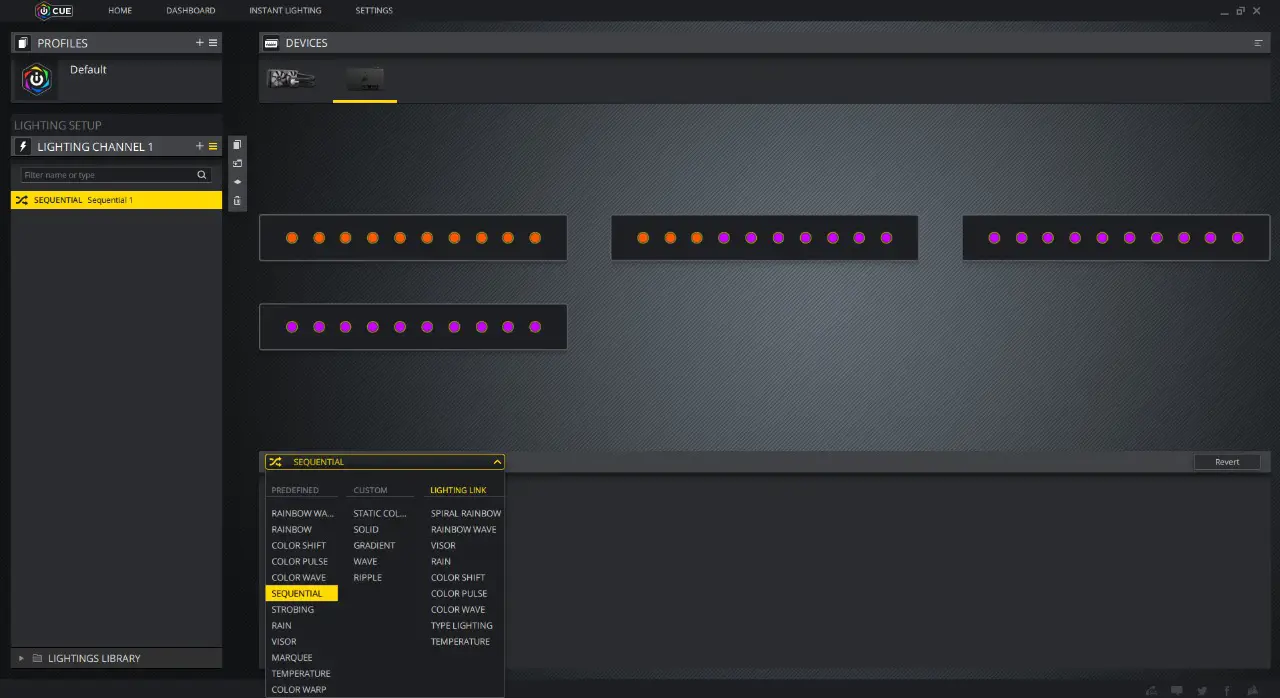 PROS
Now let's come to the main question on why should you choose Corsair Lighting NODE PRO over others. Firstly most of us have cases whose interiors are back and most of the other Strips are white including that of NZXT's and it might ruin you neatly assembled case.
Secondly, the direct competitor to the Lighting NODE PRO is NZXT's Hue Plus Advance and both come with a controller unit of their own and the one that of NZXT is supposed to mount on an empty 2.5″ drive slot which might be a bit of problem as one will lose a drive slot for having this one whereas the controller unit of Corsair can be stashed anywhere inside your case.
Thirdly both the strips of Corsair and NZXT are of very good build quality, however, connectors of NZXT needs extra care due to the fact that the pins are very small and are prone to damage while installing compare to that of Corsair.
Fourthly Corsair Lighting Node Pro supports up to six HD RGB or SP RGB fans simultaneously whereas NZXT Hue Plus Advance supports five Aer RGB fans.
CONS
Now its time to discuss the drawbacks of the Lighting Node Pro. First and foremost problem is that with the connectors of the strip which are of an extra length and needs little effort to manage or hide them from plain sights. A particular issue that is annoying to me is that the modes of lighting effect don't come with an option for sync with the music of your computer.
Apart from these two factors, the Lighting Node Pro is a step ahead of other in term of RGB Lighting than other brands available in the market during the time of this review.