The biggest difference between the Core i5 13400F and 12400F is the core count which is exactly why buying the 13400F will be a better choice for the future even though it is costlier.
Not only it has more cores(6P+4E), but it also brings more L2 and L3 cache for improving productivity and gaming performance.
As a result, the CPU has a higher operating TDP compared to the 12400F and can go as high as 148W in intensive CPU applications.
In gaming, however, you don't need to worry as it is pretty power efficient and stays under 70W most of the time.
Still, if you need to ensure that it runs on the highest clock speed possible, you need to have thermal stability and while one way is to spend money on a premium aftermarket cooler, you can instead buy a decent budget motherboard to save some bucks.
In this post, you are going to see our top 5 best motherboard recommendations for the i5 13400F which won't fall short even if you plan to upgrade in the future.
Best Motherboards to use with i5 13400F
MSI PRO B760M-P DDR4
Buy at Amazon
Buy at Newegg
Starting the list from the cheapest option, we have the MSI PRO B760M-P DDR4 which looks pretty basic on the first look but is sufficient for a lot of users due to a few reasons.
MSI boards generally excel in the budget category as they are equipped with onboard troubleshooting features such as EZ Debug LEDs which are absent in almost every entry-level motherboard from other manufacturers. This one has those Debug LEDs on the top-right to troubleshoot any boot malfunction which is pretty handy.
Apart from that, being an M-ATX form factor board, it does not stop it to have 4x DIMM slots that support up to 128GB of DDR4 RAM clocked at 4800MHz. While it is recommended that you use a DDR5-compatible motherboard, this one is especially for those who are tight on budget and want to save for a better GPU.
ASRock B760M PRO RS
Buy at Amazon
Buy at Newegg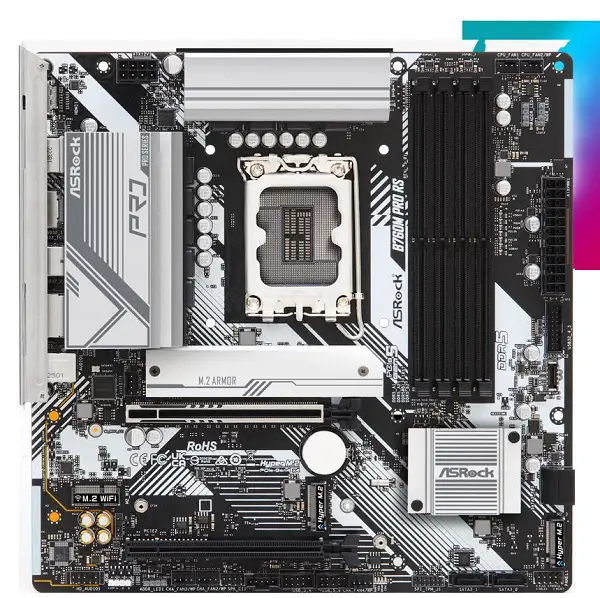 The B760M PRO RS is a leveled-up B760 chipset motherboard that excels in passive cooling. The board boasts heatsinks in multiple areas including the VRM, chipset, and M.2 connector. This is one of the best ways to control the VRM temperature and helps the CPU clock speed to remain consistent.
Now even though the i5 13400f isn't overclockable, it certainly can get hot in intensive tasks and the heatsinks on the board will be of immense help. Apart from that the board looks fantastic with the white accents and RGB lighting on the edges.
Specs-wise, it comes with DDR5 memory support of up to 7600MHz which will enhance overall gaming and productivity. For storage, you will get 3x M.2 and 4x SATA ports, and for the graphics card, you can use either of the two PCI-E x16 slots but the primary one is a Gen 5.0 which is perfect for future-gen GPUs with higher bandwidth.
My only complaint is its I/O where there are only 5x USB Type-A and 1x USB Type-C ports which might not be enough for connecting a lot of peripherals. In that case, you will have to buy a USB hub.
ASUS Prime B760-PLUS D4
Buy at Amazon
Buy at Newegg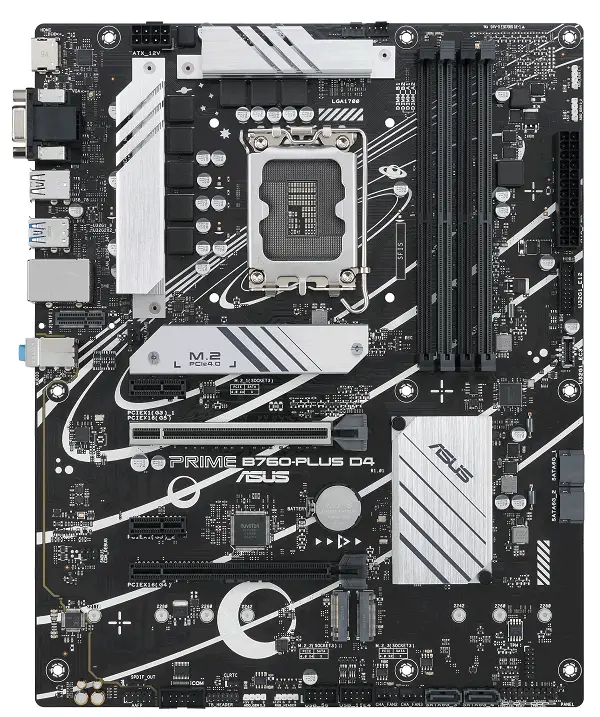 Here is something that you would like to have for better components compatibility. The B760-Plus D4 from Asus is a fantastic budget board with DDR4 RAM support of up to 5066MHz and brings a full ATX form factor.
Due to this, there are 4x DIMM slots, 2x PCI-E x16 slots for graphics cards, 2x PCI-E x1 slots for expansion cards, 3x M.2 and 4x SATA slots for storage drives, and a lot of fan headers.
Unlike the previous boards, there are 4x headers for fans, AIO, and CPU which will help in better cooling inside the case. The board also has some small heatsinks over the VRM, chipset, and M.2 connector but they are not going to be a dealbreaker. However, these will be sufficient for a locked CPU like 13400F.
MSI B760 Gaming Plus WiFi
Buy at Amazon
Buy at Newegg
For a few bucks more, the MSI B760 Gaming Plus WiFi is our favorite choice if you want the best value B760 motherboard. It comes with tons of excellent features including top-notch support for expansion cards, great memory support, and a rich I/O.
It comes with 2x PCI-E x16 slots for graphics cards where the primary one is Gen 5.0 and the second one is Gen 4.0. Other PCI-E slots run at either x4 or x1 and will be good for adding more PCI-E SSDs. However, if you want more, you can surely take use of 2x M.2 and 4x SATA slots.
For memory, there are 4x DIMMs supporting up to 128GB of DDR5 memory clocked at up to 6800MHz which is impressive, and also supports Intel XMP 3.0 OC. For connectivity, you will get a Wifi 6E and 2.5G LAN for blazing-fast internet speed.
Onboard, you will find a total of seven headers including CPU fan, chassis fan, and AIO pumps which are more than sufficient for your custom fans and AIO coolers. My only concern here is the bandwidth of USB ports at the I/O.
Even though there are 7x USB ports, four of them are 2.0 which is definitely not appealing. Still, if your main purpose is to just connect your peripherals, then these are sufficient but if you need faster transfer speed, then you can use the available 3x USB 3.2 Gen 2(10Gbps) Type-A and Type-C ports.
GIGABYTE Z690 UD AX DDR4
Buy at Amazon
Buy at Newegg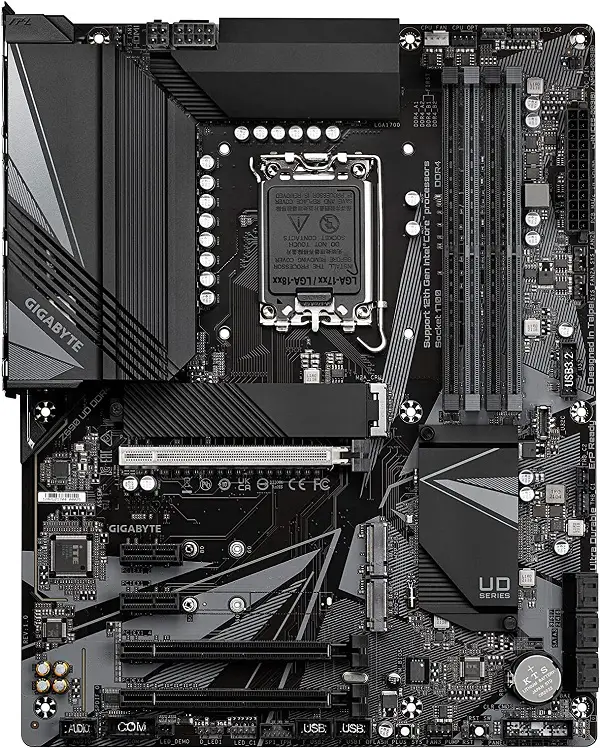 Fortunately, the 600 series motherboards are still relevant more than ever. Even though the Z690 chipset was released at the time of Alder Lake, it is superior to the B760 motherboards in multiple areas while costing not more than a couple of bucks considering that you want a budget motherboard.
Gigabyte's Z690 UD AX DDR4 is a deal breaker for just $160 with features like a powerful VRM for overclocking with 16+1+2 power phases. Even though the i5 13400F isn't overclockable, this motherboard is still perfect for both locked and unlocked CPUs and can serve higher-end CPUs like a Core i7 14700K or i9 14900K from the Raptor Lake Refresh.
There are plenty of ports/slots for components and several headers for fans, coolers, and RGB/ARGB devices. It comes with 3x M.2 slots and 6x SATA ports for storage drives and a total of 3x PCI-E x16 slots for graphics cards.
The only drawback here is the DDR4 compatibility but considering its price, it makes much more sense than expensive DDR5 motherboards with locked chipsets.
Final Words
It's totally fine to use even the most basic of motherboards like a M-ATX H610 with the Core i5 13400F but when you are spending $200 on a CPU alone, it doesn't make sense to buy a $75 motherboard.
All the motherboards listed above fall in a price range of $100-$200 and will be perfectly suitable for a mid-range gaming build.