Memory
Best RAM kits for Ryzen 3600 and 3700X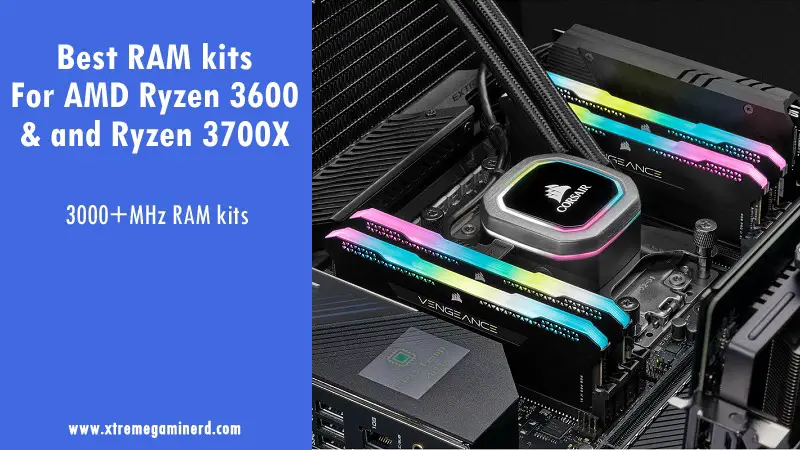 Although the Ryzen 5000 series is out and we have the great gaming processors that have surpassed the 3000 series, the Ryzen 3600 and 3700X are still very popular due to their performance for their respective prices.
Ryzen 3600 and 3700X are great mid-end gaming chips that can handle almost any high-end graphics card without any problem, thanks to their high core/thread counts and therefore, going with either one of them won't make you regret your decision in 2021.
With that said, it's also a known fact that these processors work best with highly overclocked memories and the sweet spot as mentioned by AMD and according to most reviewers is 3600MHz. As these kits will be expensive, you can also go with something that is at least not less than 3000MHz and will save you some money.
In this post, I am listing out some of the great memory kits that start from 3000MHz which will noticeably increase your gaming and productivity performance. Make sure you read our Best B550 and Best X570 motherboards post to get the most out of these sticks.
Things to Remember
A lot of people get confused or upset when their RAM sticks are running at 2133MHz even though they buy something like 3000MHz or higher. This is completely normal as most memory kits run at the default 2133MHz clock speed out of the box.
You will need to access the BIOS in order to change it to the required clock speed. You will also need to make sure that you increase the CL timings such as 15-16-16-36 etc. to the advertised Tested Latency on the highest clock speed.
If you overclock the RAM kit without increase the CL timings then your computer won't boot and may restart 3 times resetting the memory configuration.
Some kits need testing several times to run on the desired clock speed and you will need to tweak the timings as well as voltage till you get to the point where your system fails to boot. For help regarding this, you can put down your comment in the comments section and I am here to assist you.
Memory support
As I said earlier in the introduction, you will need a good motherboard in order to use some of the mentioned kits. While most motherboards with chipsets such as B450, B550, X470 and X570 will support 3000+MHz RAM kits, if you want to use something like 4400MHz, then you must check your motherboard specs on the website otherwise your RAM sticks will work on the max clock speed supported by the motherboard.
Some motherboard manufacturers put their QVL on their websites to show which RAM kits are qualified to work with a particular clock speed on a particular CL timing.

Wrapping up
These are not the only ones which you can use but definitely one of the best to choose from for the Ryzen 3600 and 3700X. If you want to go higher in clock speed then consider getting one of these RAM kits that are clocked up to 4400MHz but will increase the cost significantly making the kit poor value for the money.