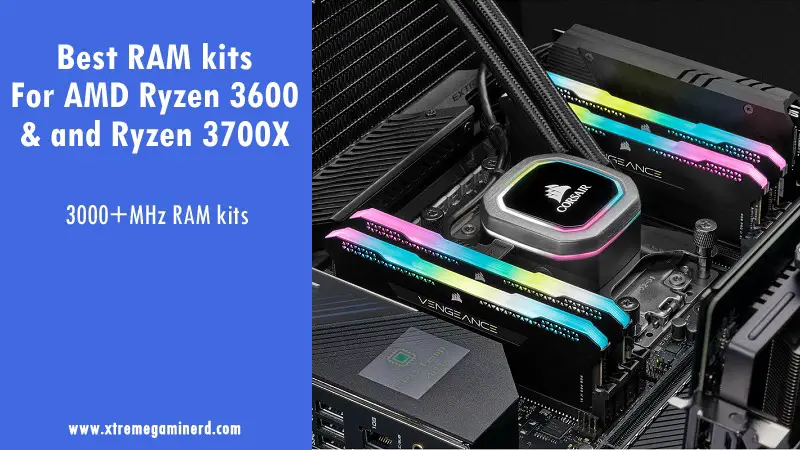 Although the Ryzen 5000 series is out and we have the great gaming processors that have surpassed the 3000 series, the Ryzen 3600 and 3700X are still very popular due to their performance for their respective prices.

Ryzen 3600 and 3700X are great mid-end gaming chips that can handle almost any high-end graphics card without any problem, thanks to their high core/thread counts and therefore, going with either one of them won't make you regret your decision in 2021.

With that said, it's also a known fact that these processors work best with highly overclocked memories and the sweet spot as mentioned by AMD and according to most reviewers is 3600MHz. As these kits will be expensive, you can also go with something that is at least not less than 3000MHz and will save you some money.

In this post, I am listing out some of the great memory kits that start from 3000MHz which will noticeably increase your gaming and productivity performance. Make sure you read our Best B550 and Best X570 motherboards post to get the most out of these sticks.

[box type="shadow" align="alignleft" class="" width="100%"]
Corsair Vengeance LPX (
CMK16GX4M2B3000C15
)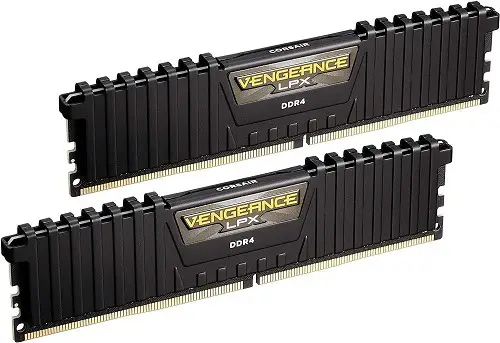 While the RGB Pro model of Corsair LPX is a little bit expensive, you can get the same performance out of this model which can be overclocked up to 3000MHz. The default frequency is 2133MHz with the SPD latency as 15-15-15-36 and at 3000MHz you will get 15-17-17-35 which is enough for decent performance.

These are simple looking memory modules that use black aluminium heat spreaders for cooling and are the most compatible with custom CPU coolers that leave little room for memory modules.

Make sure you note down the model number of this kit as there are several different models of the LPX memory that have different latencies at different clock speeds. Buying the wrong one will only make you regret it, so you can use our link to see the correct model.

[/box] [box type="shadow" align="alignleft" class="" width="100%"]
Crucial Ballistix Gaming RAM (
BL2K8G30C15U4B
)

Crucial has an absolute amazing RAM kit with three different clock speeds: 3000MHz, 3200MHz and 3600MHz, all having tight timings. The above-shown model operates at 1.35V and has CAS timings as 15-16-16-35 which makes it very fast in gaming.

Similarly, the 3200MHz kit has timings as 16-18-18-36 and the 3600MHz kit has 16-18-18-38. Any of these will be fantastic with the Ryzen 3600 or 3700X. Aesthetically, these are not very pleasing as they are performance-oriented and are affordable compared to the RGB RAM kits with the same specifications.

[/box] [box type="shadow" align="alignleft" class="" width="100%"]
Corsair Vengeance RGB Pro SL (
CMH16GX4M2D3600C18

)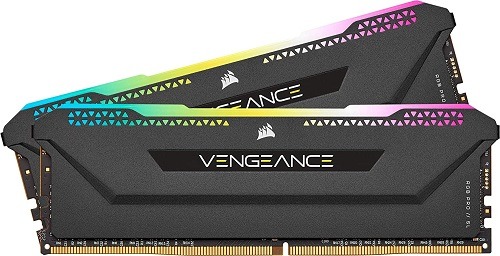 Corsair has launched a completely new RAM kit which succeeds the RGB Pro. This is the RGB Pro SL with a little different look that features RGB lighting on the black heat spreaders. The Pro SL memory kit is available in two different frequencies- 3200MHz and 3600MHz having different CL timings as CL16 and CL18 respectively.

The RAM sticks are 44mm in height giving ample area for most CPU coolers to be installed. The RGB lighting on these can be controlled via iCUE software which is used for controlling the lighting of Corsair peripherals and thus, you will be able to sync the lighting or customize as you wish.

[/box] [box type="shadow" align="alignleft" class="" width="100%"]
G.Skill Trident Z Neo (

F4-3600C16D-32GTZNC

)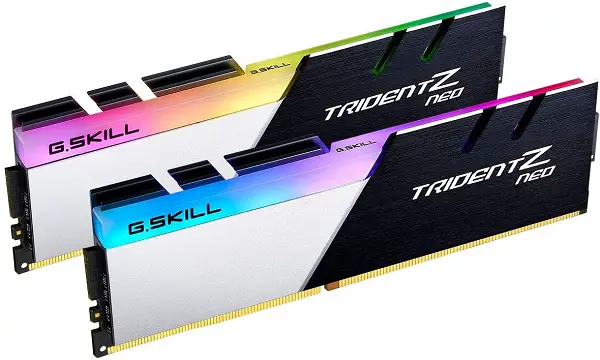 Trident Z Neo sticks are one of the most looking RAM sticks in the market that has a very premium look with brushed aluminium heat spreaders and diffused RGB lighting on top. The lighting can be customized and are bright enough to illuminate your whole Rig from inside.

This RAM kit can be overclocked up to 3600MHz with the CL timings as 16-19-19-39 which is impressive and will perform great in gaming and memory-oriented applications. These are specially optimized to work with Ryzen processors and can work with many lighting software such as Asus Aura Sync, MSI Mystic Light, Gigabyte RGB Fusion, and AsRock Polychrome Sync.

[/box]
Things to Remember
A lot of people get confused or upset when their RAM sticks are running at 2133MHz even though they buy something like 3000MHz or higher. This is completely normal as most memory kits run at the default 2133MHz clock speed out of the box.
You will need to access the BIOS in order to change it to the required clock speed. You will also need to make sure that you increase the CL timings such as 15-16-16-36 etc. to the advertised Tested Latency on the highest clock speed.
If you overclock the RAM kit without increase the CL timings then your computer won't boot and may restart 3 times resetting the memory configuration.
Some kits need testing several times to run on the desired clock speed and you will need to tweak the timings as well as voltage till you get to the point where your system fails to boot. For help regarding this, you can put down your comment in the comments section and I am here to assist you.
Memory support
As I said earlier in the introduction, you will need a good motherboard in order to use some of the mentioned kits. While most motherboards with chipsets such as B450, B550, X470 and X570 will support 3000+MHz RAM kits, if you want to use something like 4400MHz, then you must check your motherboard specs on the website otherwise your RAM sticks will work on the max clock speed supported by the motherboard.
Some motherboard manufacturers put their QVL on their websites to show which RAM kits are qualified to work with a particular clock speed on a particular CL timing.

Wrapping up
These are not the only ones which you can use but definitely one of the best to choose from for the Ryzen 3600 and 3700X. If you want to go higher in clock speed then consider getting one of these RAM kits that are clocked up to 4400MHz but will increase the cost significantly making the kit poor value for the money.