RGB Lighting and Customization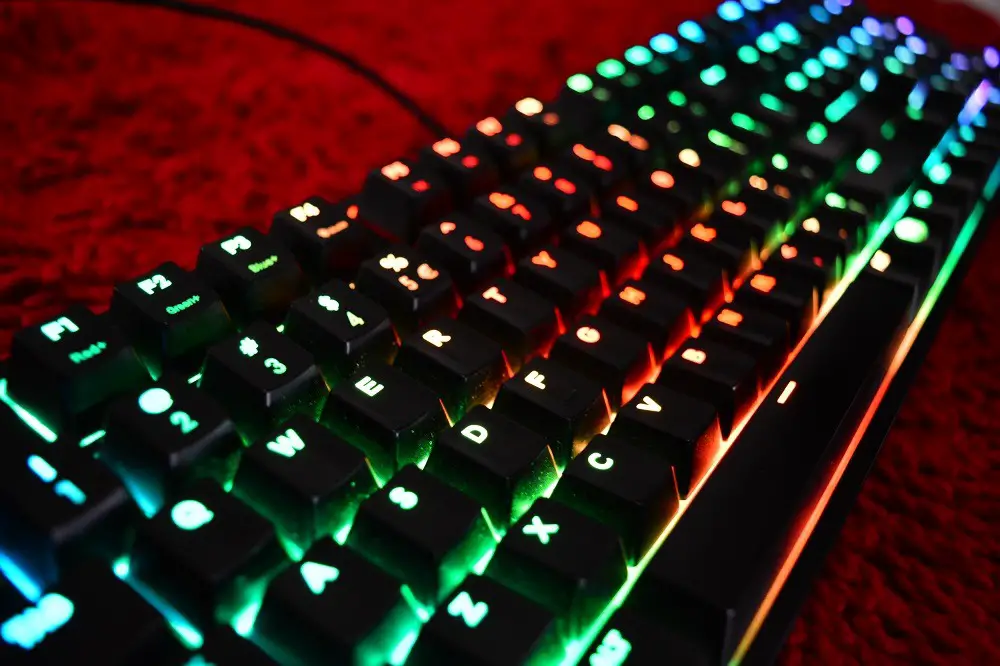 Since RGB is a big feature of this keyboard, let's point out that the Masterkeys Pro L looks very cool indeed with RGB lighting turned on. It helps to be able to see your keys at night even though you are touch typing, as I am writing this piece. It does also help me quickly identify gaming controls when I am using the gaming lighting scheme. Which is all nice and dandy. The keyboard comes with a ton of lighting effects built in. I have to confess the MK Pro L makes my desk look damn good and when I come back to my PC I always take a moment to appreciate the keyboard's lighting effects. CM has done a satisfactory job with the lighting on this keyboard and I would go as far as to say that lighting is the second biggest selling point of the product after its durability and switch type options.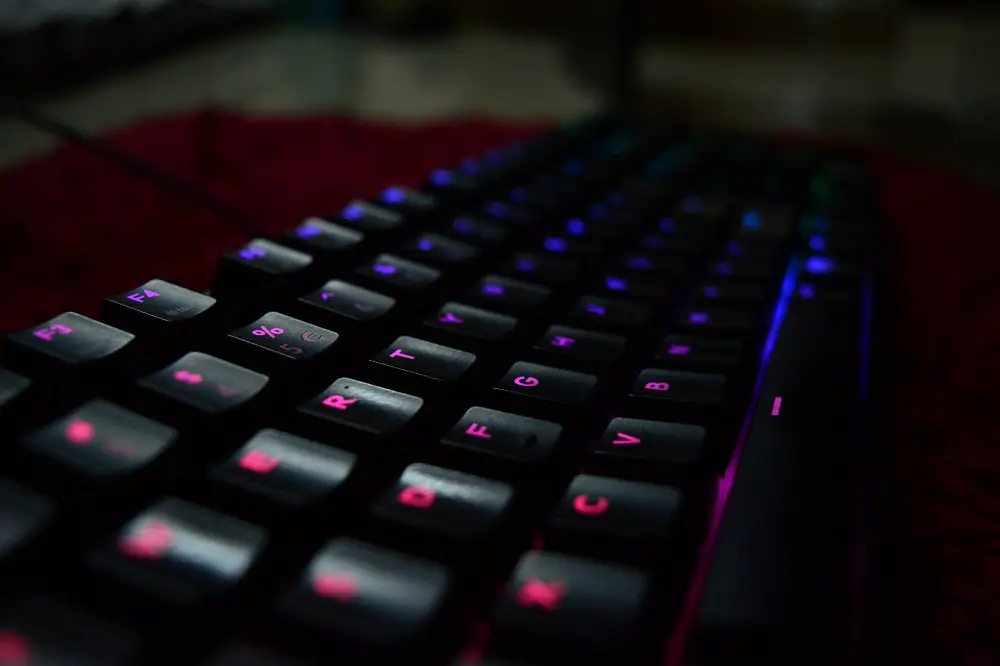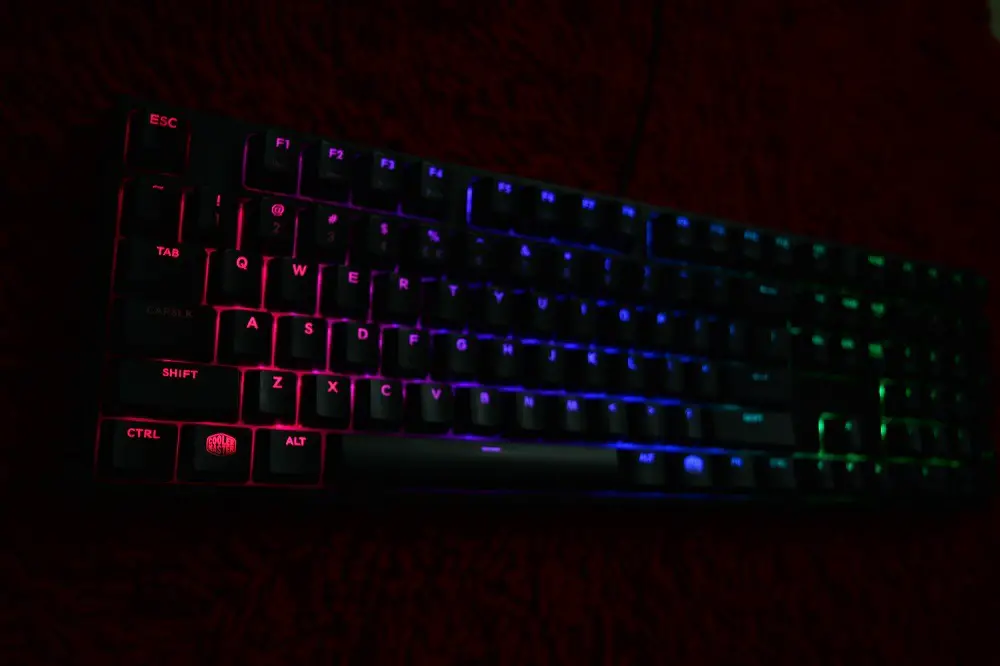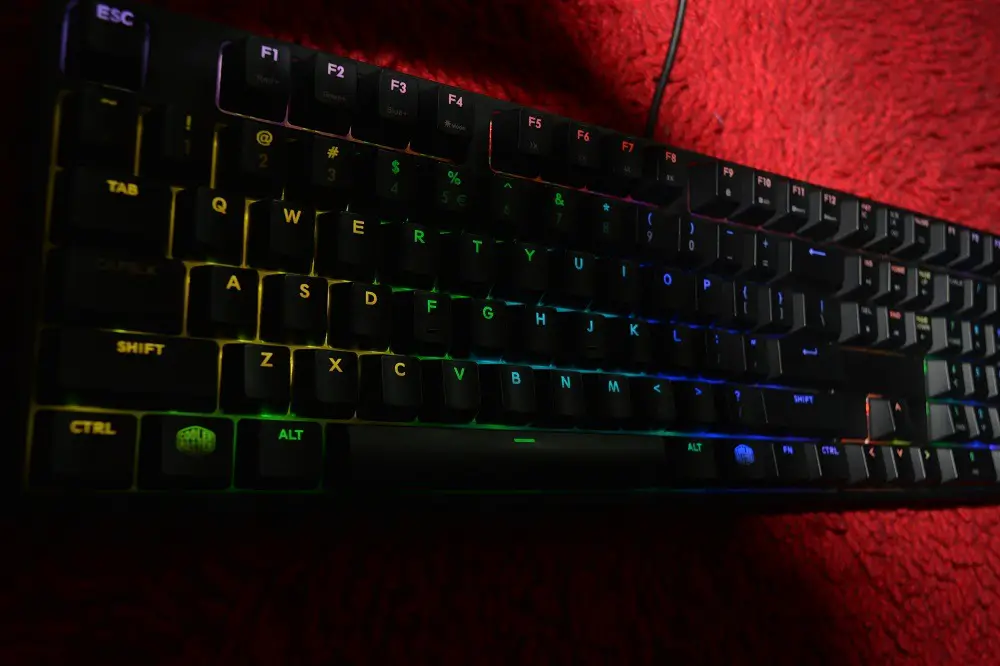 My personal favourites are Color Wave and Rain effect. Do check them out. However good it is, let's not forget nothing is quite good without its flaws. In this one I wish you better luck than mine, the reproduction of white colour is not satisfactory which in my case appears pinkish-white instead of pure white. Secondly, lower half i.e. the sub lettering of the key-cap is not illuminated, not as much as I would like. So the sublayer appears a lot dimmer than the primary layer. And finally, not everyone is a fan of keyboard backlight bleeding between the key-caps which also distracts from the dimmer sub-lettering on useful keys, but since Cooler Master decided to run with it and make it a selling point instead of trying to cover it up, this speaks of their direction with the RGB craze and more is definitely more in this case. Currently, only Logitech Romer G provide a non-bleeding back-light that will only shine on the lettering. I am hoping to see manufacturers realize many more innovative but not intrusive ways to implement RGB-lighting.
Further, N-key-rollover is supported on this keyboard but it only works on Windows so far, on Linux, it's a no-show. I was only able to use 6KRO in my usage, which is still quite satisfactory. How fast can you type on this? As fast as you can mash the keys, the keyboard will not be the limiting factor. The macro functionality goes unused for me, as there really is no dummy/extra key to map a macro onto, you may want to assign macros to the scroll lock as it is now a defunct key and is in no use anymore for virtually any modern application.
The lighting performance is great and is visible even in mild sunlight, though you will have to crank up the brightness to the maximum (who doesn't have their RGB keyboard on max brightness, duh!)
The body of the keyboard is built to outlast the switches, so you get an idea. The only thing that I feel could break early on this keyboard is its micro-USB port on the underside if you really keep unplugging it very often for some reason.
The killer feature of this keyboard as I have said before is its lighting effects and on-the-fly customization. To enter RGB customization mode press and hold FN this will light up the F1, F2 and F3 keys in colours red, green and blue respectively, with some value of brightness which when combined together gives you the different shades of colours hence RGB lighting. The amount values of red, green and blue can be increased or decreased by pressing the respective F1-F3 keys. The system is intuitive and easy to use as the selected colour is immediately visible on the FN key. This colour can now be added to any key on the board by pressing that particular key. If it seems too much of a hassle to someone then no worries, Cooler Master has already provided tons of lighting effects built in which can be cycled through by pressing down FN and F4.
There also exists a GUI application to change, save and load lighting modes from a hard drive. It is available on CM website. The application is however only available on Windows Operating Systems. Moreover, the software doesn't support macros yet, and we don't know if it ever will. Regardless, the macros can be set through the keyboard itself, without requiring any drivers. So, even if the software side is not looking very shiny, at least the keyboard can do all of that without the proprietary application from CM.