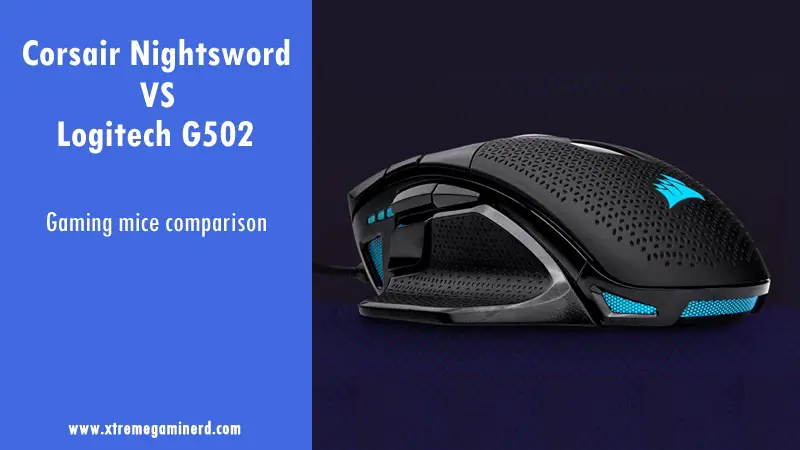 Mice are an essential part of a PC system and therefore if you are a serious user for whom, having a good keyboard and mice matters, then you must choose wisely. There are quite several different varieties of mice that are available to choose from, but it will be narrowing down depending on your use. If you are a user who uses spreadsheet or docs for doing work in your day to day life, then you might not be looking for those mice which are meant to be the best companion for gaming. Many factors need to be considered if you are looking for a gaming mouse.
In this topic, we are going to compare two very similar feature-based mice and draw an analysis of both to identify which of these two is the best one to go for.
So, we have, on one hand, the Logitech G502 and on the other hand, we have the Corsair Nightsowrd. Both these mice are quite identical in terms of their features and also to some extent in performance, but yet we need to find the best in between them. So let us start with brief information about both the mice.
Corsair Nightsword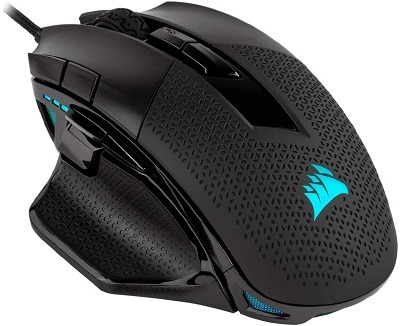 The name "Nightsowrd" is quite appropriate for this beast. Priced at just 80$, the Corsair Nightsowrd offers quite a potential when compared with that of the pricing. It comes equipped with a cutting-edge 18,000 DPI optical sensor, sophisticated weight calibration, and a real-time centre of the gravity detection system.
The Corsair Nightsowrd offers a custom Pixart PMW3391 optical sensor which adjusts in 1 DPI resolution steps and allows super precision with up to 50G acceleration, 400IPS high-speed motion detection, and 18,000 DPI optical sensor. It also features a weight calibration system that comes with two sets of weights and 6 mounting locations and offers 120 different weight and balanced configurations.
The smart tunable weight system automatically detects the mouse's centre of gravity in real-time, allowing the user to adjust the weight between 119g and 141g and fine-tune the balance according to the situation. In terms of ergonomics, it comes with a contoured shape design that is to ensure that the mouse fits your hand perfectly along with high-performance rubber grips.
The Corsair Nightsowrd also offers 10 programmable buttons that can be configured according to your need along with a notched wheel. In terms of aesthetics, the mouse comes with Vivid dynamic RGB lighting control and can be synced with other Corsair lighting devices of your system.
In terms of performance, the Corsair Nightsowrd offers a lift distance of 2.4 mm along with a DPI adjustment of 1 CPI and a polling rate of 1000Hz. The Corsair Nightsowrd is best suited for MOBA games.
Logitech G502 Hero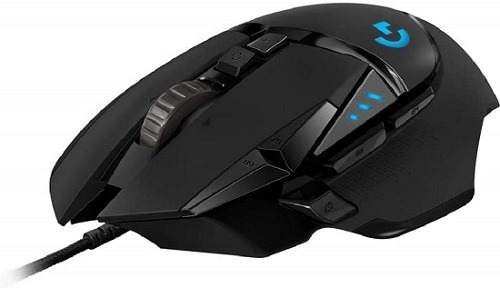 Logitech G502 HERO is a great mouse for gamers who are aiming to sharpen their gaming skills for competitive gameplay. The G502 HERO offers quite a several tweaks including 11 fully programmable buttons and an adjustable weight distribution system. The Logitech G502 HERO features Logitech's latest HERO 25K sensor that is capable of 400+ IPS across the 100 – 25,600 DPI range with zero smoothing, filtering, or acceleration.
The Logitech G502 HERO offers the user 11 Programmable buttons that can be customized fully via Logitech G HUB which is quite handy when it comes to playing games. One can change the DPI with the dedicated DPI button or even can shift DPI from high to low or vice versa. You can even store the settings on the memory of the mouse and it will be ready to be used anywhere. It also comes with a dual-mode hyper-fast scroll wheel continuous scrolling to spin quickly through long pages or lock it down for single click precision scrolling along with tilt function too.
It is also equipped with a tunable weight system that allows a user to configure the weight of the mouse according to the situation to minimize unnecessary lifts and other issues. It comes with five 3.6g weights come with G502 HERO and are configurable in a variety of front, rear, left, right, and centre-weighted configurations. The Logitech G502 HERO also comes with Lightsync RGB that can be configured via the Logitech G HUB utility software.
In terms of performance, the Logitech G502 features a minimum of 100 DPI or a maximum of 25600 DPI along with 50 DPI adjustment steps along with a polling rate of 1000Hz and a lift distance of 1.2mm. Thus making it a good choice for FPS games where a split second reaction makes a huge difference.
The War (Logitech G502 vs Corsair Nightsowrd)
We have pointed out all the essential features and key factors of both the beauties but now it is time for pointing out the differences between them.
Firstly in terms of features, Logitech G502 HERO has the upper-hand due to the availability of the extra configurable buttons along with the overall superior built quality and tilt function of the scroll wheel.
Coming to performance, Logitech G502 also has the lead with the minimum variation of DPI along with lower lift distance and the wider weight calibration along with lower latency than its competitor.
In terms of comfort, both devices are somewhat similar. However, the Corsair Nightsowrd is a little heavier with an additional 4gms of weight to play with.
Which adds to
Thus as we can clearly see, the Logitech G502 HERO is the clear winner, but that doesn't make the Corsair Nightsowrd a bad one. The window of difference is quite small. Therefore, if you are willing to go for any one of these beauties then it will narrow down to one particular point that is which games you are looking forward to playing with them. If it is an FPS game like Counter Strike Global Offensive then Logitech G502 HERO will be the best option to go for. Again, if you are going for MOBA games, then the Corsair Nightsowrd will be a good one.