Many gamers out there might be wondering which processor they should get that will be best suited for the newly launched graphics cards from AMD, the RX 6800 and 6800 XT. Most will be going to get their system upgraded as we are standing on the verge of AM4 architecture along with the DDR 4 technology. Upgrading the system now is going to be a good choice and also future proof. The performance graph of both the RX 6800 and 6800 XT seems quite impressive and is going to be the top alternative solution to Nvidia's counterpart and the present ongoing marketing issues with Nvidia are going to play an important factor for many users to turn to AMD.
Now there might be a number of questions on a user's mind that if they are going for either the RX 6800 or the RX 6800 XT, then which processor they should get that will maximize the performance of their system. Therefore, in this topic, we will be suggesting those processors that we think are the best option for these two GPUs. But before going further into the topic let us take a look at the specification of both these GPUs.
| | | |
| --- | --- | --- |
| Specifications | RX 6800 | RX 6800 XT |
| Base Clock (MHz) | 1700 | 1825 |
| Game Clock (MHz) | 1815 | 2015 |
| Boost Clock (MHz) | 2105 | 2250 |
| Compute Units | 60 | 72 |
| RT Cores | 60 | 72 |
| Shading Units | 3840 | 4608 |
| TMUs | 240 | 288 |
| ROPs | 96 | 128 |
| Memory Clock (MHz) | 16 Gbps | 16 Gbps |
| Memory Interface | 256 Bit | 256 Bit |
| Infinity (L3) Cache | 128 MB | 128 MB |
| VRAM | 16 GB GDDR6 | 16 GB GDDR6 |
| TDP | 250 W | 300 W |
| Price ($) | $579 | $649 |
Looking at the specification, it can be said that the RX 6800 is a lower version of the RX 6800 XT which means that both the GPUs are capable to offer similar performance but it will depend on the resolution that you will be using. Further, it is to be noted that there is a difference in price also.
Now, the processor you should be looking forward to having if you are looking to get any one of these GPUs depending on your budget, then you should be going forward to get your hands on either of the below listed AMD's 5000 series CPUs or Intel's 10th gen core processors.
AMD Processors
Best budget- Ryzen 5 5600X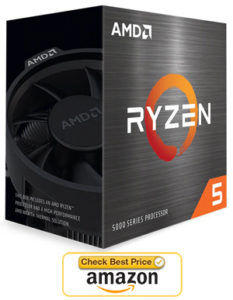 If you are looking to use your system under 1440p gaming sessions with max graphics setting then that is the best-fit place for the RX 6800 as it is more suitable for the 1440p gaming scenario. It is also capable of performing well in 1440p at max settings and therefore, the best processor to pick for the RX 6800 will be the Ryzen 5 5600X.
With the lower TDP of 250W only for the GPU and 65W TDP for the processor, this duo is the best to be paired along. Having both of them on your system coupled with at least 16 GB of memory and an SSD, a user will be able to play games with max graphics settings both at 1080p and 1440p resolutions along with having high-speed loading.
Best overall- Ryzen 7 5800X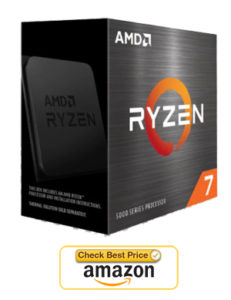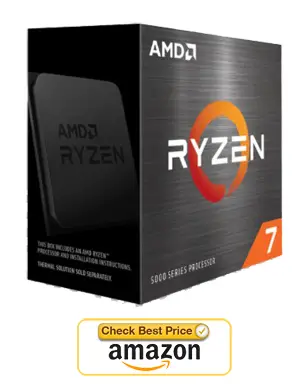 The RX 6800 XT offers more superior performance than that of the non-XT variant and is quite capable of running games with ultra settings at 1440p and as well as 4K resolutions. The RX 6800 XT comes with a TDP of 300W and the best suitable processor to be coupled with this processor will be the Ryzen 7 5800X which comes with a TDP of 105W.
This CPU features 8 cores and 16 threads clocked at 3.8/4.7GHz with L3 cache memory of 32MB. As the 5000 series CPUs use new core layout, you can assume the performance to be superior to Ryzen 3000 series CPUs by up to 19% which is due to various technological improvements.
Overkill- Ryzen 9 5900X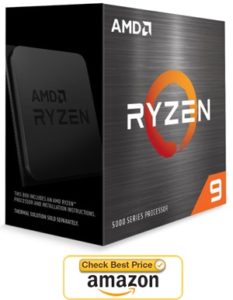 The RX 6800 XT is reasonably capable of running a game at 4K and thus making it a great option for a high-end PC build which makes it even worthy to use with the Ryzen 9 5900X. Pairing it with the Ryzen 9 5900X, you can expect killer performance and while we don't suggest this combination for purely gaming purpose, if you are an enthusiast and want to achieve high scores in gaming and non-gaming tasks, then you won't go wrong with this choice.
Intel Processors
Ideal choice- Intel Core i7 10700K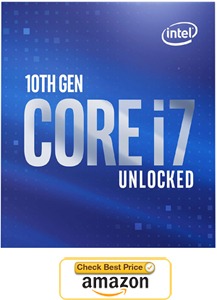 Intel processors still have a hold on the market due to reasonably good gaming performance and if you are looking for a decent Intel processor, then you can either pair the RX 6800 with that of Intel Core i5 10600K which will be a decent companion for the RX 6800 and can easily handle games at 1080p and 1440p resolutions. And for the RX 6800 XT, the Core i7 10700K with the best choice if you also want your system to be capable of performing heavily CPU-dependent tasks.
However, it is highly advisable to opt for an AMD Ryzen Zen 3 based processor for the above graphics cards as the inclusion of the latest Zen 3 architecture along with the inclusion of the RDNA 2 architecture and certain core features of the AMD ecosystem like:
Infinity Cache: It is a high-performance, last-level data cache suitable for 4K and 1440p gaming with the highest level of detail enabled which has 128 MB of on-die cache that can dramatically reduce latency and power consumption and capable of delivering higher overall gaming performance.
Smart Access Memory: It is an exclusive feature of systems with AMD Ryzen 5000 Series processors, AMD B550 and X570 motherboards, and Radeon RX 6000 Series graphics cards. It gives AMD Ryzen processors greater access to the high-speed GDDR6 graphics memory that accelerates the CPU processing and providing up to a 13% performance increase on AMD Radeon RX 6800 XT.
Direct Storage: It is future support for the DirectStorage API that enables lightning-fast load times and high-quality textures by eliminating storage API-related bottlenecks and limiting CPU involvement.
Conclusion
If you have gone through the entire topic then you are already aware of the facts that AMD Ryzen 5000 processors offer good benefits if combined with the RX 6800 or 6800 XT processors and hopefully the eco-system will bring more good options in near future.