The RX 6000 series graphics cards based on the RDNA 2 architecture once again proved that AMD is still in the game and won't bow down to the Nvidia RTX 3000 series. Nvidia always led the GPU category with powerful single GPUs that used to annihilate AMD graphics cards for a long time.
However, the RX 6000 graphics cards that include the RX 6800, 6800 XT and 6900 XT provide competitive performance for the price and are well suited for enthusiast gamers who want to play AAA titles at 1440p to 4K with ultra settings.
As expected, these graphics cards will consume more power than budget graphics cards and the TDP of these cards vary from 250W to 300W, where 250W corresponds to RX 6800 and 300W to 6800 XT and 6900 XT each. AMD suggests that you get a 650W to 850W of reliable power supply for each of these cards respectively in order to get bottleneck-free operation.
It's known to almost everybody that has spent some time in PC building that how crucial it is to get a good power supply that protects your PC components from faulty current and voltages. So, without wasting any more of your time, I am listing out the 5 best power supplies you can get for one of these graphics cards.
Best Cheap- Thermaltake Smart Pro RGB 750W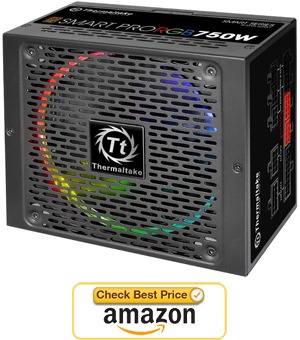 For RX 6800 particularly, TT Smart Pro RGB 750W will be sufficient for overclocking and adding more components to your build. It's fully modular which means you only need to connect those cables which you need and thus, you will avoid unnecessary mess.
It comes with 80+ Bronze rating which typically provides up to 87% of power efficiency1)https://www.tomshardware.com/reviews/thermaltake-smart-pro-rgb-850w-psu,5071-4.html and generates lower heat than non 80 Plus rated PSUs. It can provide up to 62.5A of max output current with 750W of max output voltage on the +12V rail and provides less than 50mV of low ripple noise which is important to provide continuous voltage without much fluctuations.
The unit also comes with a 140mm RGB fan that can be controlled via RGB lighting button or can be switched off via On/Off button present at the back and comes with 7 years of warranty which is why it's kinda good psu for only $100.
Just perfect- EVGA SuperNova 750 G3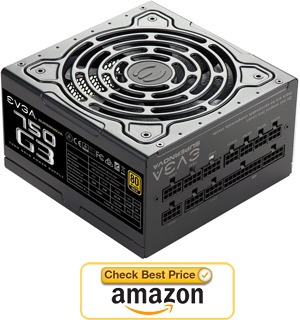 EVGA SuperNova 750 G3 is the most ideal choice for any high-end build having a GPU like RX 6800/6800 XT/6900 XT. Its performance is superior to most 750W power supplies for its price and comes with a full-modular design to provide you with a clean build.
The power supply unit although doesn't have any fancy RGB lighting but it doesn't compromise in performance in any area. As it is 80+ Gold rated unit, you can expect it to be close to 90% in power efficiency and it does exceed this number in typical loads by a significant margin. Also, consider what reviewers have to say about its ripple noise control; in the words of eTeknix,
"…The ripple is so low, it makes a mockery of the recommended specifications…"2)https://www.eteknix.com/evga-supernova-750-g3-80-plus-gold-power-supply-review/5/
While the TT Smart Pro RGB PSU provides 30 to 50mV of ripple noise, the max ripple noise with this unit is only 9.6mV on +12V rail. Also, it's perfectly reliable for faulty voltage/current protection and comes with 10 years of warranty.
Very reliable- Seasonic FOCUS GX-850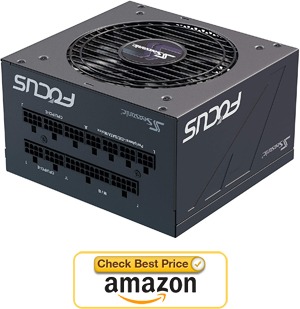 Seasonic power supplies are generally considered as the benchmark for other power supply units. The Focus GX-850 gives awesome testing numbers in every test and no one can disagree how good it is. This is probably a very suitable power supply for both RX 6800 XT and 6900 XT.
The power supply is fully modular and comes with all the necessary cables required to supply the appropriate power to your components including the graphics card. The only CON is that these cables are thick, unlike most modular power supplies which come with flat wired cables.
The voltage regulation variation on +12V rail is minimal and uncomparable at 0.05% whereas other power supplies such as EVGA B3, Corsair RM, Corsair TX have over 0.70%3)https://www.tomshardware.com/reviews/seasonic-focus-plus-gold-850-psu,5247-4.html. It's hold up time is 25ms and ripple noise stays below 30mV at 100% load on +12V rail which is the recommendation although SuperNova 750 G3 excels in it.
Cost of both of these power supplies are close and you won't be wrong to choose any of them.
Premium- ASUS ROG Strix 850W White Edition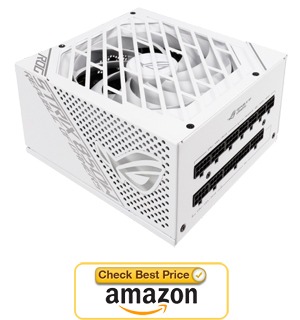 Asus is master at making premium components. It's popular for its ROG Strix motherboards and graphics cards, and has made ROG Strix PSUs that have proved that Asus can enter into any category without failing. While the ROG Strix 850W is a costly psu, the aesthetical advantage makes it a good choice for under $200.
The PSU is a great performer in most of the tests and provides more than 90% of power efficiency on typical loads as it is rated at 80+ Gold. In ripple testing, it suppresses the ripple noise under 30mV on +12V rail with 25mV at 100% load and produces fan noise of 33dBA which is very silent4)https://www.kitguru.net/components/power-supplies/zardon/asus-rog-strix-750w-gold-power-supply-review/5/.
For aesthetics, the White Edition listed here comes with fully white exterior and additional white accessories such as shroud, sticker and magnet. The cables are thin and as it is fully modular, you can build a very neat rig with proper cable management.
High-end- CORSAIR HXi Series HX1000i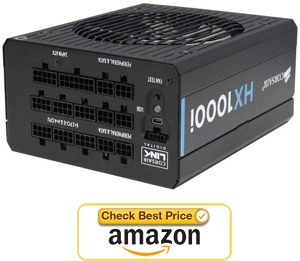 Corsair's HXi is one of the top recognized series for building high-end gaming rigs and while you will be ok with any power supply unit listed above it, the 1000W capacity of Corsair PSU will be sufficient for major upgrades in the future. It is also a fully modular PSU as you would expect and is quite bigger and heavier.
It comes with 80 Plus Platinum rating that provides up to 94% of power efficiency and generally not going down below 90% on any specific load. Its +12V and +3.3V rails have a voltage regulation of around 2% while the +5V rail stays under 1% at full load. This is just fine and considering the ripple noise on +12V rail at full load is around 30mV which makes it perfect according to the recommendations and standard for a high-end PC5)https://www.tweaktown.com/reviews/6996/corsair-hx1000i-1000w-80-plus-platinum-power-supply-review/index.html.
One might not require 1000W of capacity as most rigs containing RX 6800 XT or 6900 XT will be fine with any 750W or 850W PSU but if you plan to do more with your rig, then it is certainly a wise choice to go with for less than $300.