With the release of AMD's latest RDNA 2 based RX 6000 graphics cards, new technology has been developed that allows the processor to use more Video Memory of graphics card.
AMD calls it Smart Access Memory or SAM. With this feature, data channel between PCI Express and processor gets expanded in order to utilize full bandwidth which previously processors couldn't use. Currently, the feature is available only for RX 6000 series video cards used with Ryzen 5000 series processors on AMD 500 series motherboards((https://www.amd.com/en/technologies/smart-access-memory)). However, Nvidia is also working with Intel on allowing SAM to be utilized on Z490 motherboards with Ampere GPUs as future updates will be available according to the recent report by GamersNexus((https://www.youtube.com/watch?v=B8wwwU6-9gA)) .
By default a processor can only access 256MB of VRAM through PCI-E Bus and with Resizable BAR, the limit is extended to grant processor access to full available VRAM. This will reduce latency and data traffic resulting in a noticeable increase in performance in gaming as stated by AMD with a graph that shows the difference in fps numbers when games are played with and without SAM.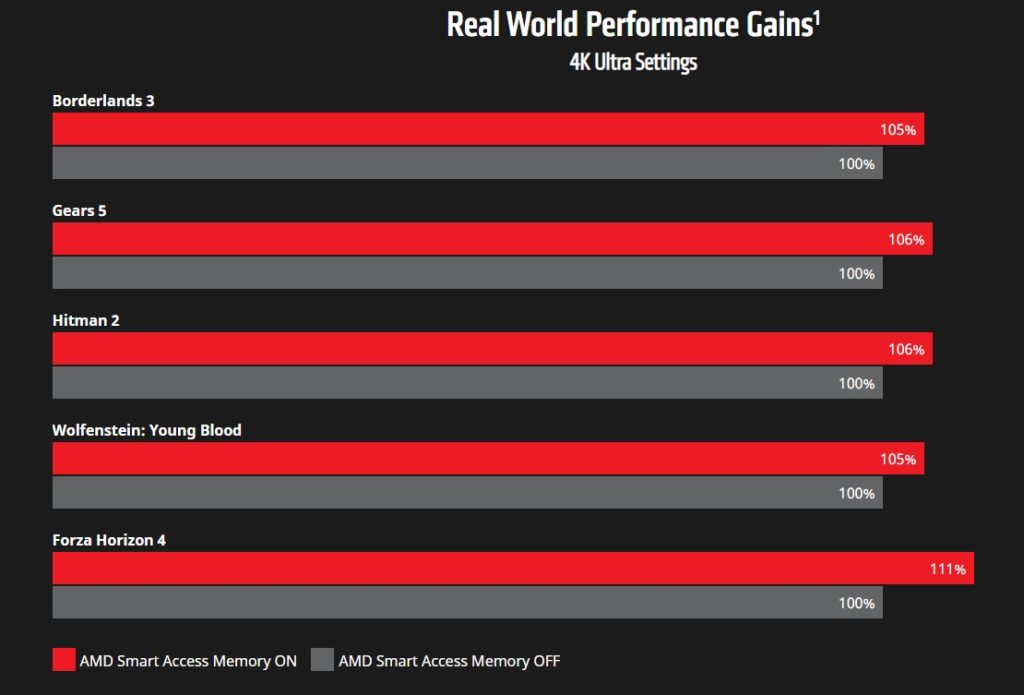 AMD's 500 series motherboards users will have to enable "Above 4G Decoding" and "Re-Size BAR Support" in the BIOS to enable this feature to work.
After enabling these two options, users should see "Large Memory Range" in Device Manager-> Display Adapters-> Resources for SAM to work.
Microsoft explains Resizable Bar Support as follows:-
"The Resizable BAR Capability is an optional capability that allows hardware to communicate
resource sizes, and system software, after determining the optimal size, to communicate this optimal
size back to the hardware.Hardware communicates the resource sizes that are acceptable for
operation via the Resizable BAR Capability register…" ((https://composter.com.ua/documents/ECN_Resizable_BAR.pdf))
AMD says,
"Smart Access Memory is built on features of the PCIe standard and firmware standards (Resizable BAR), and was developed through extensive validation and platform optimization. We welcome the opportunity to support other hardware vendors in their efforts as part of our ongoing commitment to using common and open standards to improve gaming experiences." ((https://www.pcgamer.com/amd-smart-access-memory-not-proprietary-promise/))
While vendors are working to provide users access to SAM, older hardware users might not get the opportunity to use SAM even though SAM is not limited to PCI-E Gen 4.