A few days ago, we posted some information regarding the price drop for GPUs. And earlier today, we came to know about a similar situation where the price of the GPUs is constantly falling.
According to 3D Center, which has collected data from 10 retail stores across Germany, points a sharp downward curve in the pricing.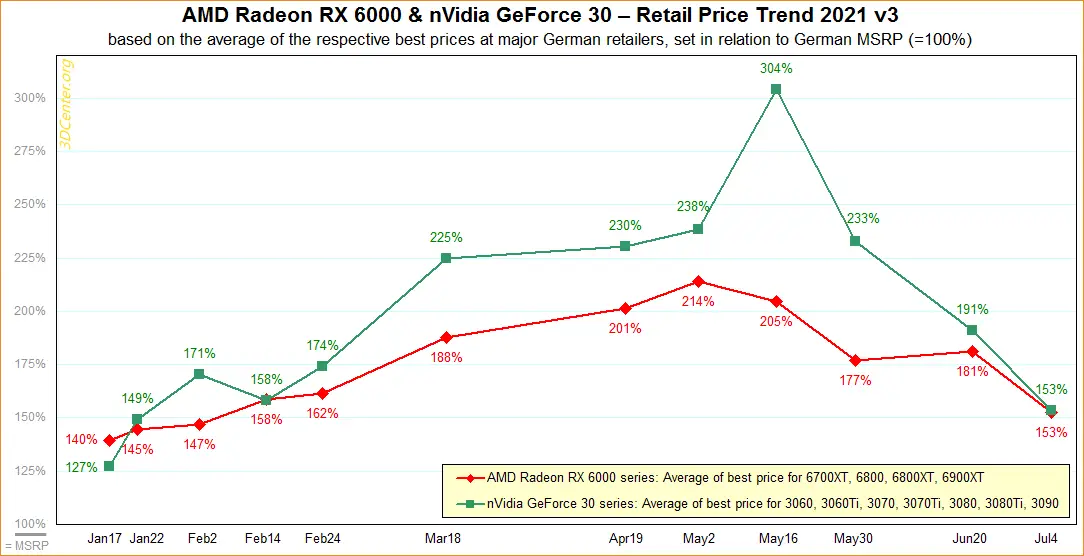 According to the above graph, it can be seen that the price of GPUs is dropping steadily since May 2021. However, they are still not available at their MSRP.
There are two important factors that played a crucial part in the decrease of the price. The first being the slow increase in the availability of chips and the second being the drop in value on most cryptocurrencies. These two reasons have caused the price of GPU to raise to an insane level.
Many countries have already imposed bans on cryptocurrencies and also we can see a steep fall in their value that has not raised over a long period of time.
Also, there is one more reason, that might have an impact on it is the fact of LHR that Nvidia implemented in their latest GPUs. No one is able to bypass it and those cards will limit the hash rate for miners making it more suitable for other uses.
However, as we said above, the price is still higher than the MSRP and seeing the daily update and news from various countries, we can hope to get the GPUs in their MSRP soon.