We have new motherboard vendors getting ready for Intel's next-gen CPUs so that their existing LGA 1700 motherboards can support them before their release.
Gigabyte was the first one to release the BIOS firmware that would support 14th gen CPUs on the LGA 1700 socket and the reason for releasing the BIOS before everyone was due to the vulnerabilities its motherboards were having a few weeks ago.
However, as 14th gen CPUs are around the corner, it was obvious that more AIBs would join Gigabyte. According to the latest reports(via @9550pro), Asus and ASRock have released a new BIOS that would support these next-gen CPUs on their existing LGA 1700 motherboards.
As from various reports we know that Meteor Lake has been canceled for the desktop, it is almost guaranteed that these next-gen CPUs are Raptor Lake Refresh processors that are supposedly coming with improved specs.
According to the latest leak on Bilibili.com, Raptor Lake Refresh K and non-K CPUs are going to launch before the end of this year. Specifically, the overclockable chips are going to hit the market in October followed by non-overclockable chips in the last two months.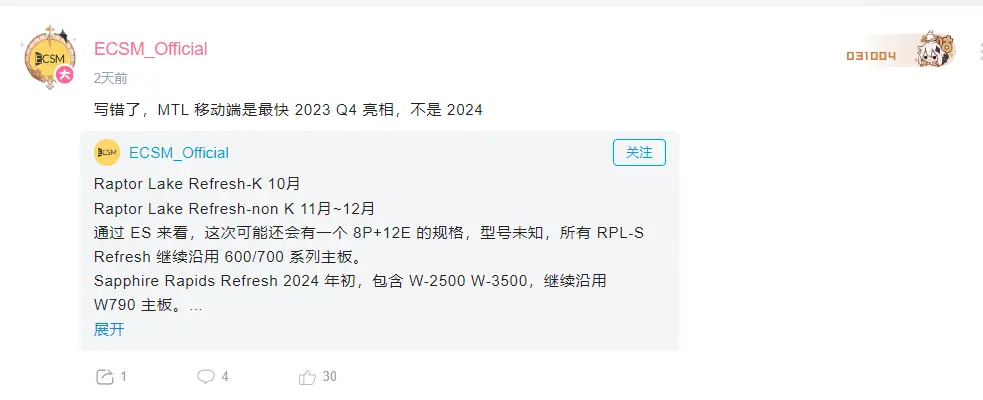 In the same leak, it is mentioned that Intel is also working on Sapphire Rapids Refresh for the Xeon W2500 and W3500 processors which wasn't heard of before. That said, Intel has already made preparation for both mainstream and workstation processors and we are yet to see what improvements these CPUs will bring to the table.
According to some leaks, the Raptor Lake Refresh is going to bring even higher clocks than before but this will come at a cost of higher power consumption.