World Of Warships is one of the most popular naval combat games from the developer and publisher Wargaming Group Limited which is available on both Steam and WarGaming Center.
As a lot of gamers use Steam for managing and playing their games on PC, many like to launch and manage the game from the Steam client. World Of Warships, however, isn't a game where you can just progress and save your achievements on both the clients.
It instead saves your achievements, wallets, and other progress on different accounts. This means that if you have registered your account from Wargaming, you cannot import your account to Steam and vice-versa.
In this post, we will see if there are any workarounds to log in through Steam using your Wargaming account to continue your progress without starting from scratch.
Using Wargaming Account From Steam
Creating a new account through Steam is easier if you are playing the game for the first time. Over the past 3-4 years, several changes have been made but unfortunately, with each update, things have become terrible.
In the past, it was easier to create a Wargaming account from Steam itself and that was done through the game. You could launch the game and fill up the details for creating an account on the Wargaming server to save your progress on both Steam and Wargaming.
With the new updates, it is now no longer possible but some users have found a workaround that might work for you. If you have installed the game via Steam already, you will need to change the file name of "steam_api64.dll".
-> Go to your Steam installation directory where you have installed World of Warships. You can simply right-click on the game from the Steam Library and click on "Browse Local Files" from "Manage".
-> Once you are inside the game folder, find "steam_api64.dll" and change the name to whatever you like. Let's call it, "newsteam_api64.dll". Make sure the extension is not changed.
Now when you launch the game, it will give you the option to log in through your Wargaming credentials.
If you have already been playing the game from Wargaming Center, then you need to change the file from a different folder that is situated in the game directory bin folder.
-> Go to the World Of Warships game folder and find the "bin" folder. Find the recently created folder which should be a 7-digit number and open it to find "bin64".
-> Find the "steam_api64.dll" file there and change its name as we did before.
Now you will be able to log in through the Wargaming account from Steam but you won't have the full functionality of the game as I said before.
Connecting Steam To Wargaming
There is another in-game method where you can connect Steam to Wargaming. Supposedly, this function no longer works now but you could give it a try.
Inside the game, if you go into your Account, you will find various social media sites to connect your account. You will also see "Steam". If you toggle the button, it will connect your Wargaming account to Steam.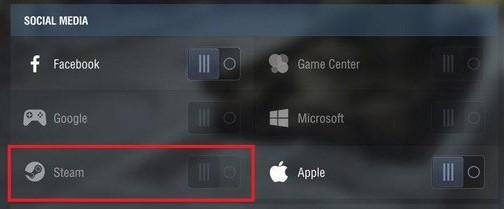 This tutorial is also recommended by Wargaming itself for World of Tanks Blitz and was updated 2 months ago at the time of writing this article. If this works for World of Tanks, it should also work for World of Warships. However. but many users are complaining that this doesn't work now.
If it doesn't work for you, then you should probably create a brand new account from Steam from the method I have discussed above.
Final Words
Connecting Steam to Wargaming and using a Wargaming account from Steam was supposedly easier 2 years ago. You can give the above methods a try to see if they will work for you or not and let me know how this went in the comments below.