We already heard about many rumoured information regarding the upcoming Alder Lake CPU architecture and the new 600-series chipset. However, earlier today some more information regarding the Intel Z690 chipset was revealed.
PC Inquisitor posted a new diagram of the Intel Z690. In that, we can see the Z690 features 1 x 16 + 2 x 8 lanes of PCIe 5.0 attached directly to the CPU itself. The chipset will also support up to 12 x PCIe 4.0 lanes and up to 16 x PCIe 3.0 lanes.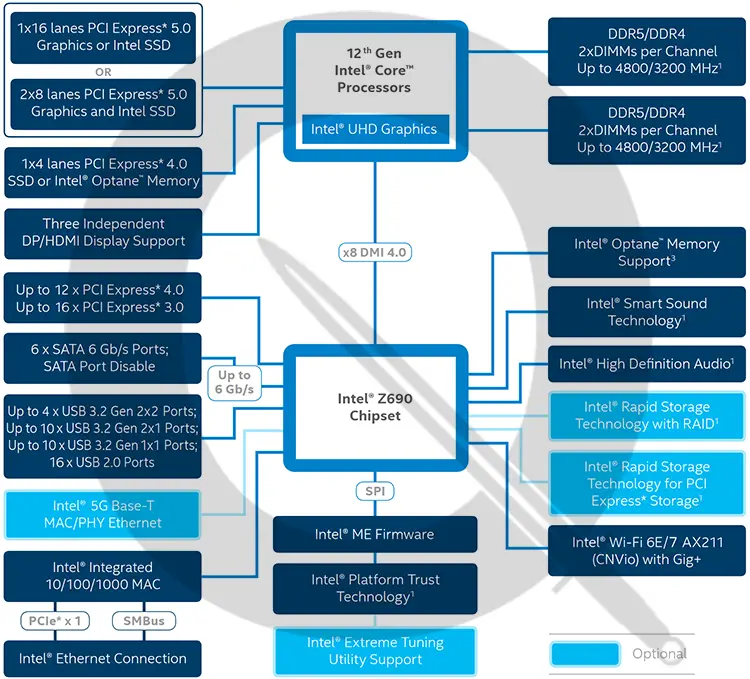 According to Intel's confirmation, the upcoming CPUs will support the DDR5 RAM and also will be backwards compatible with that of DDR4. Also, according to the features, having a16x PCIe 5.0 graphics cards and as well as 4 x high-speed PCIe 4.0 NVMe SSDs will offer an incredible read speed of 7 GB/sec.
However, there is no confirmation on the release date of the Z690 chipset but it is quite sure that it will be expensive. Also to note, since the upcoming chipset will offer support for both DDR 5 and DDR 4, it will be more adaptable by many.
Therefore, with a lot of things around the corner, we will be having our hands full in the coming days ahead.