Once again we are hearing about another RDNA 3 GPU from AMD which we were hearing about lately but it was not until now that it made an official appearance.
It is PowerColor that supposedly leaked the RX 7800 XT mistakenly and not only do we have the pics that show us how does it look like but also its official specifications that also include the die AMD is going to use on it.
This one is the X 7800 XT Red Devil that features a 3-fan cooler with 2x 8-pin power connectors. As per the deleted info, the card is equipped with 8 heat pipes and a PCB with a total of 18 power phases.
As for the specs, it is going to come with Navi 32 which was pretty much expected at this point, and features 60 compute units.
There are a total of 3840 stream processors on the card and clock speeds of up to 2565MHz on this particular edition. For memory, it comes with 16 gigabytes of GDDR6 memory on a 256-bit bus and this is how its PCB looks like.
We can see that it is pretty much identical to the GPU die we saw in the Forbes video and has a single GCD surrounded by 4 MCDs. Compared to the previous generation card, the RX 6800 XT, it is definitely a downgrade and I won't be surprised if it will either tie or lose the latter in performance.
The 6800 XT comes with a higher-end Navi 21 die, 20% more compute units, and 20% more Stream processors. If you remember the RX 7900 GRE launch, by AMD's own results, the 7900 was just 13% faster than the RX 6800 XT at 2K and just 8% faster at 4K resolution.
If that is the case with the higher-end RX 7900 GPU that comes with significantly more stream processors, then you can just imagine what will the situation be for the RX 7800 XT. I don't think it is going to outperform the 6800 XT by a significant margin and this makes it as bad as the RTX 4060 Ti to the 3060 Ti.
Now if you are thinking that AMD might make a comeback with the next generation, then it's most likely not going to be the case. Recently, Kepler tweeted that the Navi 4 lineup will not have any high-end GPUs.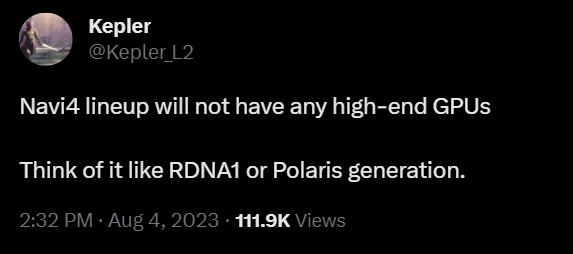 I don't know the accuracy of this leak but Kepler has been accurate most of the time and he said that he has heard it from as many as 3 sources. Not only Kepler but RedGamingTech has also reported such news but as per AMD's own statement, it has promised to deliver higher performance with the Advanced node on the RDNA 4.
So, we don't know how AMD is going to achieve this but till we can have some solid leaks about the next-gen GPUs, we have to wait and see.
Via: Videocardz.com