Typically, AMD does not release new processors every year. Instead, it focuses on refreshing CPUs the year after launching a completely new Ryzen generation.
This has been the case for the past few years but some recent reports suggest that AMD might be planning to launch the next-gen Ryzen CPUs right at the end of this year.
The original report comes from Gigabyte which says that "the next generation of AMD Ryzen desktop processors that will come out later this year will also be supported on this AM5 platform" and anyone who purchases their Workstation servers today can upgrade to this Ryzen 7000 series successor.

Even though Videocardz and some other outlets are calling this the Zen 5-based Ryzen 8000 CPUs, it is unlikely that AMD would release Ryzen 8000 lineup so early because AMD is about to launch its Phoenix APUs on the AM5 platform very soon.
If AMD launches the new APUs to AM5, there is hardly any time gap left between Phoenix APUs and Ryzen 8000 CPUs if AMD decides to launch the latter later this year.
To understand it, It's important to note the launch dates of Zen 3-based CPUs. The Zen 3-based 5000 series was launched in November 2020 followed by the 5000 G series APUs the next year in April. So, AMD waited more than a year to launch the 7000 CPUs in September 2022.
Going by AMD's usual plan, it's quite difficult for AMD to launch Ryzen 8000 CPUs just to go ahead of Intel's Raptor Lake CPUs because both Ryzen 7000 and Raptor Lake are pretty competitive in their pricing.
Considering that AMD already has the 3D CPUs for enthusiast gamers which will be followed by Phoenix APUs that will feature the Radeon 760 and 780M, it's most likely Gigabyte might be talking about Phoenix CPUs as Ryzen 7000 successor.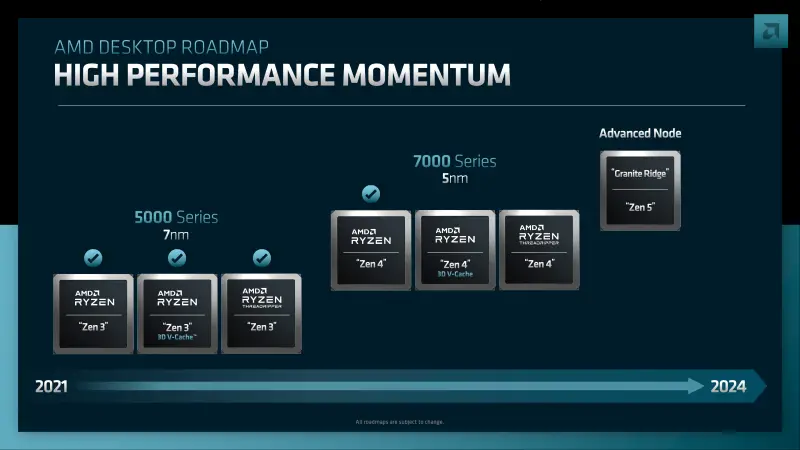 This also agrees with AMD"s roadmap where it is clearly mentioned that Zen 4 CPUs are going to use 5 and 4nm process nodes and currently only Phoenix Apus are using TSMC's 4nm process.