The Zen 4-based series brought a brand new socket for itself i.e., the AM5 socket that features the LGA socket type that is totally different from the previous AMD sockets.
Being very competitive in the CPU market, Ryzen 7000 series CPUs have proved that they are as good as the Intel Raptor Lake CPUs, particularly for gaming after the official price drop.
However, unlike Intel, AMD only has two chipsets currently available to use with the Ryzen 7000 CPUs. Namely the X670 and the B650 along with their Extreme versions.
In this post, we are going to look at what benefits you are going to get with a B650 chipset motherboard followed by our recommendations.
Difference Between B650 And B650E
The B650 chipset is unlocked for overclocking by default. Not only you can overclock your CPU but you can also overclock your memory using the EXPO technology which is kinda rival of the Intel XMP.
B650 chipset provides almost every necessary feature gamers and enthusiasts will need and except if you want some crazy components support, the B650 motherboards will work as good as the X670 chipset motherboards.
However, the confusion starts when we talk about the B650 and the B650E chipsets where the B650E is the Extreme version of the same B650 chipset. This chipset provides some additional features over the B650 that are promising for the future but are costlier.
One of the main differences between the two is that the B650E provides a total of 16+4 PCI-E 5.0 lanes from the CPU by default while the B650 can only provide PCI-E 4.0.
The bandwidth of PCI-E 5.0 is 2X more than PCI-E 4.0 with a data transfer rate of up to 32GT/s. This means the primary PCI-E x16 slot that receives PCI-E lanes from the CPU will enjoy higher bandwidth but currently, we don't have any graphics card that is made to unlock its full potential with the PCI-E 5.0.
However, it doesn't mean that the graphics cards with PCI-E 4.0 interface won't work with PCI-E 5.0 slots.
Almost every other feature is identical between the B650 and B650E.
Best B650 Motherboards
---
Gigabyte B650 Aorus Elite AX|
Best Budget
CHECK AMAZON PRICE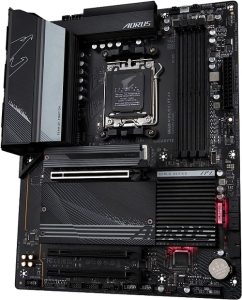 Premium B650 motherboards are costlier and except if you want a top-notch power delivery system and all the high-end stuff, the B650 Aorus Elite AX is one of the most ideal boards for users on a budget.
For around 230 dollars, the B650 Aorus Elite AX stands out and beats almost every B650 motherboard from other manufacturers at this price. Featuring a 14+2+1 power phase VRM, it is a decent one for maintaining CPU stability on higher clocks. It is not necessarily a strong enough board for overclocking but is surely adequate for keeping the clocks at turbo boost without any major problems.
It will be great for almost every Ryzen 7000 CPU particularly the Ryzen 7600X which is a decent 6 core/12 thread chip that will help you build a solid high-end gaming build or a powerful productivity system.
Memory, GPU, and Storage support all are satisfactory while the I/O is way better than most budget B650 boards out there. You will find more than 10x USB ports and a Type C port too. For internet connectivity, you can use the 2.5G LAN or the inbuilt Wifi 6E adapter which is the fastest you can get today.
Gigabyte B650 Aorus Pro AX|
Best Value
CHECK AMAZON PRICE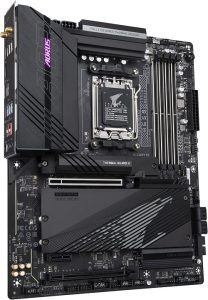 This is another crazy strong B650 motherboard from Gigabyte. Currently, Gigabyte has the best B650 motherboards under $300 and I couldn't help but list the Aorus Pro AX above the others.
While it looks like the Elite AX, it is actually better in many areas. It features a top-notch power delivery system with a 16+2+1 power phase VRM with the Vcore phases rated at 90A each. This is straight away the best bargain for $260 considering that for $230, you are getting a 14+2+1 phase VRM with 70A of smart power stages in the Elite AX.
The board also provides more fan and water pump headers for custom cooling and you can actually overclock decently on this board. The I/O is great too with as many options as you find on the Elite AX.
Another great feat is the presence of an onboard power button and Debug LEDs that are very handy when you encounter problems related to boot. I personally never buy a motherboard that doesn't have Debug LEDs because they are a life savior.
ASRock B650E Steel Legend Wifi
CHECK AMAZON PRICE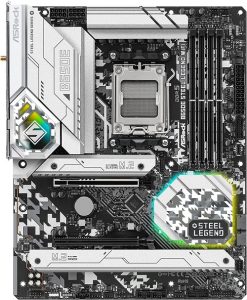 For 10 dollars more, the B650E Steel Legend Wifi is definitely a decent choice in the B650 lineup too. Everything about this board is as good as you can think.
It features a solid 16+2+1 power phase VRM design with 60A SPS. This might not be as good as the VRM on the B650 Aorus Pro AX but being an Extreme edition, the board gives you native PCI-E 5.0 lanes from the CPU. In the near future when we are going to see the launch of next-gen GPUs from both Nvidia and AMD, we are likely to see their GPUs with PCI-E 5.0 interfaces that will take full advantage of these lanes.
The Steel Legend Wifi provides an 802.11ax Wifi 6E module and a 2.5G LAN for internet connectivity. At the I/O, you will see 6x USB Type-A ports and a single Type-C port for peripheral connectivity. Moreover. you can use the BIOS Flashback features for upgrading the BIOS right from the I/O without having to access the PCB.
Aesthetically, the board looks amazing with those snow-white heatsinks and RGB lights on the I/O shroud and chipset heatsink. This board comes in second place after the B650 Aorus Pro AX in my recommendations and will benefit the users greatly who are waiting for using the next-gen graphics cards with the PCI-E 5.0 interface.
MSI MPG B650 Carbon Wifi
CHECK AMAZON PRICE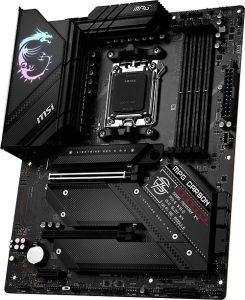 Crossing the $300 price point, we have a couple of motherboards from different manufacturers that are suitable for overclocking and provide more and better components and peripherals support. MPG series have always been top-notch in the industry and the B650 Carbon Wifi is an excellent option for those who are looking towards a stable overclock.
It has a 16+2+1 Duet Rail Power System with 16 Vcore power phases rated at 80A each. It is surely sufficient for overclocking Ryzen 7600X and even Ryzen 7700X. One of my favorite features of this board is the storage support which includes 6x SATA ports and 4x M.2 connectors where the primary M.2 slot supports PCI-E 5.0 x4 mode.
The I/O is full of different features and gives you a total of 7x USB 3.2 Gen 10Gbps ports and 2x USB 2.0 ports. You will also get a single Type-C USB 3.2 Gen 2×2 port that has a bandwidth of 20Gbps and will be perfect for high-speed devices. Along with the USB ports, there is an AMD Wifi 6E adapter, a 2.5G LAN, and Clear CMOS/Flash BIOS buttons that come in handy for playing with BIOS settings.
Gigabyte B650E Aorus Master|
Best Choice
CHECK AMAZON PRICE
For $350, the B650E Aorus Master is not only the best high-end B650 motherboard but also the best bang for the buck. The B650E Aorus Master is super good when it comes to overclocking potential, components compatibility, connectivity, aesthetics, and onboard features.
It features a 16+2+2 power phase Digital VRM with 16 Vcore phases rated at 105A each. So, it is a level ahead of all the motherboards listed above and this gives it the ability to provide a better-regulated voltage that allows stable overclocking. The heatsinks are also big with an 8mm mega heat pipe and provide ample airflow for continuous heat dissipation.
The I/O is filled with USB ports, Wifi, BIOS related functions and there are plenty of onboard features too that include a good number of fan, pump, and RGB/ARGB headers as well as Q-LED error code display and Debug LEDs. There is also a power switch near the Q-LED that is really handy when you have direct access to the PCB while you are tweaking with advanced options.
It's the best you can have in the B650 motherboards lineup and will go great with processors like the 7700X and even the 7900X.
Other B650 Boards Worth Considering
MSI MAG B650 Tomahawk Wifi
CHECK AMAZON PRICE

MAG B650 Tomahawk Wifi is also a decent choice for $260. It's not better than the Aorus Pro AX but somewhat closer to the B650E Steel Legend in some way. It features a 14+2+1 power phase VRM with Vcore phases rated at 80A each.
Thermal solutions such as heatsinks are also at many places such as VRM, M.2 connectors, and the chipset as well as include up to 6x fan headers excluding the CPU fan and Pump fan headers. Similarly, the I/O is also perfect with around 10x USB ports including a Type-C, 2.5G LAN, Wifi 6E, and a Flash BIOS button.
It's kinda competitive with the B650E Steel Legend except that it doesn't come with native PCI-E 5.0 lanes from the CPU.
Asus Rog Strix B650E-E Gaming Wifi
CHECK AMAZON PRICE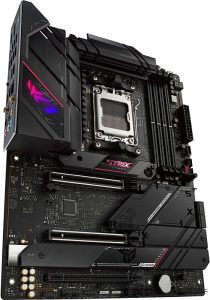 It was very difficult to choose the best $350 B650 motherboards and the ROG Strix B650E-E Gaming Wifi was the one on my mind. There are always some advantages and disadvantages with each board but the ultimate choice comes down to your own requirements.
The B650E-E comes with native PCI-E 5.0 lanes support and a powerful VRM with 16+2 power phases. The board looks slick with the black heatsinks and the RGB lights on the I/O shroud that you can customize using Aura Sync software. Asus motherboards are particularly great when it comes to customizations and overclocking them is much easier, thanks to the easy BIOS interface and the AI Suite software.
This one is a little better than the B650 Carbon Wifi but costs $20 more.
Final Words
B650 motherboards are much cheaper than the X670 alternatives and are on par with them in most features. Considering the fact that the cost of total build is already going to be high if you are using a Ryzen 7000 CPU, you can save some good cash with any of the listed B650 motherboards if you don't want to spend a few hundred dollars extra on a high-end X670 motherboard.