Best Eye Care Office Monitors
Best Eye Care Gaming Monitors
It's a fact that the glare your monitor screen throws on your eyes makes your eyes uncomfortable and can cause irritation. Along with glare, the monitor screen also emits blue light that increases eyestrain and discomfort.
While it is recommended to use anti-glare or blue-cut glasses to avoid these problems, thankfully there are a bunch of monitors on the market that don't require you to wear glasses.
This will help you work for several hours on the screen without any discomfort and you won't have problems like irritation, itching, or blurry vision. These monitors are designed specifically to reduce strain on the eyes and feature blue light, are flicker-free, ergonomics, and many more features to reduce discomfort.
Types of Monitors to Use
Before moving on to the best eye care office and gaming monitors list, it is important to know a few basic things that affect the eyes. While eye care monitors are a must to go with, you can further reduce eye strain by implementing a couple of things.
Monitor Curve

A flat-monitor makes it difficult for the eyes to capture everything in a single sight. A curved monitor, on the other hand, facilitates getting everything on the display in one go. The more the monitor is curved, the lower will be the eye strain.
There are a lot of curved monitors available that you can opt for. Curved monitors range from 1000R up to 4000R where the 4000R is the least curved or flat display and 1000R provides the most curved display. Currently, you won't find 1000R displays as they are recently introduced but getting a 1500R or 1800R display is much easier.
Ergonomic design
While not compulsory, if your monitor features good ergonomics that allow it to be adjusted as per your requirements, then you can reduce eye strain even further. It's recommended to buy a monitor that is at least tiltable. Along with tilting ability, a good ergonomic monitor should be able to adjust its height but these types of monitors are generally more expensive.
In case you don't have enough cash to spend on such a monitor, you should adjust your desk or chair's height so you can easily see the bottom of your display or the top of the display without moving your head up or down. This will also reduce neck pain along with lowering strain on the eyes.
Best Eye Care Office Monitors
Asus VA24EHE
Asus has several monitors that feature Asus exclusive Eye care technology. If you want just a normal monitor with great color accuracy, then consider going with VA24EHE which features 1080p resolution and an IPS panel. The IPS panel has a better viewing angle and you won't need to move your eyes too much. Also, it comes with a 75Hz refresh rate that makes surfing a little smoother than the standard 60Hz.
This monitor comes with a TUV-certified blue light filter and flicker-free technologies to reduce eye strain. It comes with a standard brightness of 250cd/m² and color space(sRGB) of 99%. So, it will be ideal for any kind of office work on a budget whether it requires doing work on normal applications or photoshop. For those who need a bigger screen, Asus has a 27-inch model too that is roughly $40 more expensive. It is VA27EHE.
BenQ GW2780
BenQ offers a wide range of monitors including professional and gaming monitors. The GW2780 is particularly suited for office work where you get a large 27-inch IPS display featuring a 1080p resolution. It offers accurate colors with color space(sRGB) of 99% and a good viewing angle of 178/178 degrees.
Its frameless design provides better immersion and at the bottom of the display, there is a Brightness Intelligence feature from where you can adjust brightness according to the lighting around you. For eye care, it comes with Flicker-Free, Low Blue Light, and Colour Weakness features that help reduce strain on the eyes.
ASUS VP32AQ
Asus's VP32AQ is a professional work monitor that features higher specifications for those who want pixel-perfect accuracy. It features a big screen measuring 31.5 inches with an IPS panel featuring a 75Hz refresh rate. It has great color accuracy with 100% sRGB color space and supports HDR10.
The resolution is 1440p which displays more pixels and the monitor also comes with Asus Eye Care technology that you will need for long operation. Its flicker-free and low blue-light technologies reduce strain on the eyes and its bezel-less design makes it a more immersive monitor.
Best Eye Care Gaming Monitors
If you are a gamer and play straight for several hours, then eye strain will be common. It's common among children more than adults and parents should moderate their playing time as well as how they are playing. To avoid any kind of discomfort to the eyes, neck, or back, it is recommended that the gaming monitor should be ergonomic.
The monitor should also come with flicker-free, low blue light, and anti-glare properties to avoid eye strain. On top of that anti-glare or blue-cut glasses will help a lot. The following gaming monitors come with all these properties-
MSI Optix G24C6P
MSI Optix G24C6P is a great budget gaming monitor that comes with 1080p resolution on a 24-inch VA panel. It features a 144Hz refresh rate and 1ms response time that is perfect for fast-paced gaming. It has got a solid and sturdy structure that allows it to maintain its ergonomics and comes with all the necessary features you would need for reducing eye strain.
These include eye care technologies such as flicker-free, non-glare screens, and low blue-light technologies. Along with that you can adjust its height or tilt it according to your own comfort. Moreover, it comes with a 1500R curved display that is perfect for gaming immersion and all this under $200 is a deal-breaker.
ASUS VG278QR
Asus VG278QR is a highly ergonomic monitor that comes with an adjustable height stand, swivel, pivot, and tilting properties. It is not curved but the ergonomic design makes it ideal for long hours of gaming. The display is bezel-less and features full HD resolution on a TN panel that is super fast with a refresh rate of 165Hz.
It comes with a 0.5ms response time that is currently the best you can get and its Nvidia GSync feature will make your gaming experience tear-free. This is a must-buy for serious gamers who love to game for 2-4 hours straight and don't want their eyes hurt after such a long use.
Additional Measures
If you think you are ready to go, then you might miss a few things that will help you work more efficiently. Sometimes doing exactly as mentioned in this post might still not get everything to work as you would want. So, there are a couple of things you need to fix if you don't want to regret it later.
Multiple light sources
If your monitor is situated in front of a window, then you may need to adjust your monitor position. In case the sunlight directly falls on your eyes from your window, then you should either shift your monitor to a different position that is not facing you from the same direction or just pull down the curtain.
When you look at the monitor or the window at the same time, your eyes are getting light from two different sources. This will put more strain on your eyes especially if the light coming from your window is brighter than that of your monitor.
Room lighting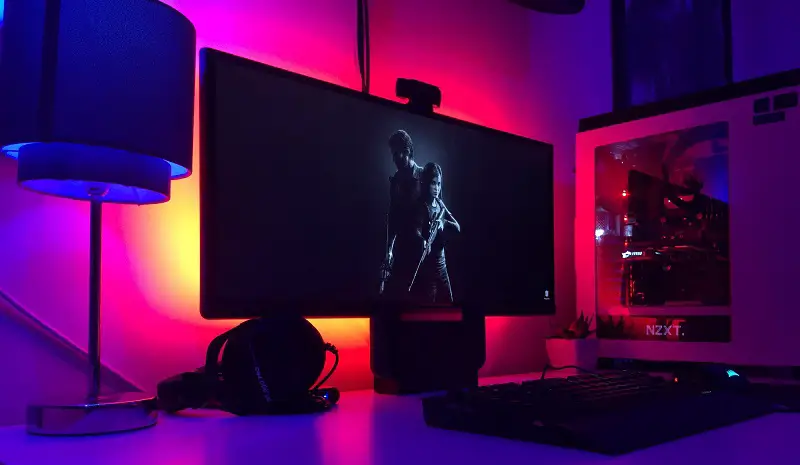 You should never sit in a dark room where the only light source is your monitor. This is too bad for your eye's health. Make sure your room is lit enough that your monitor's glare isn't hurting your eyes.
Among the best things you can do is to put a warm light lamp near or behind your monitor to reduce monitor glare. This is better than the overhead lights and you will notice the result immediately. Also, do not overdo lighting in your room otherwise you will have multiple light sources throwing a lot of blue light on your eyes.
You can check our guide on how to light up your gaming room for a comfortable gaming experience.
Monitor settings
Do not forget to play with your monitor's display settings. Adjust brightness, contrast, gamma, etc. to produce a more comfortable setting. Lower your monitor's blue light and sharpness to reduce glare from the monitor.
All these settings and adjustments mentioned above will be beneficial for your eyes immediately and if your eyes still hurt, then you should hurry up to see your doctor.