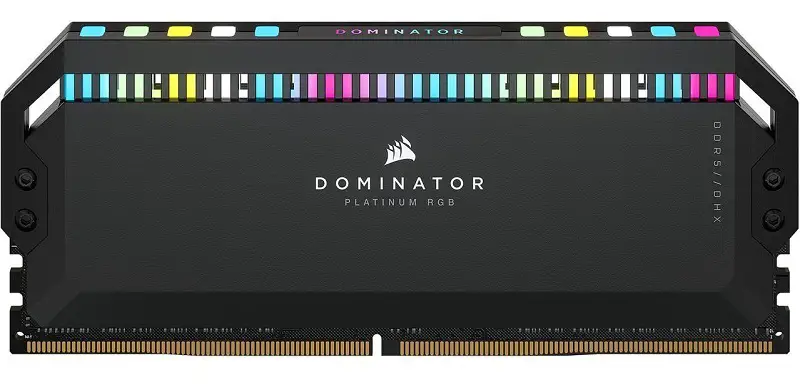 Most of us eagerly await Intel's upcoming Alder Lake processor release along with the inclusion of DDR 5 memory modules. That being said, as is passing by, we are seeing more DDR 5 memory kits from different OEMs including Corsair, AORUS, & ASGARD.
Corsair is one of the well-known figures when it comes to memory units. And with the onslaught of DDR 5 memories, we get a first look at the Dominator Platinum RGB DDR5 series memory modules. A recent tweet from momomo_us gives us a glimpse of the same.
5200 38-38-38-84 1.25 pic.twitter.com/b2sImdNcgq

— 188号 (@momomo_us) October 24, 2021
In the tweet, we see a 32GB memory kit (16×2)  featuring a speed of up to 5200 Mbps and timings of CL 38-38-38-84 at 1.25V. However, this is not the fastest we are seeing. We will have more options once official announcements are declared. In terms of design, it features a dual-tone colour along with a heatsink.
Down the line, we have Arous DDR5 memory modules. They also feature similar specs in terms of performance. However, on the aesthetics, they come with a more minimalist design approach. We are also awaiting more information on the same along with the pricing.
Lastly, ASGARD comes with their AERIS RGB DDR5 series memory kits. However, unlike Corsair and Arous, these are already up for one to get their hands on with a special promo price of 1999 RMB (313 USD) till 11th November. After that, they tend to get back to their base listed price. In terms of design, these modules feature a black and gold aesthetic with a large RGB diffuser running on the top.
Apart from these three brands, there are a few other listings of memory modules as well. However, we are likely to get more information and different modules available post-Intel's launch event.