Nvidia just boasted about its upper hand over AMD and Intel in streaming quality. In a recent blog post, it compared the streaming quality with AV1 hardware encoding on the RTX 40 GPUs to AMD and Intel's latest graphics cards.
As a brand new release of OBS Studio software is now supporting the AV1 video codec encoding, it is now giving the streamers the opportunity to stream their gameplay with higher video quality compared to H.264.
Nvidia says that with the latest AV1 Codec support, the users will get up to 40% more efficient encoding compared to H.264 and now the RTX 40 users can stream higher quality images at the same bitrate compared to AMD and Intel GPUs or at a similar picture quality at a lower bitrate.
The official video from the company shows the difference between the visual quality with AV1 encoding and H.264 encoding, which shows that Nvidia NVENC is far ahead when defining high-resolution textures and removing blocky artifacts.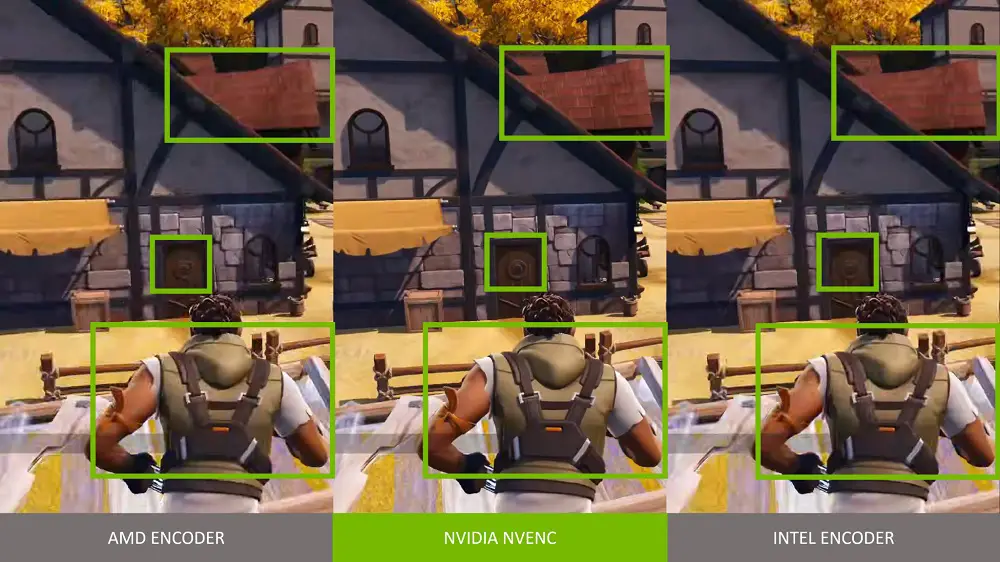 As per the company, the Nvidia NVENC encoder is superior to AMD and Intel's Encoder, and Nvidia GPU owners will have an upper hand when streaming games. Now take this comparison with a grain of salt because the comparison is not from an independent source the comparison looks too exaggerated.
It is quite possible that Nvidia might be ahead of both AMD and Intel's AV1 Encoders but there are a lot of factors that will decide which is the best. Currently, AMD's AV1 encoding can process 30% faster and also consumes less power. So, it all depends on whether Nvidia's encoder could process higher visual quality at the same speed or at least at the same power.