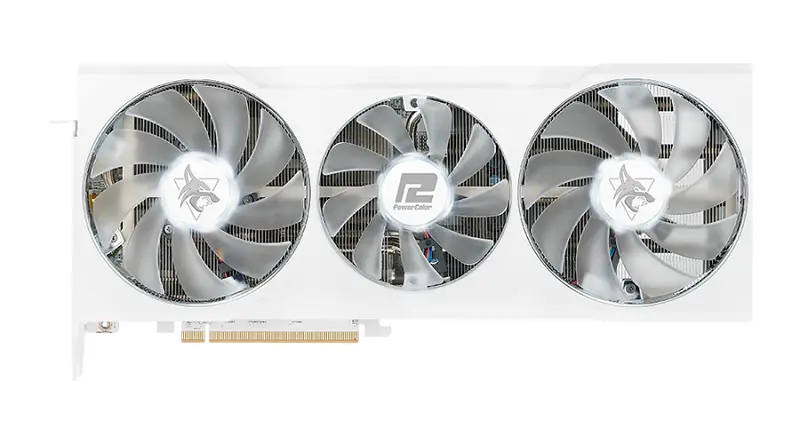 PowerColor launched a brand new custom RX 6700 XT card namely- Hellhound Spectral White RX 6700 XT. It is completely white from top to bottom whether it is the PCB, fans or heatsink shroud. So, this is currently the whitest RX 6700 XT card available on the PC market.
Design
Hellhound Spectral White is a 3-fan card with dimensions 305x132x50mm. It has a very big heatsink that uses 5x 6mm nickel-plated heat pipes for proper heat dissipation. The heat pipes are in direct contact with the GPU chip and are embedded in the aluminium heatsinks for making proper contact.
The fans used are 2x 100mm on each side and 1x 90mm in the centre that are completely white in colour and feature glacier-white LED along with the LEDs on the shroud and the backplate which has a Hellbound logo. You can also manually turn the LEDs off or on by the LED switch provided on the card.
VRM
The card features a 8+2 power phase VRM with DrMOS that according to PowerColor are sufficient for better overclocking stability that will enhance the performance in the long run.
I/O ports
At the I/O, the card is equipped with 1x HDMI 2.1 and 3x Display Ports 1.4.
Specifications
Hellhound Spectral White RX 6700 XT features 2560 stream processors and a 12GB GDDR6 memory that runs at 16Gbps. The memory interface is 192-bit and the memory bandwidth is 384GB/s.
The clock speeds are, however, a little different than the reference edition. While the boost clock sits at 2581MHz which is the same as that of the reference design, the base clock is 103MHz higher sitting at 2424MHz.
Power Consumption
The power consumption of Hellhound Spectral White RX 6700 XT is 230W which is the same as that of the reference design and the company recommends a reliable 650W power supply.
Pricing and Availability
The card is currently available for purchase according to the company but seeing the state of graphics cards in the market, you will hardly be able to purchase it.
There is no official statement on how much this card will cost but according to the reference design card's price which is $479, you can expect the normal MSRP to be somewhere around $550. However, it's unlikely that you will get this card for this price.