Every year more than 100 million new users register their accounts with Steam. As Steam is currently the most popular game client on PC, it makes sense that most PC gamers use Steam to play their favorite games.
Whenever a user creates a new account on Steam, Steam stores the player's information with a unique ID. It is generally known as "SteamID" and is represented by a 17-digit number in one of the formats.
SteamID number cannot be changed because it is unique to every user, however, Steam gives users an option to choose a custom name in place of their IDs.
What Is Steam Custom URL?
Custom URL represents your SteamID in the format of a name instead of a particular number. As Steam doesn't allow changing of the SteamID, it allows only changing of your nickname.
Nickname is different than your Profile name as well as your Real name on Steam. Both Nickname and Profile name is changeable but Real name can't be changed just as SteamID.
When you change your Nickname in Steam, it gives you a Custom URL that replaces your SteamID 64(Hex) number with that nickname.
You can change your Custom URL as many times as you want but you must use 3-32 characters for your nickname to set your Custom URL.
How To Set A Steam Custom URL?
You can change your SteamID URL by making a custom URL yourself. This will change the SteamID URL in the browser replacing the SteamdID64 number with a custom name or number.
-> Open your Profile and on the right, click on "Edit Profile"
-> In the "General" tab, under "About", you will find a "Custom URL" form box
You can input any name and characters here and once you press save, your SteamID URL will change replacing the original SteamID64 number.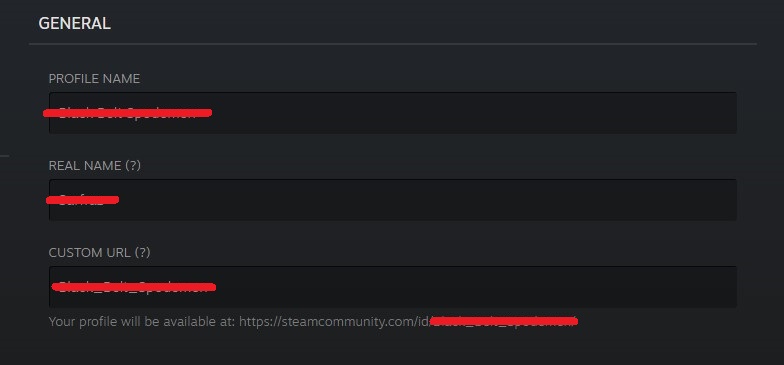 It will be like this- "https://steamcommunity.com/id/Your_name)".
You cannot leave a blank space in between different words and you will have to use a unique name or a combination of words that isn't in use currently, or you will see the "The Profile ULR specified is already in use" error.
Changing the Steam Custom URL can also be done on mobile with a similar process.